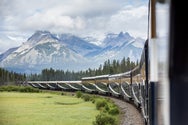 Best Canadian Train Trips
Canada is home to some of the most scenic train trips in the world. The best Canadian rail journeys immerse you in our country's awe-inspiring scenery. You can sit in a glass-domed car and take in the Canadian coasts, prairies or Canadian Rockies. Plus, the service on these trains pampers you. You can enjoy delicious food and relax in a luxe sleeper cabin or lounge chair.
Canadian Train Vacations is Canada's largest tour operator specializing in train trips. We know the top Canadian train routes. Some are a shorter tour of some of the country's highlights. Others offer a leisurely journey through the prairies, mountains and coastlines. You'll find your perfect train trip in Canada in our list below.
These routes are just the starting point for our travel advisors. At Canadian Train Vacations, we specialize in creating personalized train vacations to Canada. Unlike typical travel companies, we reject the one-size-fits-all approach to travel. We create unique Canadian experiences tailored to you and your loved ones. You pick your hotel class, rail service, dining options, excursions and activities.
Take a look at our suggested itineraries and get inspired. Then contact us to start planning your dream train vacation.
Three scenic train rides in Canada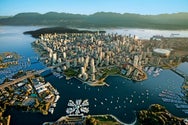 Canada Coast to Coast by Train
What is the best train trip in Canada? The Coast to Coast by train is the ultimate train trip across Canada. You'll see the country's top highlights, including Peggy's Cove, Niagara Falls and Lake Louise. This trip includes time on VIA Rail, in a sleeper cabin, and on the Rocky Mountaineer. The route goes from Vancouver to Halifax, and can also be done in the reverse direction.
Miles covered on train: 1,025
Days on train: 3
Nights on train: 1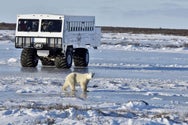 Polar Bear Expedition By Train
A train journey can take you to beautiful remote locations, like Churchill. Known as the Polar Bear Capital of the World, Churchill is located in Northern Manitoba. The train is the only land connection to this community. Otherwise, you have to arrive by boat or plane. This Canadian train route runs North from the city of Winnipeg to Churchill. Once in town, you'll have the once-in-a-lifetime experience of riding in a tundra buggy to search for polar bears in the wild.
Miles covered on train: 1054
Days on train: 2
Nights on train: 2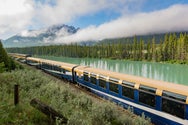 Complete Canadian Rockies by Rail
Our most popular selling Canadian vacation gives you eight days to discover the Rockies. This includes two full days on a sightseeing dome car on the Rocky Mountaineer. You'll have time to explore Jasper, Banff and Lake Louise. Your travel advisor can arrange personalized activities for you, such as canoeing, guided hikes, horseback riding, spa treatments and food tours.
Miles covered on train: 594
Days on train: 2
Nights on train: N/A
Exploring Canada by train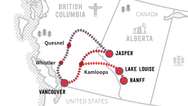 Rocky Mountaineer
The famous Rocky Mountaineer connects British Columbia and Alberta, running through the Canadian Rockies. It only runs during the day. There are scenic unique routes, with stops in Jasper, Banff, Lake Louise, Vancouver or Whistler. The train offers two levels of service, GoldLeaf and SilverLeaf. GoldLeaf has a full-domed upper level, with spacious reclining seats. Guests eat in the lower-level dining room. Other amenities include an outdoor viewing platform, complimentary beverages and snacks, and dedicated hosts. In SilverLeaf, guests dine at their seat, next to large picture windows. There is a small, enclosed outdoor area.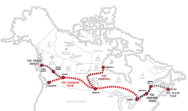 VIA Rail
As Canada's major passenger rail service, VIA Rail connects Canada from Vancouver to Halifax. It offers four different train routes. Major city stops include Vancouver, Jasper, Winnipeg, Toronto, Ottawa, Montreal, Quebec and Halifax. Depending on the train route, VIA Rail offers daylight or overnight sleeper train experiences. Its train cars feature large picture windows, so you can take in the vast Canadian landscape. Some trains offer a Panorama car, where giant windows extend to the ceiling.
Types of train trips available across Canada
Daylight train
The Rocky Mountaineer runs from April to the end of September during daylight hours. It follows this schedule to make the most of the amazing views in the Canadian Rockies. Guests are transferred to hotels for overnight stops, and do not sleep on the train.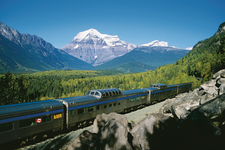 Passenger train
VIA Rail is Canada's main passenger train. It connects the country from Vancouver to Halifax with four major train routes. It offers different classes of train cars. Business class gets lounge access, food and beverage service included, priority boarding, extra luggage and wider, comfortable seating.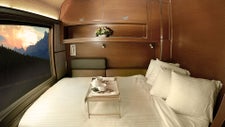 Sleeper train
VIA Rail has two train routes in Canada that allow you to sleep on the train. The first is between Vancouver and Toronto on The Canadian. You can break up this route with stop-overs in Jasper or Winnipeg. The second route with a sleeper train is the Ocean train from Montreal to Halifax. Both sleeper train routes are available all year long. Some sleeper trains in Canada are equipped with special panoramic viewing cars to provide you with the best view of the scenery day or night.
Discover Canadian train routes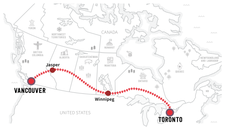 Vancouver to Toronto
VIA Rail's The Canadian connects Toronto and Vancouver. It stops in Winnipeg, Edmonton, and Jasper. This route can also be travelled in reverse. This train covers a total of 2762 miles, which takes about 86 hours. Enjoy sweeping views in the Panorama car, where the windows extend into the ceiling. Travelling from Toronto to Vancouver, the Canadian carries you from the forests of Ontario, through the expanse of the Prairies, and past the dramatic Rocky Mountains.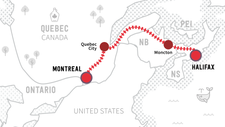 Montreal to Halifax 
VIA Rail's The Ocean train connects Montreal to Halifax. The 839-mile journey takes approximately 21 hours. It has been running since 1904 and is the oldest continuously operated named passenger train in North America. You'll first travel through the French-speaking province of Quebec. Then past a backdrop of lighthouses and seascapes in the Maritime Province of Nova Scotia. As you relax onboard, you'll see tiny coastal communities along your route.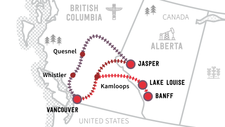 Vancouver to the Rockies
The Rocky Mountaineer runs through the Rockies, with three different routes to enjoy. The Rainforest to Gold Rush connects North Vancouver and Jasper, with stops in Whistler and Quesnel. The Journey through the Clouds connects Vancouver to Jasper taking the Yellowhead pass, and stopping in Kamloops. The First Passage to the West connects Vancouver to Banff, stopping in Kamloops.
Canadian rail journey tips
Train travel in Canada is like taking a scenic tour across the country. If you want to see the best of Canada, there's no better way than taking the train. Here are some important things to know about travelling by train:


Most train routes depart every few days. This allows you to enjoy a scenic train journey, then get off the train for some time to explore each destination.

You'll stay in hotels when you're not on the overnight train. We offer different classes of hotels, depending on your preferences and budget.

You'll get access to unparalleled views. See wildlife and the best sights in the Canadian Rockies where there are no roads.

It's a great way to achieve ultimate relaxation. Disconnect from the world as you sit back in your luxurious seat. Enjoy exquisite food, wine, and views.

There's lots of opportunities to explore. At almost every destination, we offer activity add ons. Your trip can be as active or adventurous as you like. Trek on an ancient glacier or see one on a helicopter tour.
Canadian Regions to explore by train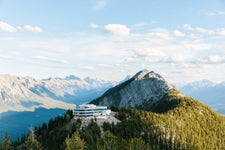 Canadian Rockies and West Coast
Western Canada is known for its dramatic wild landscapes. This includes the mountains and glacier lakes of the Canadian Rockies. It also extends to the lush rainforests and Pacific Coastlines of British Columbia. It's one of Canada's most popular locations for a train vacation. Many remote areas are only accessible by rail. Spend an extra day or two exploring the city of Vancouver as well.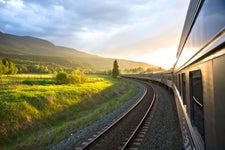 Across Canada
Make the journey across the country by rail. This coast-to-coast train trip connects Vancouver to Halifax, with stops in major cities, such as Winnipeg, Toronto and Montreal. If you only have one trip to Canada, this lets you see it all. Highlights include the Atlantic and Pacific coastlines, the Canadian Rockies, and the Prairies.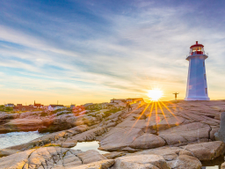 Eastern Canada and Maritimes
Along with amazing scenery, there's lots of history and culture to explore in Eastern Canada. Visit the cities of Toronto and Montreal. Add a tour to famous places, like Niagara Falls, and the not-so-famous hidden gems, like the charming fishing towns of the Maritimes. There's a lot to discover in eastern Canada.
Why book your Canadian train journey with Fresh Tracks Canada?

Plan your trip with a Canadian Insider
You know that friendly character you met in the local café who told you to visit that well-kept regional secret which turned out to be the best part of your holiday? That's us.

Have everything organized for you
By this stage, you're already having dreams about mountains, moose and maple trees. We combine your personal preferences with our insider knowledge to save you hours of pointless internet trawling.

Get help when you need it
We're here to make sure you get the inside scoop before you even leave home. And you can relax on your vacation because you know that we're a phone call away if you have any questions while you're in Canada.
Frequently asked questions about the best train trips in Canada
What is the best train trip in Canada?
The Coast to Coast by train is the ultimate train trip across Canada. You'll see the country's top highlights, including Peggy's Cove, Niagara Falls and Lake Louise.
How much does a train trip across Canada cost?
The Coast to Coast by train package starts at $12,340 for a 19-day trip, including transfers, hotels, and some meals and activities. Schedule a call with one of our Canadian Train Vacation Advisors to learn about trips to suit your preferences and budget.
Is there a coast-to-coast train in Canada?
You can travel coat to coast in Canada by train but you must change trains. One route does not travel coast-to-coast in Canada. VIA Rail connects the Atlantic coast (Halifax) to the Pacific coast (Vancouver) with four different train routes.
True North Newsletter
Sign up for vacation inspiration, insider tips, exclusive offers and more.