Train Trips Across Canada
A train trip across Canada shows you the sheer scale and diversity of this vast nation. Watch through a giant picture window as the landscape shifts from expansive lakes to sweeping prairie grasslands, from sky-piercing mountains to lush rainforest, before finally arriving at the sparkling Pacific Ocean. There's no other trip quite like it.
There are many options for a trans-Canada rail trip. Journey from Toronto to Vancouver on an epic 13-day adventure or begin in Toronto and arrive on the West Coast in less than a week. No matter what trip you choose, you'll have a unique chance to discover Canada's natural beauty and enchanting culture. All while unwinding in pure comfort.
The travel experts at Canadian Train Vacations can help you decide which trip is best for you. We are a Canadian company and we specialized in helping visitors experience Canada — it's all we do.

Keep reading or chat with one of our local travel experts. We're passionate about Canada and can help you at any stage of your vacation planning.
Get in touch
Travel across Canada in VIA Rail's Prestige Class to experience personalized luxury service throughout your journey. The only luxury sleeper train that goes across Canada, VIA Rail's Prestige on the Canadian train includes a private deluxe cabin with shower and bathroom. Exclusive private tours compliment your experience in each of your stopover destinations.
Miles covered on train: 2,762
Days on train: 4
Nights on train: 4
This eight-day exploration of Canada covers some of the country's big highlights. You'll spend four-nights on a rail journey on VIA's iconic Canadian train, travelling from Toronto through the Canadian Rockies to coastal Vancouver. You can also do the trip in reverse. Excursions at either end of your train trip include time in Toronto, with a guided excursion to Niagara Falls, time exploring the beautiful West Coast city of Vancouver, and time in Victoria, where you'll take in the world famous Butchart Gardens.
Miles covered on train: 2,762
Days on train: 4
Nights on train: 4
This 13-day itinerary will fill a traveller's desire for both the energy of Canada's big cities and the calmness of its expansive nature. As you journey by train between Toronto and Vancouver, you'll discovery the diversity off Canada's landscape. With travel on both VIA Rail and the Rocky Mountaineer, you'll experience the best train trips in Canada. You'll also get five days in the Rockies, including a stay in Lake Louise.
Miles covered on train: 2,428
Days on train: 5
Nights on train: 3
Get a brochure
Includes sample trip itineraries, route maps, and insider tips.
Get Your Brochure
Have a question?
We can answer any questions or make suggestions.
Schedule a Call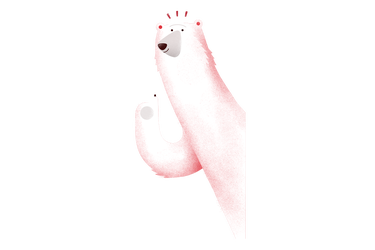 Cross-Canada Trains and Routes
The Canadian
Hopping a ride on this train is the ultimate way to discover how big and beautiful Canada is. 'The Canadian' was the flagship of the Canadian Pacific rail line when it began service in 1955. Travelling from Toronto to Vancouver, the Canadian carries you from the forests of Ontario, through the sweeping fields of the Prairies and past the dramatic snow-capped Rocky Mountains.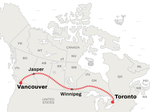 Rocky Mountaineer
The Rocky Mountaineer is a daylight-only train, perfect for experiencing the most spectacular views and optimal photo opportunities of the Canadian Rockies. The train connects British Columbia and Alberta, with stops in Jasper, Banff, Lake Louise, Vancouver and Whistler on three unique routes. Your overnight stay during your journey will be in Quesnel or Kamloops.
Explore: Rocky Mountaineer Train Trips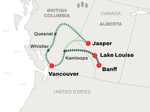 The Corridor
The Corridor Train runs between Toronto and Quebec City, with stopovers in Ottawa and Montreal. Travel through the heartland of Canada. This scenic commuter train service offers Economy and Business Class. In Business Class, guests receive priority boarding and waiting lounge access as well as onboard meals and drinks served at your seat.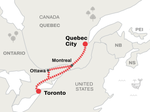 The Ocean Train
Onboard the Ocean Train, you'll travel from the French-speaking province of Quebec, through the blissful backdrop of lighthouses and seascapes in the Canadian Maritime Province of Nova Scotia, before reaching your final destination of Halifax. As you relax on board, you'll see tiny communities along your route, representing French Canadian, Acadian, Celtic and English heritage.
nbsp;
Facts About Trains Across Canada
Canada is huge. The journey between Vancouver and Toronto is approximately 1.5 times the distance between London and Moscow.
The scenic Rocky Mountaineer is the only passenger train to have access to certain special historic Canadian Pacific Railway routes, such as the 1885 Canadian Pacific route between Vancouver and Banff.
Some Canadian trains are designed with glass-dome viewing cars, so that you won't miss a minute of the jaw-dropping scenery.
Canada spans almost 90 degrees of longitude and uses 6 different time zones, so make sure you adjust your watch accordingly!
VIA Rail is the only company that offers service from one coast of Canada to the other.
Passenger and freight trains use the same rail lines in Canada, so be on the lookout for trains carrying raw materials to their final destinations.
Be prepared to enjoy a gourmet meal if your itinerary includes a ride on the Rocky Mountaineer.
In many cases, it's possible to add excursions to your train trip, enabling you to see even more of what Canada has to offer.
Top 5 Reasons to Take a Trans-Canada Train Tour
You'll see more– On a driving trip you'll have your eyes glued to the highway. On a train trip across Canada, you can sit back and enjoy the view as you travel through swathes of undeveloped forest, vast marshlands, canyons, river valleys and small towns.
Trains go straight to the centre in most Canadian cities– The train was the very first way to get across Canada - therefore it got all of the best real estate. The train arrives in the downtown core of each city, right in the middle of all the top hotels, shopping, dining and sightseeing.
You'll make new friends– A cross-Canada train journey can be wonderfully social. During the trip you can relax in the dining cars and get to know your fellow adventurers. There's nothing like card games, local wine and great views to inspire conversation.
Train travel is comfortable– Sit back in your large reclining chair. Feast on regional cuisine and local wines in the dining car. Drift to sleep to the click-clacking rhythm of the train in your private berth.
You'll have plenty of time to relax– Cross-Canada train travel is all about long, leisurely journeys where you simply sit back, read a book and watch the mountains and rivers go past your window. It's a wonderfully calm way to travel.
Parts of Canada to Visit
For major stops along the cross-Canada route, you can request a four-day stopover in a destination — this is because the trains only run every four days.
Vancouver
Many cross-Canada train trips begin in Vancouver, the perfect jumping-off point for a tour. What makes Vancouver so unique is that it's a bustling city surrounded by natural wonders. Whether you prefer fine dining and shopping or kayaking and hiking, Vancouver has something to offer everyone.
Winnipeg
Make sure your cross-Canada rail trip goes through Winnipeg, Manitoba, which includes a combination of quiet prairies and metropolitan amenities. Winnipeg is the ideal place to visit if you enjoy museums and other cultural attractions.
Jasper
Many Canadian cross-country train trips include stops in Jasper, the site of Jasper National Park. If you're looking to get out of the city and connect with nature, Jasper is the place to do it. The town has plenty of opportunities for fishing, boating and other outdoor activities.
Montreal
Immerse yourself in the French culture without ever leaving Canada by including Montreal on your Canadian cross-country train tour. Located on an island in the St. Lawrence River, Montreal is a cosmopolitan city with museums, high-end restaurants and eye-catching architecture.
Quebec City
When you take a luxury sleeper train across Canada, look for an itinerary that includes Quebec City. Immerse yourself in French-Canadian culture as you walk along cobblestone streets or sun yourself on Baie de Beauport, the local beach.
Halifax
The coastal city of Halifax is the perfect place to conclude a train ride across Canada. Steeped in Celtic history, Halifax is a major port, so be sure to have some fresh lobster before you board your cross-Canada train for the return trip home.
Fresh Tracks were very helpful in helping us plan and carry out our train trip across Canada
We thoroughly enjoyed seeing Canada from the east (Toronto) to the west (Vancouver) from the perspective of the trains. We also appreciated the quality of the food, the accommodati... 

Why book your across-Canada rail trip with Canadian Train Vacations?

We take care of all the details
You want to relax and enjoy your trip, not get overwhelmed by the planning. Let us make all of the bookings for you, including rail tickets, hotels, excursions and activities, meals and transfers.

Independent travel with expert support
Enjoy local expertise and guidance with a personalized itinerary. Your preferences and needs are our priority. We take care of you from the moment you land until the moment you leave.
Get help when you need it
You'll receive the inside scoop before you even leave home. And you can relax during your vacation because we're only a phone call away if you have any questions while you're in Canada.
Frequently Asked Questions
The cost of a train ride across Canada depends on the length of the tour and any upgrades you choose. Our recommended trips start at $4,380 to $15,390 per person for anywhere between 9 and 13 days of travel.
Without stops, it takes five to six days to cross Canada by train, if you go coast to coast. Travelling between Toronto and Vancouver takes four days.
Several rail lines offer scenic routes across Canada, but one of the best is 'The Canadian,' which takes you through forests, fields and snow-capped mountains.
The best time of year for a cross-Canada train trip depends on what you want to see and what type of weather you prefer. Summer brings large crowds to many of Canada's tourist attractions, along with high temperatures, but it's a great time to swim, fish, canoe or take part in other activities on one of the country's many lakes and rivers. Late September and early October are ideal for travellers who want to see fall foliage at its peak. May is a good time to enjoy warmer weather without encountering the summer crowds.
Current Promotions
Sign up for special offers, monthly Canadian Insider tips, and vacation inspiration.