Canadian Trains
From east to west and north to south, train tracks crisscross Canada. But with so much to see, it can be difficult to know where to begin your train journey. Do you start in the east and indulge in Montreal's vibrant food scene? Or do you head west and partake in Vancouver's numerous outdoor activities? Fortunately, booking a train tour across Canada means you don't have to settle for just one adventure.
Our Canadian Insider travel experts personalize train trips for every traveller, helping to bring your dream vacation to life. See the best of Canada by rail, with all your train tours, hotels, activities and transportation planned around your needs in one single booking.
Explore our range of trips and get in touch to start planning your Canadian train trip today.

Sleep on the train
Enjoy a private cabin for your journey across Canada. Enjoy being lulled to sleep by the gentle rocking of the train looking forward to waking up in beautiful scenery. VIA Rail's Sleeper Plus luxury service level is available between Vancouver and Toronto as well as Montreal and Halifax.
Planning a train trip to Canada and want to make it better?


Plan your trip with a Canadian Insider
You know that friendly character you met in the local café who told you to visit that well-kept regional secret which turned out to be the best part of your holiday? That's us.


Have everything organized for you
By this stage, you're already having dreams about mountains, moose and maple trees. We combine your personal preferences with our insider knowledge to save you hours of pointless internet trawling.

Get help when you need it
You'll receive the inside scoop before you even leave home. And you can relax during your vacation because we're only a phone call away if you have any questions while you're in Canada.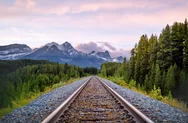 Why everyone should cross Canada by train at least once
See wildlife, savour gourmet cuisine, and slumber peacefully in a private cabin on a train bound from Toronto to Jasper
A dreamy view of boreal forest slides into golden grasslands and blue sky as VIA Rail's flagship Canadian chugs west toward the prairies. And presently, the Canadian Rockies' snow-tipped teeth bite into the horizon as the train rolls into Jasper National Park. The country's majestic and ever-changing landscape is but one reason to embrace this historic means of conveyance on a classic rail journey between Toronto and Jasper that includes three nights on a sleeper train.
The difference is in the details
Find the perfect train experience with the help of a Canadian Insider.


Mix and match
Can't choose between a relaxing luxury train experience or a rejevenating stay at a rustic wilderness resort? Do both! Our Insiders can help you prioritize what's important to you. Mix and match service levels and hotels classes so you can splurge on luxury train service throughout, or vice versa.
Discuss your Canadian train vacation with a local travel expert