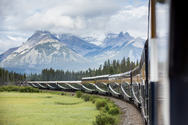 Enjoy a train journey north of the border
Cross the border on a train to Canada and discover just how spectacular America's northern neighbour can be. Relax and watch as a vast wilderness of rushing waterfalls, lumbering bears and deep pine forests rolls past your train car window.
There are several trips, available through Amtrak, which will take you north of the 49th parallel. For example, the Amtrak Maple Leaf takes you from New York City to Toronto via the Empire Corridor, through the spectacular Hudson River Valley and the Finger Lakes region.
Or begin in Seattle to see the untouched beauty of the Pacific Northwest and the Rockies. Travel alongside the glimmering Pacific Ocean, heading north to Vancouver before venturing deep into Canada's wilderness and ending the journey surrounded by sky-scraping Rocky Mountain peaks. Once you arrive in Canada, we can help you plan the next part of your journey. Continue your adventure by riding on the VIA Rail Canadian or the legendary Rocky Mountaineer. Then admire pristine northern scenery from a comfortable seat in the specially designed glass-dome car.
Planning a train trip to Canada and
WANT TO MAKE IT BETTER?

Plan your trip with a Canadian Insider
You know that friendly character you met in the local café who told you to visit that well-kept regional secret which turned out to be the best part of your holiday? That's us.

Have everything organized for you
By this stage, you're already having dreams about mountains, moose and maple trees. We combine your personal preferences with our insider knowledge to save you hours of pointless internet trawling.

Get help when you need it
We're here to make sure you get the inside scoop before you even leave home. And you can relax on your vacation because you know that we're a phone call away if you have any questions while you're in Canada.
Like more information?
Get our 2022 brochure and discover Canada by train.
Get Your Brochure
Have a question?
We can answer any questions or make suggestions.
Schedule a Call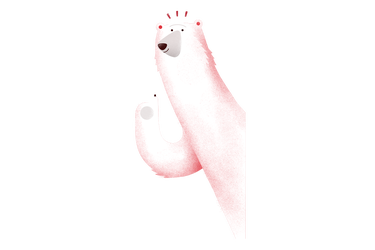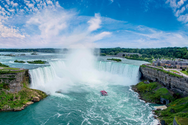 USA vs Canada Train Vacation Facts
The US receives 75.6 million tourists every year, while Canada only receives 20 million. That means in Canada, you'll deal with fewer crowds and line-ups at major attractions.
90% of Niagara Falls flows through Canada and the Canadian side of the falls is much more scenic because it features trees and countryside rather than industrial buildings.
Canada has approximately three million lakes, which is more than the rest of the world combined.
Canada also has the largest coastline in the world — it stretches 125,566 miles (202,080 km).
Canada has 79 million hectares of protected wilderness. Visitors come from all over the world to explore the beautiful national parks, such as Banff, Jasper and Pacific Rim.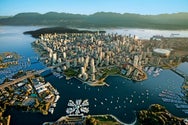 A Guide to Traveling from Seattle to Canada
You'll enjoy two of the West Coast's most beautiful cities. Seattle and Vancouver could be cousins - as they are two equally fascinating Northwest metropolises separated by the border. They are both renowned for their superb art museums, live music, international cuisine, beautiful green spaces and public parks.
Departing from historic King Street Station, the Amtrak train will take you over the border into Canada, passing stunning vistas of the Cascade Mountains, Mount Baker and the Pacific Northwest shoreline along the way. You'll travel through Chuckanut Bay, where the mountains of the Cascade Range meet the sea, and along the shimmering waters of Puget Sound.
Traveling from Vancouver to Banff on the Rocky Mountaineer, you'll admire the ocean views before heading into the heart of British Columbia's interior. You'll travel through increasingly dramatic scenery as you climb towards the peaks of the Continental Divide and into the legendary Alberta Rockies.
Train Experiences
Traveling by train means that you'll be pampered on the journey with gourmet food, friendly service and comfortable sleeping cabins.
Rocky Mountaineer
Daylight Train
The Rocky Mountaineer connects British Columbia and Alberta, with stops in Jasper, Lake Louise, Banff, Vancouver, Whistler, Quesnel and Kamloops. The train runs from mid-April until mid-October. The Rocky Mountaineer is a daylight only train designed so that passengers can experience the most spectacular views and optimal photo opportunities.
Whether you are traveling from New York or taking the train from Seattle to Banff, there are many benefits to a Canadian train vacation.

1. Remote untamed scenery
Canada's pristine wilderness is vast and untouched. The diversity of the scenery will blow you away. You might have seen photos of the craggy peaks and glaciers of the Rockies, but did you know there are arid deserts and sun-soaked vineyards in British Columbia? Or limestone grottos and caverns in Ontario?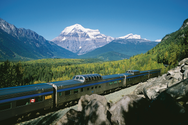 Why Canadian trains provide the best rail experience
Sure, we might be a little biased (after all, we're the experts in Canadian train vacations.) But we honestly think that Canadian rail journeys offer you an experience that can't be found south of the border.
The second largest country in the world, Canada has so many wonders — from the autumn leaves of New Brunswick to the eerie rock formations of the Alberta badlands and the soaring peaks of the Rockies.
A journey by train in Canada is not just a mere commute — it is an adventure. The scenery you'll travel through will dazzle and the stations along the way are historic monuments to the early pioneering days.
So if you're not sure about whether to book a US or Canadian train vacation, this guide is for you.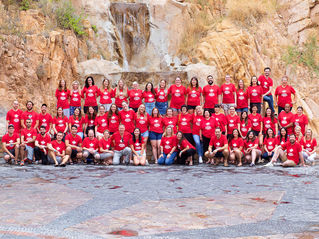 Ready to start planning your Canadian journey?
Here at Fresh Tracks Canada, we have gourmet globetrotters, tranquil train-travellers, bold backpackers, and nature lovers. But what ties us together is that we're all passionate travellers. When we're not helping people plan vacations to Canada, we're getting together to plan our own adventures.
True North Newsletter
Sign up for vacation inspiration, insider tips, exclusive offers and more.