The Canadian Pacific Railway
The historic Canadian Pacific Railway is more than 130 years old. This iconic train line traverses the Canadian Rockies and sweeping prairie fields. Built between 1881 and 1886, the railway connects Canada from coast to coast.
Today, there are several ways to experience Canadian Pacific Railway routes. Travel through Canada's varied landscapes, enjoy gourmet meals and watch for wildlife. It's a once-in-a-lifetime train journey that's as unspoiled and timeless as it was in 1886.
Since 1996, Canadian Train Vacations have been sending travellers on memorable train trips. We specialize in train tours in Canada and only in Canada. We work with you to create the perfect itinerary, where you decide on tours, hotels, train service, and more. Schedule a call with one of our travel experts and let us help you plan your Canadian Pacific Railway vacation.
Canadian Pacific Railway History and Timeline
Canada's growth was guided by these steel tracks laid almost a century and a half ago. Moments in Canadian Pacific Railroad history include:
1871: British Columbia enters Confederation and requests a transcontinental railway. It would not be cheap, but Prime Minister John A. Macdonald sees the value in connecting the nation from the Atlantic to the Pacific.
1873: Production stalls after Alexander Mackenzie takes power. He believes the railway is a waste of money, but BC threatens to succeed if it's not built.
1873-1878: This time is known as the 'Battle of the Routes'. There were arguments over what the best route would be through the mountainous terrain of Alberta and British Columbia.
1878: John A. Macdonald is back in power, and the Canadian Pacific Railway is now a top priority for the country.
1882: William Van Horne is appointed as the leader of the CPR project. He would complete the project in five years — much faster than planned.
1885: This massive cross-country construction project was completed. The historic Last Spike was driven in by Donald Smith.
Quick Facts about the Canadian Pacific Railway
This route was not easy to build. Railway workers had to face many hardships. Obstacles included forest fires, grizzly bears and swathes of seemingly impenetrable forests.
Several elegant hotels were built, including Banff Springs Hotel and the Jasper Park Lodge, along the railway route during the late 19th and early 20th century to promote tourism.
The railway played an important part in the Northwest Rebellion of 1885. It allowed soldiers to get from Ontario and Quebec to the Prairies in only ten days.
The railway was also to thank for the discovery of natural gas in Alberta. In 1886, gas was found when construction crews were digging a well to get water for the steam locomotives in Alderson, Alberta.
Canadian Pacific Railway Routes and Maps
Glide down the rails on a Canadian Pacific Railway train and travel along the same route as the early settlers of Canada. Our Canadian Pacific rail maps show you where you can go.
Rocky Mountaineer, Vancouver to the Rockies
The Rocky Mountaineer is a daylight-only train running between British Columbia and Alberta. From Vancouver, the train follows three different routes. It stops at the towns in the Rockies: Jasper, Banff or Lake Louise. Journeys include an overnight stay in Kamloops, Quesnel or Whistler, depending on the route.
Rocky Mountaineer runs from mid-April to mid-October.
Explore: Rocky Mountaineer Train Trips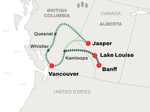 The Canadian Train, Vancouver to Toronto
The Canadian train was the flagship of the Canadian Pacific Rail line when it began service in 1955. The train operates between Toronto and Vancouver, making stops at major cities and small towns. Travellers can enjoy the entire four-night train ride or choose a section of this route. Jasper and Winnipeg are popular stops.
The Canadian train runs year-round.
Train Experiences on the Canadian Pacific Railway
These are some suggested train experiences for your Canadian adventure.
Rocky Mountaineer, daylight train
The Rocky Mountaineer Train offers a luxury sightseeing experience through the Canadian Rockies. Since the train only moves during daylight, you won't miss any scenery. The train has glass-dome coaches, an outdoor viewing area, and large windows.
VIA Rail Train
VIA Rail is Canada's national passenger rail service. There are different train routes, including The Canadian, The Ocean, and The Corridor. You can travel from the west coast to the east coast on VIA Rail and pass through the prairie provinces. Some trains have overnight sleeper cabins.
Sleeper Train
The Canadian (Toronto <> Vancouver) is one of the VIA Rail routes with sleeper class. In Sleeper Plus Class, you can fall asleep easily in your own berth or private cabin. The Canadian train has a variety of services, including meals served in the dining car. Some Sleeper trains have panoramic viewing cars and lounge areas, so you can enjoy the views as you travel across the country.
Popular Canadian Pacific Railway Hotels
Fairmont Banff Springs
Built in 1888, the Banff Springs hotel was one of the grand Canadian Pacific railway hotels. This hotel helped put the Canadian Rockies on the map as a tourist destination. The elegant building, which has the grandeur of a castle, sits above Bow Falls and is only a short walk away from the resort town of Banff.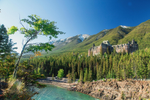 Banff Springs Golf Course: This luxury golf course is within one of the most spectacular locations in the world. Designed by Canadian architect Stanley Thompson, the golf course exists in harmony with the natural contours of the mountains. With such dazzling views of snow-capped peaks all around you, it might be hard to concentrate on the game!
Dining: The hotel has several excellent dining options with incredible views. Options include 1888 Chop House and Waldhaus Restaurant.
Luxury amenities:
A fitness centre with an indoor and outdoor swimming pool.
Massage services, ideal for post-hiking sore muscles.
Tennis courts, bowling, a skating rink, ski storage and a games room.
Coffee makers, hair dryers and stunning views in every room.
Fairmont Jasper Park Lodge
The elegant Jasper Park Lodge opened in 1922 as a challenger to the Banff Springs Hotel. The lodge has hosted many celebrities — including Marilyn Monroe and Bing Crosby — and is also well-loved by the Royal Family. King George VI and Queen Elizabeth visited in 1939, and Her Majesty Queen Elizabeth II and Prince Phillip in 2005.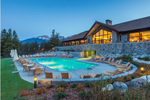 Jasper Park Golf Course: Stanley Thompson also designed the Jasper Park Golf Course. It is a challenging 18-hole par 71 course that meanders alongside glacial lakes through a wildlife corridor where elk and caribou roam. Considered Canada's number one Golf Resort, it's a must-play course for any golf enthusiast.
Dining: There are several restaurants, including Nook Smokehouse, Oka Sushi and ORSO Trattoria.
Luxury amenities:
The Fairmont Jasper Park Spa, where you can rejuvenate.
A ski shuttle takes you straight to the slopes.
An outdoor pool, perfect for those hot summer days.
An arcade and games room.
Ice skating, mountain biking, horse riding, snowshoeing and other activities.
Places to Visit Along The Canadian Pacific Railway
Since Canada was built along the country's rail system, most major cities and remote communities are accessible by train.
Vancouver, British Columbia
Endless mountain and ocean views. That's what you can expect from the west coast city of Vancouver. The city has a mild climate, making it the perfect year-round destination. You can go hiking in old-growth forests and cycling along the sea wall. During the winter, visit one of the three local ski hills that lie a short distance from the city centre.
Jasper, Alberta
Jasper is a charming small town within the Canadian Rockies' largest national park. There are many ways to explore the 11,000 square kilometres of Jasper National Park. You can try ice climbing, alpine hiking, or rafting. For a more laid-back experience, enjoy a wildlife viewing tour or spa treatment.
Banff, Alberta
Established in 1885, the townsite of Banff is the hub of Banff National Park. Banff is a lively mountain town with plenty of restaurants, shops, nightlife venues and museums. Nearby, there are lakes, waterfalls and snow-capped peaks to explore.
Whistler, British Columbia
Whistler is a resort town in the Coast Mountains, a two-hour drive from Vancouver. Whistler's incredible alpine terrain provides excellent winter and summer sports opportunities. The Peak 2 Peak Gondola between Whistler and Blackcomb mountains is open throughout the year. Whistler has world-class restaurants, spas and golf courses, too.
Lake Louise, Alberta
In the heart of the Rockies lies the hamlet of Lake Louise. Millions of visitors come to the area to see the turquoise lake (of the same name) and the Victoria Glacier. When temperatures drop, the lake freezes and creates a beautiful ice rink.
Winnipeg, Manitoba
Winnipeg, a sophisticated metropolis rising out of the prairies, will surprise you. It has a thriving dining scene, excellent museums, theatre, comedy and music. Major tourist attractions include the Canadian Museum of Human Rights and The Forks National Historic Site.
Toronto, Ontario
Toronto is the largest city in Canada and the capital of Ontario. It's one of the world's most multicultural cities, with over 200 ethnicities represented. You can see famous landmarks, including the CN Tower and Casa Loma, cruise past the Toronto Islands, and stroll through the vibrant neighbourhoods.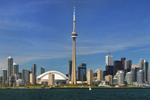 Five rail journeys are in this itinerary, making it the ultimate trans-Canada vacation! Spend 19 days travelling from the Pacific Coast to the Atlantic Coast, and stop to enjoy authentic local experiences along the way.
Miles covered on train: 3,240
Days on train: 5
Nights on train: 4
Our Essential Rockies itinerary is perfect for those with limited vacation time. Ride the Rocky Mountaineer from the city of Vancouver to beautiful Lake Louise, and spend time in the mountain town of Banff.
Miles covered on train: 594
Days on train: 2
Nights on train: N/A
Follow the Canadian Pacific Railway across Canada on this 13-day train tour. This is one of our Canadian Pacific Railway vacations that features both a VIA Rail sleeper train and a Rocky Mountaineer sightseeing train.
Miles covered on train: 2,458
Days on train: 5
Nights on train: 3
Get a brochure
Includes sample trip itineraries, route maps, and insider tips.
Get Your Brochure
Have a question?
We can answer any questions or make suggestions.
Schedule a Call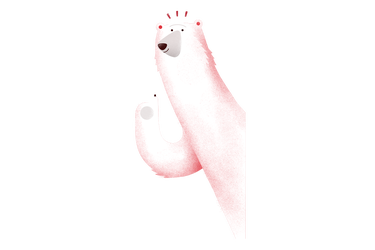 Why book with Canadian Train Vacations?

We take care of all the details
You want to relax and enjoy your trip, not get overwhelmed by the planning. Let us make all of the bookings for you, including rail tickets, hotels, excursions and activities, meals and transfers.

Independent travel with expert support
Enjoy local expertise and guidance with a personalized itinerary. Your preferences and needs are our priority. We take care of you from the moment you land until the moment you leave.
Get help when you need it
You'll receive the inside scoop before you even leave home. And you can relax during your vacation because we're only a phone call away if you have any questions while you're in Canada.
Frequently Asked Questions
When British Columbia joined the Confederation in 1871, they requested a transcontinental railway. They wanted it to be built within 10 years.
Sir William Van Horne oversaw the construction of the Canadian Pacific Railway. Thousands of immigrant workers helped to build the tracks.
The Canadian Pacific Railway symbolized national unity. This is because it connected Western Canada with Eastern Canada.
The Canadian Pacific Railway runs between Montreal, Quebec, and Vancouver, British Columbia.
The Canadian Pacific Railway owns 20,100 kilometres (12,500 miles) of track across Canada and the United States.
Canadian Pacific Railway holidays vary in price. The cost to ride the Canadian Pacific Railway depends on the length of the trip, train service, desired destinations, and more. Please speak to one of our Canadian Travel Advisors to find out more.
Current Promotions
Sign up for special offers, monthly Canadian Insider tips, and vacation inspiration.