Canadian Tours for Seniors by Train
Marvel at Canada's beauty from your comfortable, welcoming train cabin
Relax in your spacious seat, sip a fresh coffee and chat with your travel companions as pine forests, mountain valleys and rushing waterfalls roll past your window. Taking the train across Canada is the trip of a lifetime.
The full-service meals, gourmet food and friendly waitstaff will ensure your every need is taken care of. And all of the details of the journey will be organized for you, giving you absolute peace of mind.
When you return home, you'll have plenty of wonderful stories to share with your family.
Planning a trip to Canada and want to make it better?

Plan your trip with a Canadian Insider
You know that friendly character you met in the local café who told you to visit that well-kept regional secret which turned out to be the best part of your holiday? That's us.

Have everything organized for you
By this stage, you're already having dreams about mountains, moose and maple trees. We combine your personal preferences with our insider knowledge to save you hours of pointless internet trawling.

Get help when you need it
We're here to make sure you get the inside scoop before you even leave home. And you can relax on your vacation because you know that we're a phone call away if you have any questions while you're in Canada.
Like more information?
Get our brochure and discover Canada by train.
Get Your Brochure
Have a question?
We can answer any questions or make suggestions.
Schedule a Call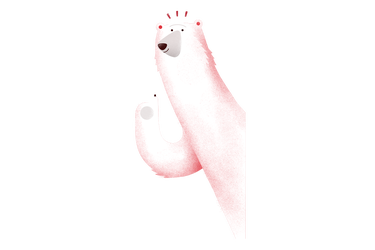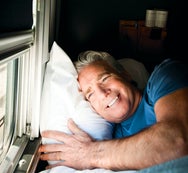 Quick facts about train vacations for seniors
Baby Boomers on average take 4-5 leisure trips per person, even more than Generation X! So if you're a Boomer, you'll be in good company.
VIA Rail trains have been upgraded to make them as accessible as possible for travellers with mobility issues. Every train has a cabin that is wheelchair-accessible and is equipped with grab-bars in the washroom and tie-downs.
If you are retired and can travel whenever you want, it's a smart idea to aim for the shoulder season of April to mid-June or September and October. You'll avoid the crowds and the heat of the summer.
Why seniors travel by train
Discover 5 reasons why Canadian Rail vacations are the best trips for senior citizens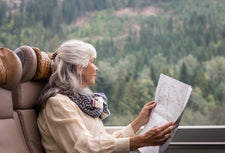 Trains are gentle and relaxing
Sit back in your spacious seat, sip a warm cup of tea, play a game of cards with your partner and watch the scenery go by. The train is just as cozy as your living room at home, yet it has much better views!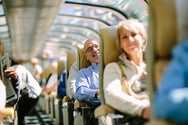 Discover why a Canadian Train vacation is perfect for mature travellers
More seniors are looking for adventures that allow them to see new sights, meet interesting people and go somewhere they've never been before.
Which is why train vacations are becoming more popular among older travellers.
A way to explore which is comfortable and stress-free, yet still allows you to see and enjoy as much as possible. As the travel guru Rick Steves proclaims, "Age matters only if you're a cheese." The iconic trains that take you across Canada are comfortable and spacious, featuring bucket-style seats with lumbar support. The ride is smooth and you'll have plenty of scenery (and wildlife sightings) to enjoy outside your window.
It's an ideal way for mature travellers to see the inspiring landscapes of the world's second largest country. Scroll through the images below for a taste of what you can experience.
Train and cruise experiences
These are some suggested train experiences for your Canadian adventure
Rocky Mountaineer
Daylight Train
The Rocky Mountaineer connects British Columbia and Alberta, with stops in Jasper, Lake Louise, Banff, Vancouver, Whistler, Quesnel and Kamloops. The train runs from mid-April until mid-October. The Rocky Mountaineer is a daylight only train designed so that passengers can experience the most spectacular views and optimal photo opportunities.
Most Popular Senior Train Tours
Questions about train tours for seniors
Frequently Asked Questions
This is not a group tour, but rather a fully supported independent trip. All of the details of your trip will be organized and booked for you.
You'll be free to explore at your own pace and choose your route, but you'll have the peace of mind knowing that every aspect of your vacation has been organized in advance.
Yes, special dietary needs can be accommodated on most routes. Whether you require a meal that is vegetarian, lactose-free, gluten-free, diabetic-friendly, low-sodium or low-cholesterol, it may be possible to order this in advance.
We will do our best to meet your request whenever we can. So, please contact us with your travel details and your dietary requirements as soon as possible so that we can let you know if your needs can be met during the trip you would like to take.
Even if your mobility is limited, you will be able to enjoy this style of travel. The friendly staff are happy to help you with boarding and meals will be served to you in your cabin. If you're wheelchair-bound, you won't be able move around the train, as the corridors are quite narrow, so you'll spend the most of your journey in the cabin.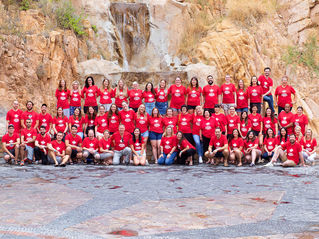 Ready to start planning your Canadian journey?
Here at Fresh Tracks Canada, we have gourmet globetrotters, tranquil train-travellers, bold backpackers, and nature lovers. But what ties us together is that we're all passionate travellers. When we're not helping people plan vacations to Canada, we're getting together to plan our own adventures.
True North Newsletter
Sign up for vacation inspiration, insider tips, exclusive offers and more.