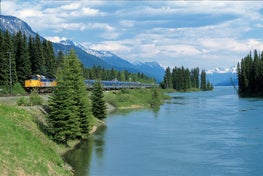 Discover one of the world's greatest train journeys
From the bustle of Toronto to the jagged Rockies and serene West Coast, The VIA Rail Canadian train gives you a rare opportunity to see Canada's diverse scenery in one amazing trip.
Follow the historic route that made Canada what it is today. Built in the 19th century to connect the nation, the Canadian National Railway stretches across the endless fields of the prairies and then carves through the Rockies before arriving on the West Coast. Savor stunning views from the train and then explore the country's best destinations at overnight stops.
Planning a trip to Canada and want to make it better?

Plan your trip with a Canadian Insider
You know that friendly character you met in the local café who told you to visit that well-kept regional secret which turned out to be the best part of your holiday? That's us.

Have everything organized for you
By this stage, you're already having dreams about mountains, moose and maple trees. We combine your personal preferences with our insider knowledge to save you hours of pointless internet trawling.

Get help when you need it
We're here to make sure you get the inside scoop before you even leave home. And you can relax on your vacation because you know that we're a phone call away if you have any questions while you're in Canada.
Like more information?
Get our brochure and discover Canada by train.
Get Your Brochure
Have a question?
We can answer any questions or make suggestions.
Schedule a Call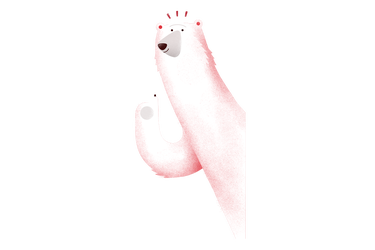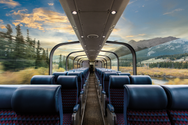 Quick facts about VIA Rail's The Canadian Train
The Canadian connects Toronto and Vancouver, with stops in Winnipeg, Edmonton, and Jasper. This route can also be travelled in reverse.
This train covers a total of 4,446 km, which takes about 86 hours.
Enjoy sweeping views in the Panorama car, where giant windows extend up to the ceiling.
Travellers can dine on the train and sleep in their own private cabins.
The menu features dishes that pay tribute to regional specialties: Saskatoon berry salad, Alberta beef and B.C. salmon are just a few examples.
When you ride on The Canadian, you get a unique look at what makes this vast county so amazing. Road trips and bus tours simply can't compare. See for yourself by scrolling through the photos below, which were all taken by travellers like you.

Panorama Car
The Panorama car gives you stunning views through giant windows.
The Canadian Train Route
VIA Rail follows this route on its Canadian Train: Toronto - Winnipeg - Saskatoon - Edmonton - Jasper - Kamloops - Vancouver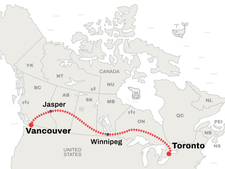 Route map
Insider tip
The most dramatic scenery is between Jasper and Kamloops. This is where the train clings to the mountainside, weaving past the thundering rapids of Little Hells Gate and the North Thompson River.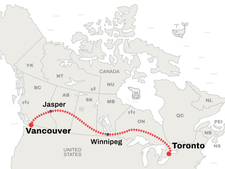 Route map
Insider tip
The most dramatic scenery is between Jasper and Kamloops. This is where the train clings to the mountainside, weaving past the thundering rapids of Little Hells Gate and the North Thompson River.
This is the classic Canadian journey. Rumble through boreal forest, prairies and mountains on what National Geographic called one of the best train trips in the world. And along the way, you'll get to experience some uniquely Canadian destinations.
Explore Toronto, Canada's largest metropolis and a cultural and artistic hub. Or visit Winnipeg, the most under-the-radar city in the prairies, with world-class museums, art galleries and a diverse dining scene.
Cross through Saskatchewan's huge blue skies and bright-yellow fields of canola, and watch the terrain outside your window grow from foothills to the towering peaks of the Rockies. Be sure to stretch out your neck - you'll spend a lot of the time on the train staring up at the incredible mountains all around you. The serene coastline of Vancouver -- where you will either start or end your journey -- provides the perfect mix of urban luxuries and outdoor escapes.
From the bright city lights of Toronto to the looming Rocky Mountain peaks, this trans Canada train journey is an adventure on a grand scale. Your Canadian Train Vacation Advisor can help personalize a trip that includes the best Canadian destinations to visit.

Jasper
Jasper is the gentle giant of the Rockies and this small mountain town offers visitors a more laid-back mountain experience – with equal options for adventure, discovery and relaxation. Quiet nature strolls, fine dining and wildlife viewing are all on the agenda while visiting this peaceful community.
Take a look inside The Canadian Train
You may never want to leave your cozy cabin (where you can admire the scenery while lounging in bed). But when it is time to explore the train, you'll discover spacious lounge and dining cars. Gather with your fellow travellers for card games, conversation, and delicious food.
Service levels on The Canadian
The VIA Rail Canadian Toronto to Vancouver train offers multiple service levels. Need help deciding which one is right for you? Reach out to our travel experts for advice.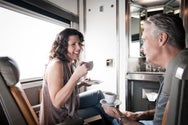 Sleeper Plus Class
Enjoy your own bed in a comfortable private cabin, where you can stretch out and watch the sunset (or sunrise, if you're an early bird). Depending on the size of your group, you can book a cabin for one, two or four travelers. You'll have your own toilet and sink, plus a shower that is only shared with a handful of other people.
The perks of Sleeper Plus include:
Three gourmet fine dining meals per day.
Complimentary fruit and cookies between meals.
Priority boarding and access to the station lounges in Vancouver and Toronto.
Access to the Panorama and Skyline viewing cars.
Non alcoholic beverages included; alcoholic beverages available for sale.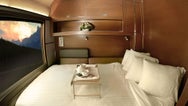 Prestige Class
Be pampered along the way. Prestige Class offers you a cozy home on rails. You'll have 50% more space in your cabin compared to Sleeper Plus class and a 60% larger window for admiring those views.
When night falls, you can retreat to your elegant cabin with a glass of wine, curl up in your Murphy bed for two and catch a movie on your personal flat-screen monitor — or simply watch the stars. Your room includes a toilet and sink, with access to a shared shower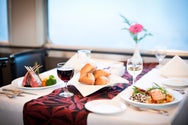 Perks of Prestige Class
The attention of a personal concierge.
Access to the Park Car, a place to socialize and listen to live music.
Complimentary coffee, tea, fruit and cookies.
All meals and drinks included.
Priority reservations in the dining car.
Pre-dinner appetizer service.
Compare Service Levels
| | | |
| --- | --- | --- |
| | Sleeper Class | Prestige Class |
| Cabin Style: | Choice of cabin for 1, 2, 3, or 4 with bunk style beds. | Spacious cabin with Murphy bed for two. |
| Seat Style: | Roomy in-cabin armchair. | Leather couch in cabin. |
| Washroom Access: | Private washroom in cabin. Access to shared in-car shower (Canadian Train) or private washroom with shower (Ocean Train). | Private washroom with shower. |
| Meals: | Gourmet meals in dining car and complimentary fruit and cookies in lounge cars. | Pre-dining appetizer service, gourmet meals in dining car with priority reservations, complimentary snacks. |
| Beverages: | Non-alcoholic beverages in dining car and coffee and tea in lounge cars. Alcoholic beverages available for sale. | Complimentary non-alcoholic and alcoholic beverages. |
| Boarding and Check-in: | Priority boarding and access to the lounge in Vancouver and Toronto on departure. | Priority check-in and boarding and access to the lounge in Vancouver and Toronto on arrival and departure. |
| Onboard Access: | Skyline car access, Panorama car access, and scheduled Prestige Park car access (peak season) on the Canadian train. | Skyline car access, reserved seating in Panorama car, reserved seating in Prestige Park car. |
| Extras: | Attendant and turndown service available. | Concierge, turndown service, enhanced amenities, and in-cabin flat screen TV. |
Trips featuring the Canadian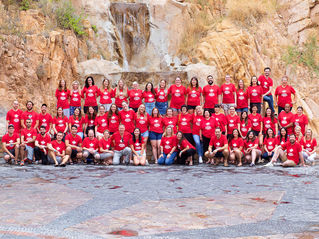 Ready to start planning your Canadian journey?
Here at Fresh Tracks Canada, we have gourmet globetrotters, tranquil train-travellers, bold backpackers, and nature lovers. But what ties us together is that we're all passionate travellers. When we're not helping people plan vacations to Canada, we're getting together to plan our own adventures.
True North Newsletter
Sign up for vacation inspiration, insider tips, exclusive offers and more.