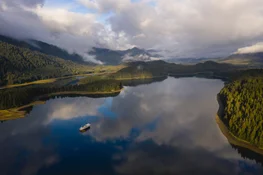 Essential Rockies with Alaska Cruise
Length
14 days / 13 nights
When to go
May – September
Your itinerary is personalized to suit your dreams and needs:
Decide your desired budget
Choose your own activities and experiences
Have all the details of your trip arranged for you
Combined small ship Alaska cruise and Rockies train trip
Marvel at the beauty of iconic Lake Louise, before a luxurious Rocky Mountaineer train journey to Vancouver. Travel to Sitka, Alaska where your small ship crew will sail you into the heart of Alaska's wilderness. Here, a team of guides lead you into the remote bays and fjords of Alaska, with a daily menu of adventure only a small ship experience can offer.

Highlights of your trip
Spectacular rail journey on the Rocky Mountaineer train
Choice of adventures in the Canadian Rockies
Explore beautiful Vancouver
Explore Alaska on a small ship vessel
Whale watching, glacier viewing, kayaking, hiking, and more
Expert guides, hosts, and activity coordinators on your cruise
Top experiences and features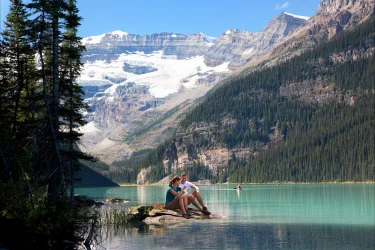 Stay in Lake Louise
Your trip includes a visit to Lake Louise - an emerald lake surrounded by glacier-clad mountains.
Your Questions Answered
Find out what is included in your trip and have all your questions answered. We are here to help.
What's Included
Rocky Mountaineer daylight train journey
Private cabin on small ship cruise
Choice of unique guided activities
All meals onboard your cruise and on the train
Transportation to and from airports, timed with your flights
Feature dining experience at one of our favorite local restaurants
Electronic travel documentation package
Personalized Fresh Tracks Canada customer service support
Frequently Asked Questions
Your trip can be as rich as you'd like, and completely arranged around your interests and needs. The greatest benefit of working with us is our local knowledge. You can customize your trip and decide what you'd like to see and do.
If your trip is a special occasion, we'll make sure it is unforgettable. Or if you're traveling with a group, we'll take care of the logistics so you can share time together stress-free.
Absolutely! We personalize all our clients' trips to fit their exact tastes and needs. You can add days at locations that you'd like to explore and spend more time at. Or leave out certain areas that don't interest you as much. Discuss your travel goals with our Canadian Insiders who make sure that your trip fits your needs and budget.
We partner with many hotels across the country that offer a variety of service levels and unique experiences. Choosing a hotel is based on local availability and personal preference, and our Insiders will help you find the perfect place to rest your head so that you can have the best experience possible.
On some of our trips, you'll see that we categorize our hotel rooms by Comfort, Superior and Deluxe class, which generally translates into the traditional 3-, 4- or 5-star designation (equivalent to Best Western, Sheraton and Fairmont). However, sometimes we use the same hotel for more than one category and distinguish the room by size, floor level or view.
Our Comfort Level hotels include our favorite 3 star hotels, in great locations and with excellent service.
Our Superior Level hotels provide amazing value for clients wanting something more upscale but not at the price of a top-end 5 star resort. Superior level hotels are some of our favorites because of the character and unique charm that you won't find at the average chain hotel.
In Deluxe Level hotels, it's likely you'll be staying at one of the iconic Canadian Fairmont Hotels in a room with a view. Built for the Canadian Pacific Railway in the early 20th century, these hotels are luxurious and full of history – ensuring an experience you'll never forget.
All our trips are personalized to fit our clients' schedule and budget. The price of your trip generally depends on the travel season, train service, accommodations, and the sightseeing tours you take. When you request a quote you'll be provided with the detailed information you need
Rocky Mountaineer operates daylight touring trains, which travel along three of the most spectacular routes in Western Canada. You'll enjoy onboard commentary, award winning service, and incredible food.
Small ship cruises are much more flexible than a typical large ship cruise - your onboard team will decide on the best adventures of the day based on weather, wildlife sightings, and the interests of the group. The agile vessels are able to access secluded inlets, bays, and channels where your chances of seeing wildlife are so much better.
Accommodations range from comfortable private cabins with ensuite bathrooms and picture windows, to full suites. These well appointed ships feature delicious cuisine, common lounges for mingling and evening presentations, as well as kayak launch docks for the days of adventure ahead.
Trip Itinerary
Speak to one of our Canadian Insiders about personalizing this trip. Some of our trips can be done in the reverse direction.
Indicates featured activities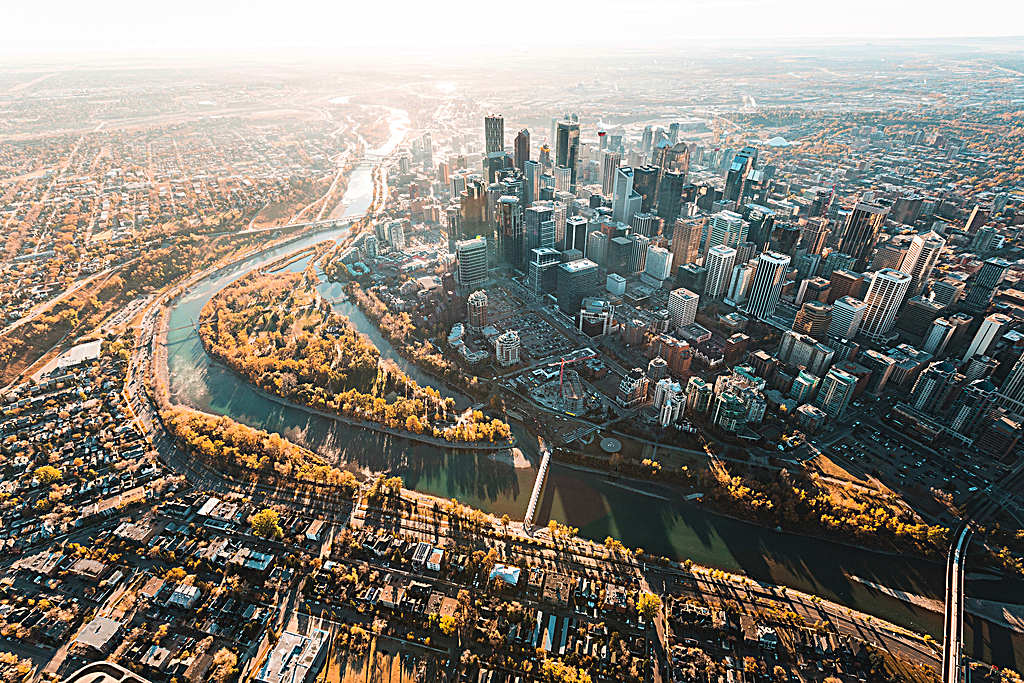 Day 01
Adventure Begins – Calgary to Banff
Travel from Calgary to the Canadian Rocky Mountain town of Banff. Your vacation is off to the best start. We've taken care of all the details. Banff is a unique destination, a UNESCO World Heritage Site with the charm of a small mountain community. Breathe deep — you've arrived!
Transfer from Calgary Airport to Banff

Feature Dinner in Banff

Enjoy a delicious three-course dinner at one of Banff's great restaurants.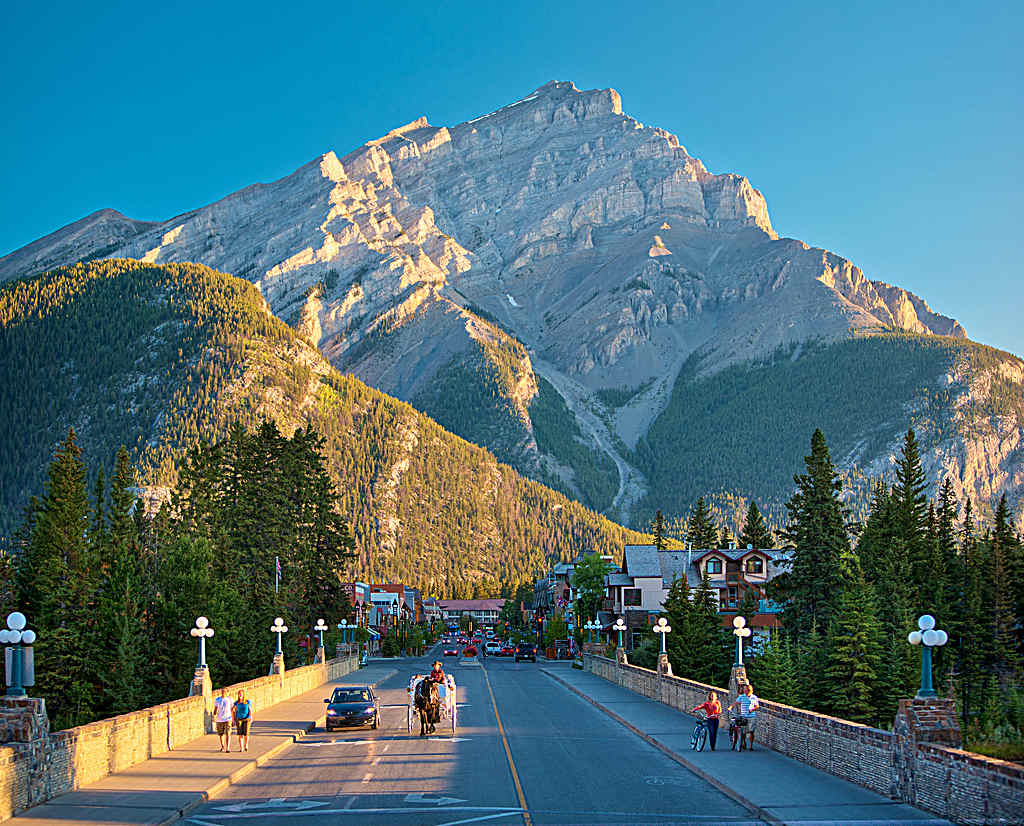 Day 02
Explore Banff
Fill your lungs with cool, fresh Rockies air and head out for a day of exploration. The town of Banff, established in 1885, is the main hub in Banff National Park, as well as a centre for visitor activities and cultural events.
You have

3 options

to choose from today:

Banff Sunrise Photography Tour

Wake up early to photograph Banff National Park before the crowds arrive. An expert guide shows you how to capture this special time of day on camera.

Banff Sightseeing Tour and Gondola Ride

Discover Banff's folklore and natural history on a small group tour, then ride the gondola up to the summit of Sulphur Mountain.

Banff E-Bike Tour

Cycle through Banff and the wonderful Bow Valley area on an e-bike tour.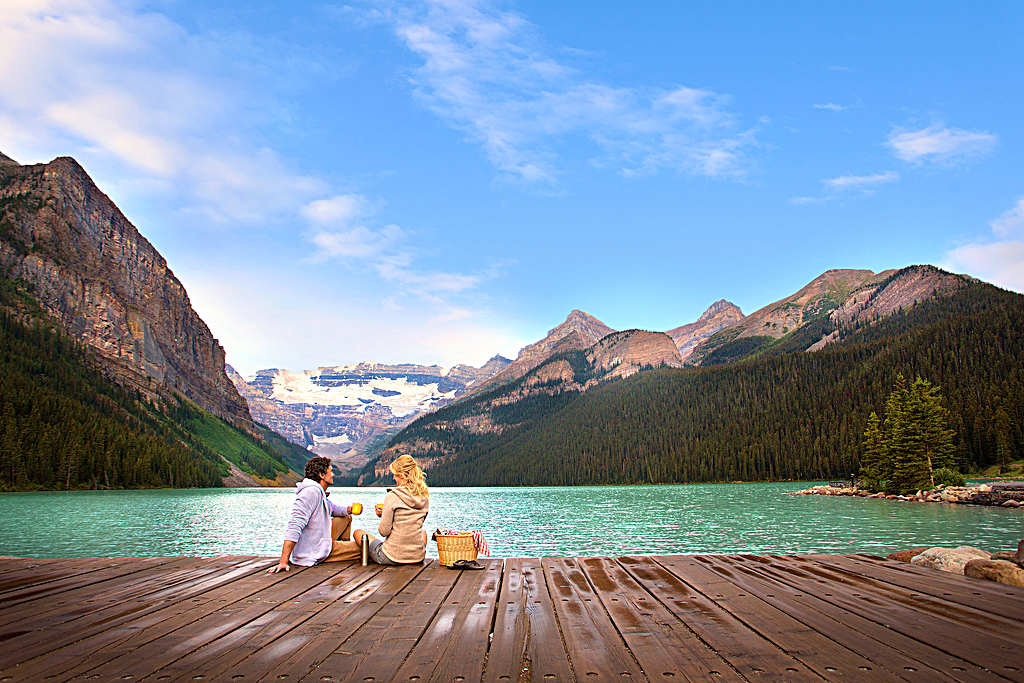 Day 03
Travel from Banff to Lake Louise
Today you travel from Banff to Lake Louise. Gaze at the turquoise-blue lake, surrounded by glacier-clad mountains. This is the picture-perfect overnight stop in the heart of the Canadian Rockies.
Banff to Lake Louise Sightseeing Transfer

Travel along the scenic Bow Valley Parkway on a guided sightseeing transfer to Lake Louise. Photo stops and commentary are provided along the way.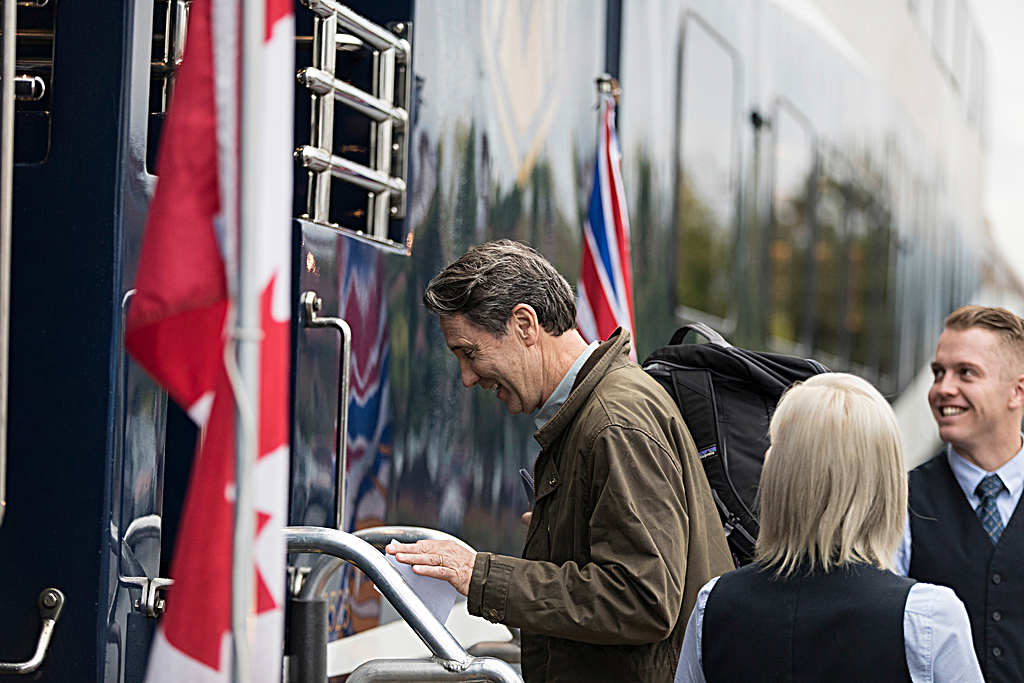 Day 04
Board The Rocky Mountaineer Train
This morning you'll begin the first day of your Rockies train adventure onboard the Rocky Mountaineer.
Motorcoach Transfer to Train Station

Rocky Mountaineer Train Service

Rocky Mountaineer daylight trains feature glass-dome cars with oversized windows, gourmet meals, and friendly, attentive staff. Ask your Vacation Advisor about the differences between SilverLeaf and GoldLeaf.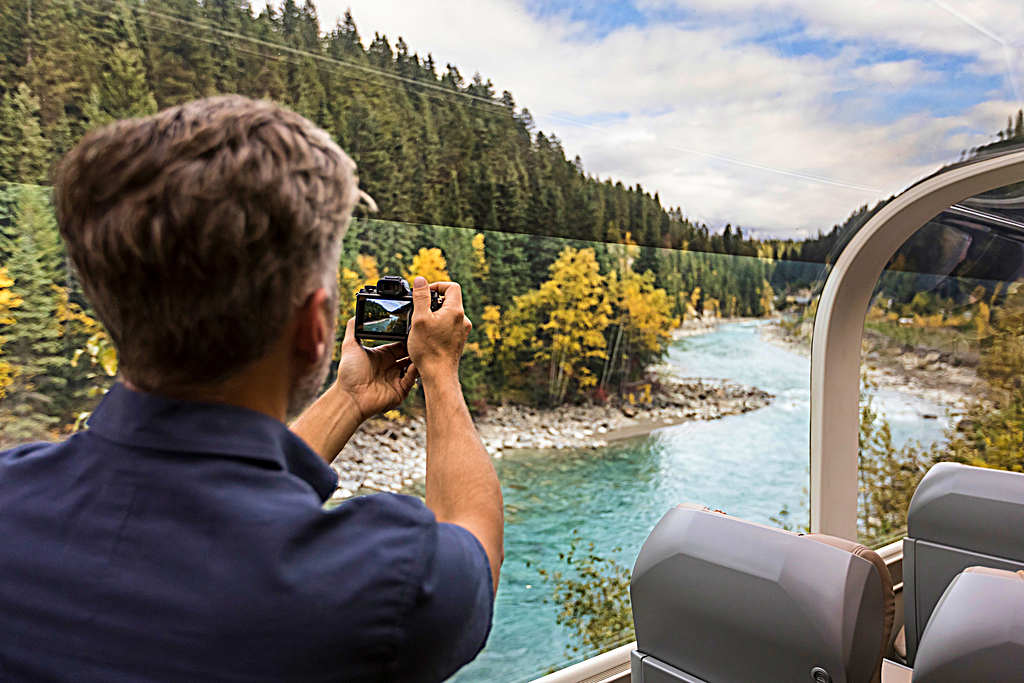 Day 05
Aboard the Rocky Mountaineer
Re-board the Rocky Mountaineer this morning for the second part of your train journey towards Vancouver.
Motorcoach Transfer to Hotel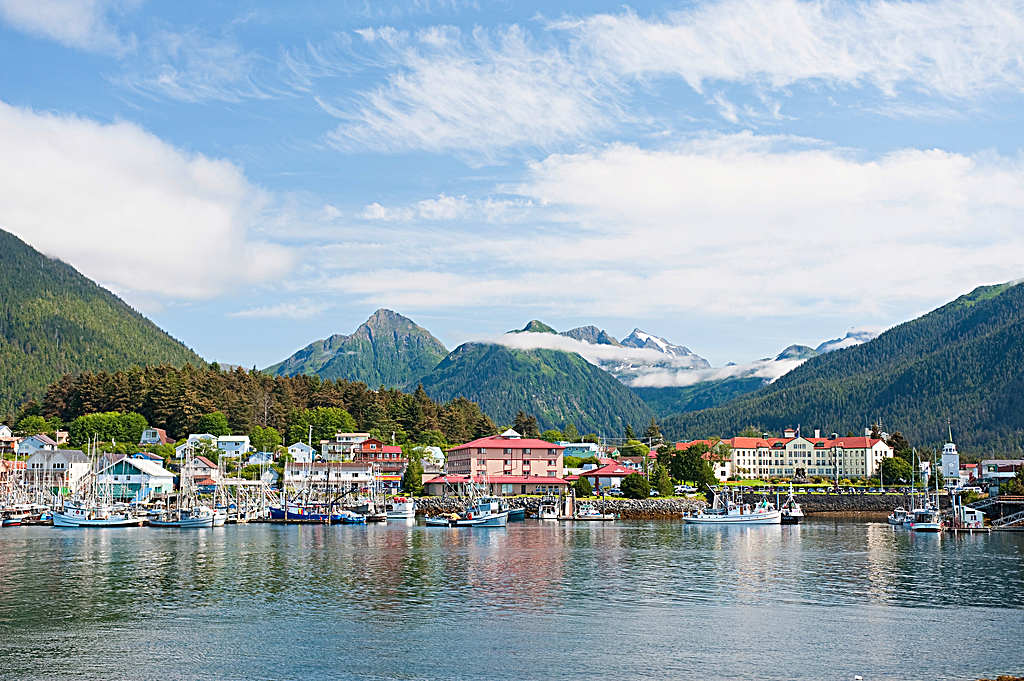 Day 06
Vancouver to Sitka
Today, fly to Sitka, Alaska, to begin your cruise adventure. Sitka is Alaska's most charming seaside town, surrounded by misty islands and soaring, snow-capped mountain peaks. Discover the influence of Tlingit, Russian, and American culture at the Cultural Center, or relax in your hotel.
Private Transfer to Vancouver Airport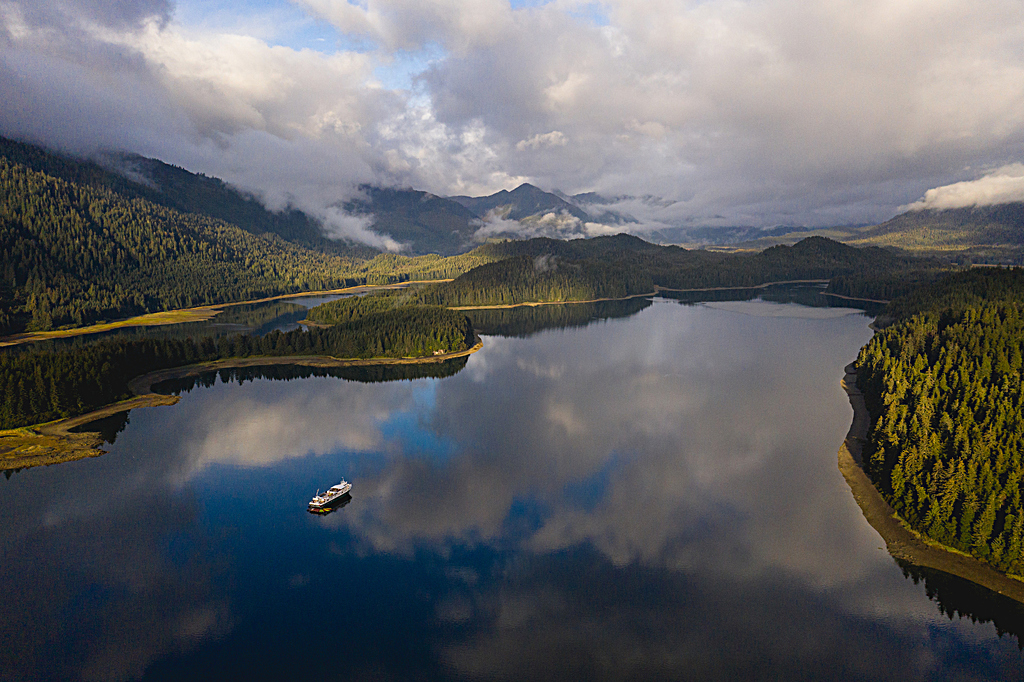 Day 07
Cruise Embarkation from Sitka, Alaska
Feel the excitement build as you are led to your small ship vessel. Step onboard for a champagne welcome.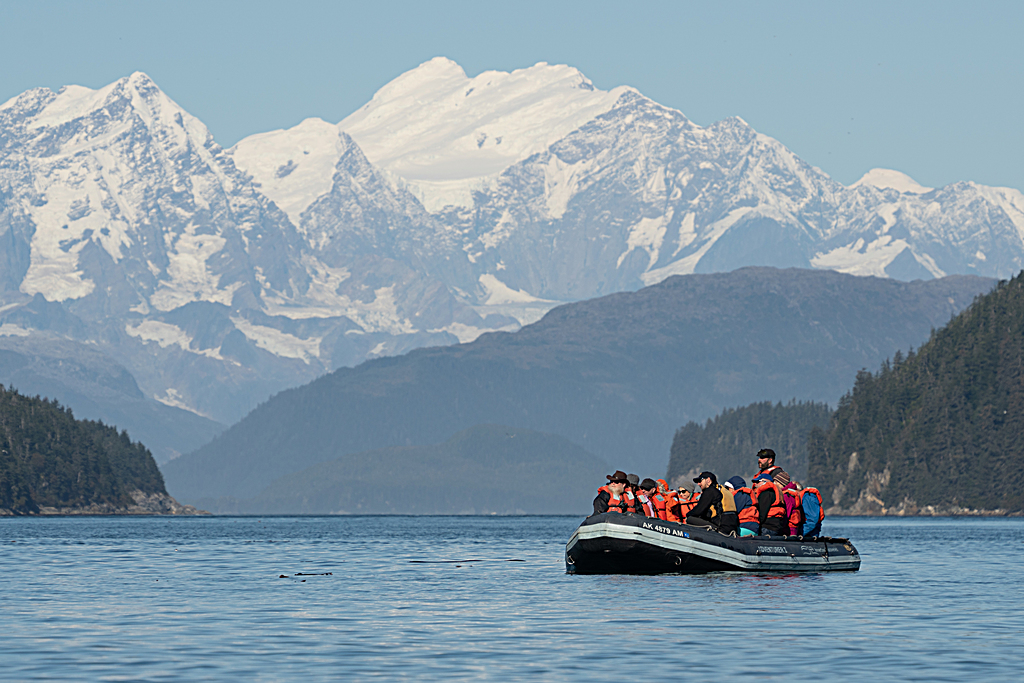 Day 08
Discover Alaskan Wildlife
Your first day of adventure - drop anchor and venture off the beaten path.
Krestof and Nakwasina Sounds
Prices
Get your personalized quote as prices vary by departure date, train-service level and hotel class. Prices shown are our lowest rates per person, based on double occupancy, and exclude taxes.
Comfort Level
Rocky Mountaineer Service
Cruise Accommodation
Navigator Cabin
Like this trip?
Download the full itinerary including your options to personalize this trip.
Have a question?
We can answer any questions or make suggestions.
Schedule a Call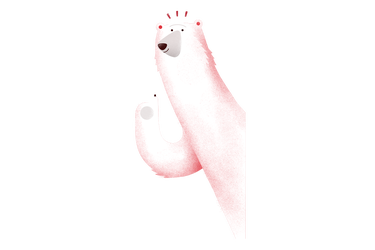 Accommodations
These are examples of the places you can stay on this trip. Please get in touch to discuss your options and to check availability.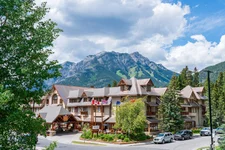 Banff Caribou Lodge
Example of a Comfort hotel in Banff
Banff Caribou Lodge and Spa is a short walk away from downtown Banff. Relax in one of the hotel's cozy guest rooms, pamper yourself at the full-service spa, or rent a bike and explore the local area.
Personalize This Itinerary
Here are some of the most popular ways to personalize this journey.


Celebrate an occasion
Whether it's a birthday, anniversary, graduation, or the fulfillment of a lifelong goal, our team is ready to make it a celebration to remember. From arranging a bottle of champagne to putting together a helicopter picnic for two on top of a mountain at sunset, we're ready to make your dreams a reality.
It was a great trip!
Choosing our favourite part of our trip is very hard, from our accommodations to the food, and the GoldLeaf service on the train was all up to a 5 star review. Great Job!


Joseph, Renee and Party
CT, USA
Limited Time Promotions

$500 Early Booking Bonus
2024 Rocky Mountaineer trips at 2023 prices + booking bonus
Receive $500 per couple in travel add-ons on your Rocky Mountaineer trip — plus get 2024 trips at 2023 prices! Must book by September 30. Prices go up on October 1.
Applies to 2024 Canadian train vacations with Rocky Mountaineer routes in the itinerary. Booking now means best availability on popular departure dates, train services, hotels, and tours — your personalized itinerary will be a vacation to remember.
*Terms and conditions apply.
Schedule a call with one of our travel experts, or call us at undefined.
Having grown up in Calgary, the Rocky Mountains have always been my backyard, but there are so many more hidden gems to explore in Alberta. From the outdoor enthusiast's paradise of Waterton, to the fossil filled Dinosaur Provincial Park, there is something for everyone.
Current promotions
Sign up for special offers, monthly Canadian Insider tips, and vacation inspiration.