Trans Canada Rainforest Route
Explore the country on this trans Canada train trip
Travel by train through the coastal mountains of Whistler, the Canadian Rockies, and the vast Prairies. Experience both the Rocky Mountaineer and VIA Rail trains.
Suggested length
9 days / 8 nights
Price
From Loading... per person
When to go
May – September
Time on train
6 days, 3 nights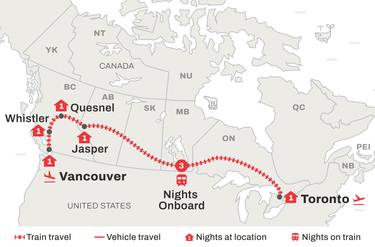 Highlights of your trip
See some of the most beautiful towns and cities in the country, including Vancouver and Jasper
Enjoy two and a half days on the famous Rocky Mountaineer and three nights on a VIA Rail train
Discover the stunning wilderness of Canada as you travel through areas only accessible by train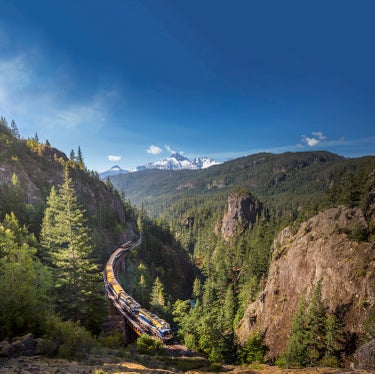 Trip Itinerary
Speak to one of our Canadian Insiders about personalizing this trip. Some of our trips can be done in the reverse direction.
Indicates featured activities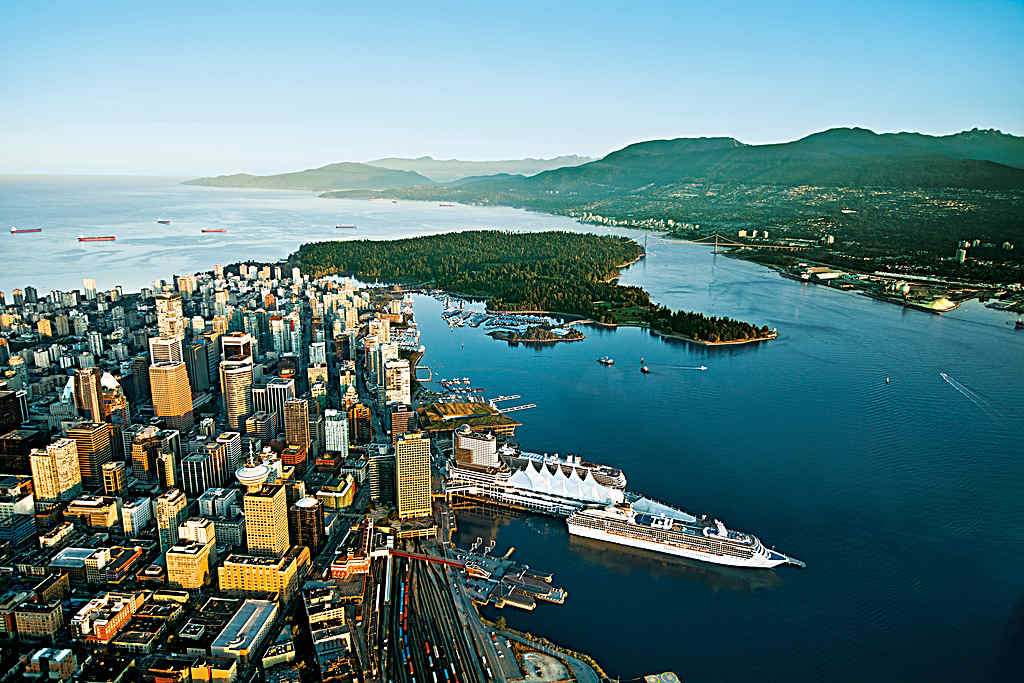 Day 01
Arrive in Vancouver
Welcome to our hometown — a famously lovely west coast city surrounded by mountains and the ocean.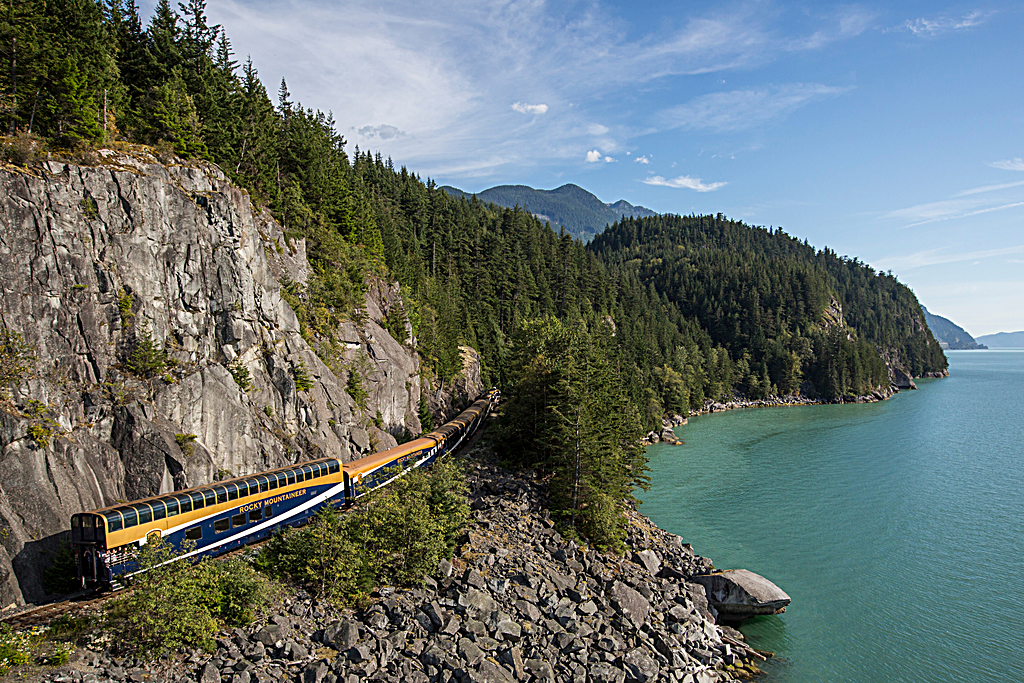 Day 02
Rocky Mountaineer Train – Vancouver to Whistler
Step aboard the Rocky Mountaineer train for the start of a three-day train journey to the Canadian Rockies. Travel from 'sea to sky' on your way to Whistler.
Suggested Add-On: Whistler Dinner Tour (Extra Cost)

If you are looking to treat yourself to Whistler's best fine dining, this is the tour for you! This four hour tour features four delicious courses at award winning Whistler restaurants. You will also visit an impressive 15,000-bottle wine cellar where guests learn to 'saber' champagne with a sword (and a steady hand)!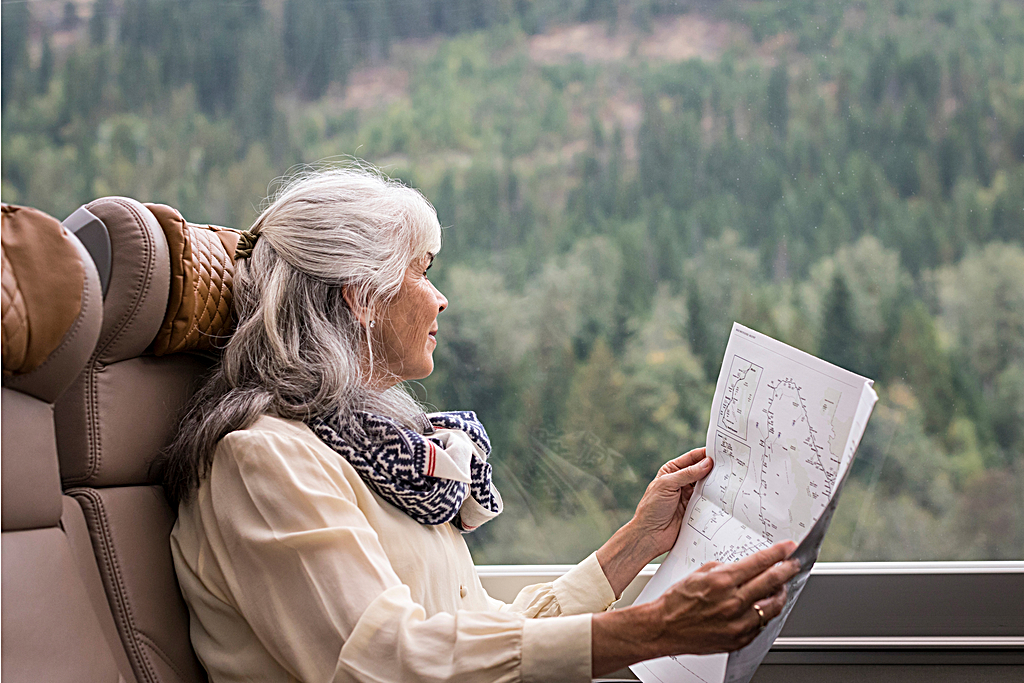 Day 03
Rocky Mountaineer Train – Whistler to Quesnel
Another day of your train journey begins as you re-board the Rocky Mountaineer. Travel into the sprawling wilderness of British Columbia — keep your eyes open for wildlife. Spend the night in the small town of Quesnel.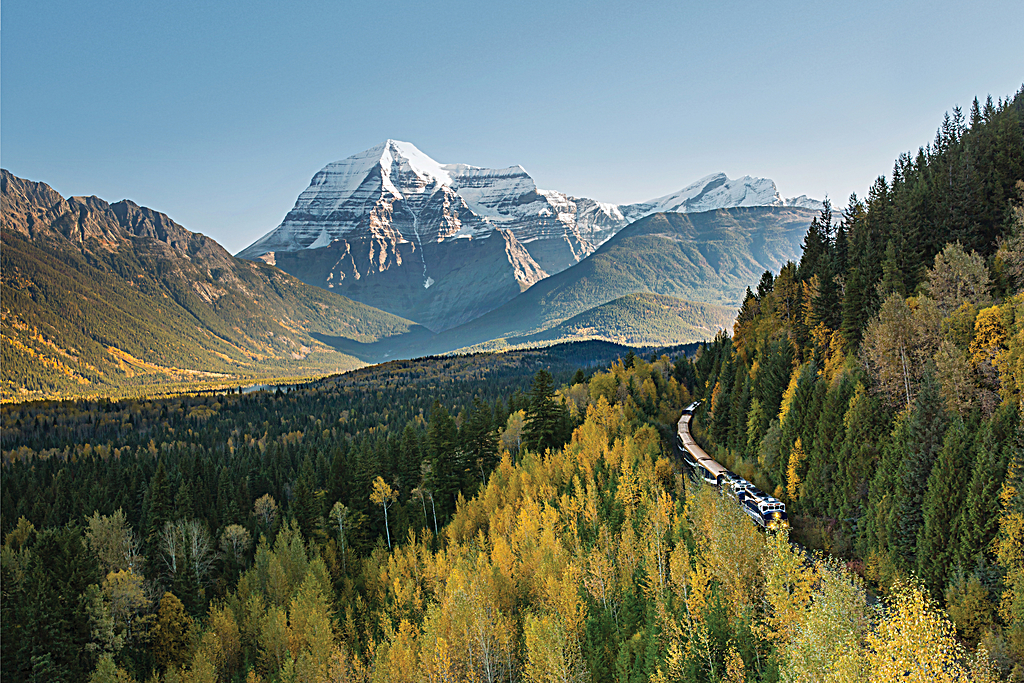 Day 04
Rocky Mountaineer Train – Quesnel to Jasper
This morning return to your home on the rails — the Rocky Mountaineer train. Today is the day you've been waiting for, the day you travel through the breathtaking beauty of the Canadian Rockies. Arrive in the town of Jasper this evening.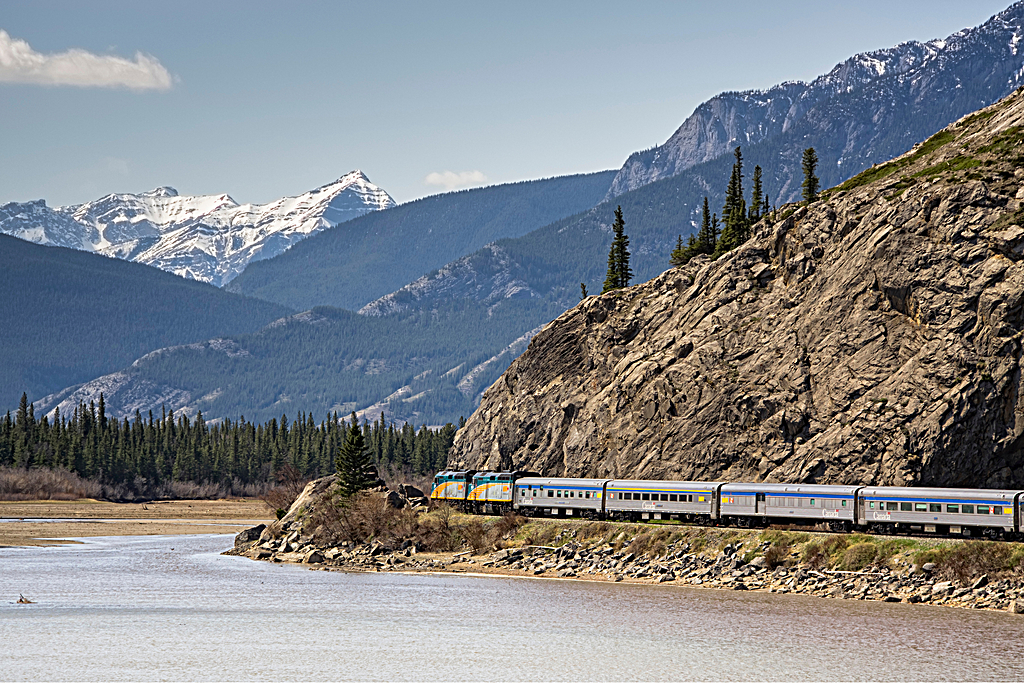 Day 05
VIA Rail – Depart Jasper National Park
Board The Canadian train in Jasper and begin your eastward journey to Toronto.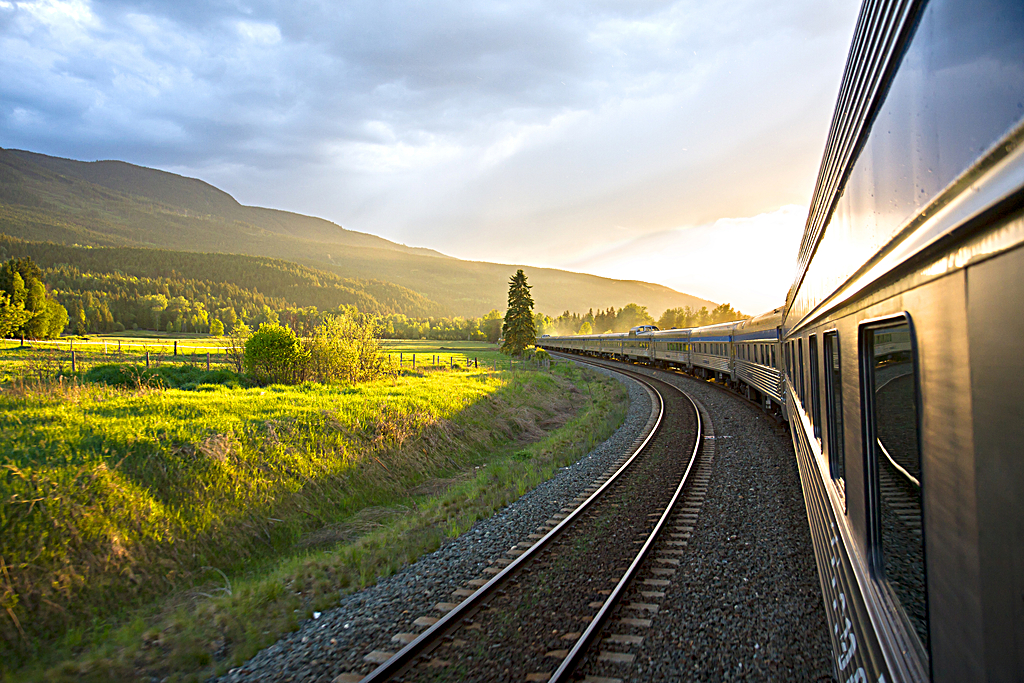 Day 06
VIA Rail – Canadian Prairies
Make your way across the undulating plains of the Prairie provinces — Saskatchewan and Manitoba.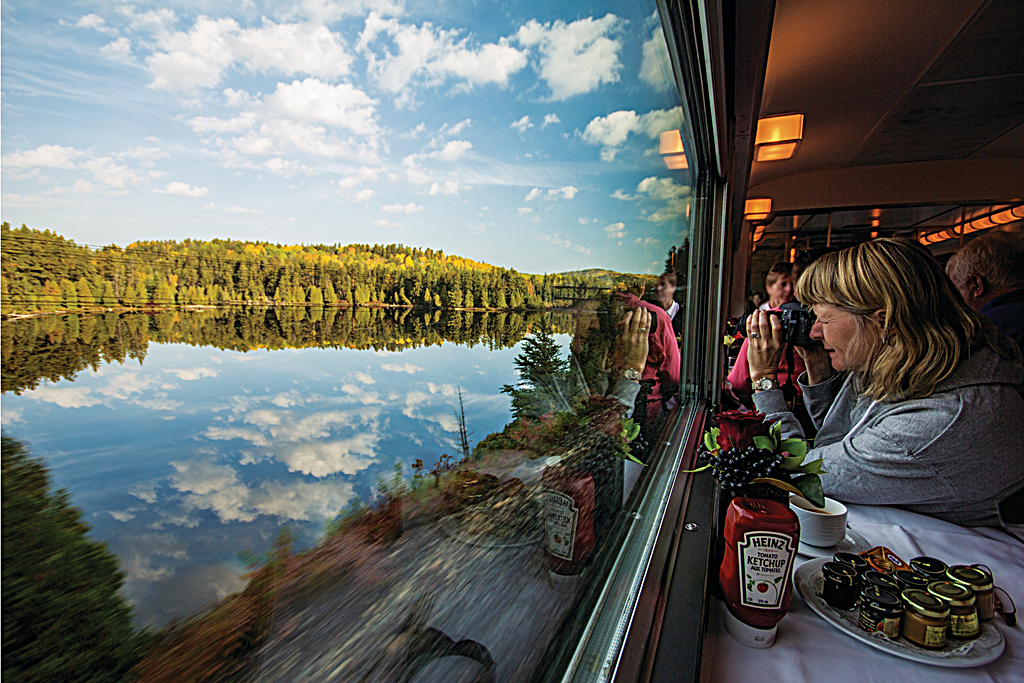 Day 07
VIA Rail – Ontario
Awake in the province of Ontario and travel through the rugged landscape of the Canadian Shield.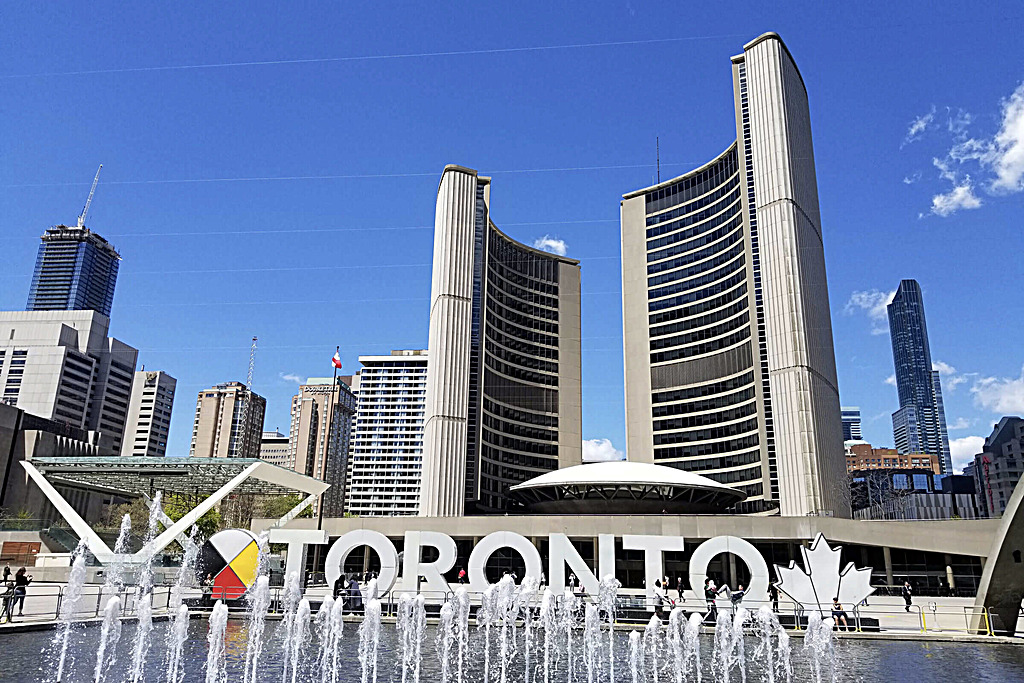 Day 08
VIA Rail - Arrive in Toronto
After travelling south through Ontario's cottage country, your journey onboard The Canadian train comes to an end. Arrive in Toronto — Canada's cultural heart and largest city.
Like this trip?
Download the full itinerary including your options to personalize this trip.
Have a question?
We can answer any questions or make suggestions.
Schedule a Call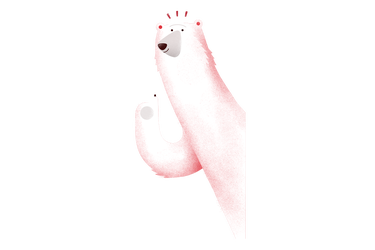 Prices
Get your personalized quote as prices vary by departure date, train-service level and hotel class. Prices shown are our lowest rates per person, based on double occupancy, and exclude taxes.
Comfort Level
Hotel Accommodation
3 to 3.5 Star
Rocky Mountaineer Train Service
SilverLeaf
Accommodations
These are examples of the places you can stay on this trip. Please get in touch to discuss your options and to check availability.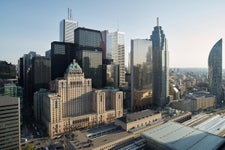 Fairmont Royal York
Example of a Deluxe hotel in Toronto
Situated directly across from Union Station, the Fairmont Royal York is steps away from Toronto's iconic sights and attractions. After a day of exploring, head to the hotel's health club and spa which features an indoor pool, whirlpool, sauna, and steam room.
Personalize This Itinerary
Here are some of the most popular ways to personalize this journey.

Upgrade to Prestige Class
Prestige Class is Canada's version of the Orient Express. Available on VIA Rail's The Canadian Train between Vancouver and Toronto, this luxury double cabin includes a special concierge service throughout your journey. This is one of our most popular upgrade options.
Your Questions Answered
Find out what is included in your trip and have all your questions answered. We are here to help.
What's Included
Sleeper train experience in a private cabin
Rocky Mountaineer daylight train journey
Meals whilst onboard the train
Choice of unique guided activities
Transportation to and from airports, timed with your flights
Feature dining experience at one of our favorite local restaurants
Electronic travel documentation package
Personalized Fresh Tracks Canada customer service support
Frequently Asked Questions
Our vacations are not typically 'escorted.' You are not tied into a specific group, or a rigid daily itinerary but rather have the freedom of 'independent' travel.
This allows you, with the help of our Canadian Insiders, to personalize your trip to suit your occasion, interests, timeframe and budget. We'll guide you through the process and provide the reassurance of seamless connections, customer service support, and scheduled activities tailored to your taste.
Your trip can be as rich as you'd like, and completely arranged around your interests and needs. The greatest benefit of working with us is our local knowledge. You can customize your trip and decide what you'd like to see and do.
If your trip is a special occasion, we'll make sure it is unforgettable. Or if you're traveling with a group, we'll take care of the logistics so you can share time together stress-free.
Absolutely! We personalize all our clients' trips to fit their exact tastes and needs. You can add days at locations that you'd like to explore and spend more time at. Or leave out certain areas that don't interest you as much. Discuss your travel goals with our Canadian Insiders who make sure that your trip fits your needs and budget.
We partner with many hotels across the country that offer a variety of service levels and unique experiences. Choosing a hotel is based on local availability and personal preference, and our Insiders will help you find the perfect place to rest your head so that you can have the best experience possible.
On some of our trips, you'll see that we categorize our hotel rooms by Comfort, Superior and Deluxe class, which generally translates into the traditional 3-, 4- or 5-star designation (equivalent to Best Western, Sheraton and Fairmont). However, sometimes we use the same hotel for more than one category and distinguish the room by size, floor level or view.
Our Comfort Level hotels include our favorite 3 star hotels, in great locations and with excellent service.
Our Superior Level hotels provide amazing value for clients wanting something more upscale but not at the price of a top-end 5 star resort. Superior level hotels are some of our favorites because of the character and unique charm that you won't find at the average chain hotel.
In Deluxe Level hotels, it's likely you'll be staying at one of the iconic Canadian Fairmont Hotels in a room with a view. Built for the Canadian Pacific Railway in the early 20th century, these hotels are luxurious and full of history – ensuring an experience you'll never forget.
Hotel amenities can vary by property, so your Vacation Advisor will discuss what's most important to you, such as air conditioning, parking, laundry, swimming pool, spa, onsite restaurants, or 24-hour room service.
All our trips are personalized to fit our clients' schedule and budget. The price of your trip generally depends on the travel season, train service, accommodations, and the sightseeing tours you take. When you request a quote you'll be provided with the detailed information you need
Most of our trips include stops to get off the train to explore Canada's beautiful locations, national parks and unique cities. However, if you're keen to maximize your time onboard, we'll pair you up with the perfect train experience.
All of our overnight train journeys feature a private cabin on board the train. In addition, you'll typically enjoy the train's viewing areas, common lounges, and dining cars where you can socialize with fellow travelers.
Rocky Mountaineer operates daylight touring trains, which travel along three of the most spectacular routes in Western Canada. You'll enjoy onboard commentary, award winning service, and incredible food.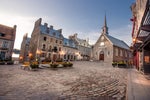 Limited Time Offer
Price Freeze On 2023 Trips
Book your 2023 trip now and take advantage of 2022 prices!
During this price freeze, enjoy early access to our 2023 rail-trip collection, with the best availability and trip options.
Schedule a call with a Canadian Insider or call us at undefined.
Having grown up in Calgary, the Rocky Mountains have always been my backyard, but there are so many more hidden gems to explore in Alberta. From the outdoor enthusiast's paradise of Waterton, to the fossil filled Dinosaur Provincial Park, there is something for everyone.
Similar Trips
View some of our other favorite trips
True North Newsletter
Sign up for vacation inspiration, insider tips, exclusive offers and more.