Luxurious Train Trips from Vancouver
Vancouver is the perfect starting point for your Canadian train adventure. This West Coast city sits beside the Pacific Ocean against a backdrop of mountains. Give yourself time to explore the city before or after your train trip. Train rides based out of Vancouver take you through British Columbia's interior. See Canada's beautiful valleys, rivers, lakes and mountains.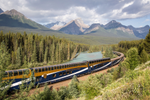 The travel experts at Canadian Train Vacations can help you pick the best Vancouver train trip for you. We specialize in creating customized trips and have a deep local knowledge of this area.
Vancouver to Banff train tours wind their way through the Canadian Rocky Mountains. Get off the train and explore the region, visiting Banff and Lake Louise. Travel even further across the wide-open prairies on a Vancouver to Toronto train. It's the most comfortable way to experience the sheer scale of Canada.
There are several different train trips from Vancouver to choose from, and our travel experts have picked some of our most popular trips to share with you.
Popular Train Tours from Vancouver
Speak to a Canadian Train Vacation Advisor to discuss all your options.

Keep reading or chat with one of our local travel experts. We're passionate about Canada and can help you at any stage of your vacation planning.
Get in touch
One of our bestselling Canadian Rockies train trips! This 8-day itinerary starts in Vancouver and ends in Calgary. Relax as the Rocky Mountaineer train takes you from Vancouver to Jasper. Then, spend five days in the Canadian Rockies. Travel the Icefields Parkway, see turquoise-coloured Lake Louise and explore Banff National Park.
Miles covered on train: 594
Days on train: 2
Nights on train: N/A
On this across-Canada tour, you'll experience a daylight sightseeing train and a sleeper train. First, enjoy the luxury of Rocky Mountaineer's daylight train from Vancouver to Banff. Discover the beauty and wildlife of Banff and Jasper national parks before boarding VIA Rail's The Canadian train. You will then sleep on the train for three nights before arriving in Toronto.
Miles covered on train: 2,775
Days on train: 5
Nights on train: 3
Spend four days and nights on VIA Rail's The Canadian. See as the scenery changes from towering mountains to flat farmland to lake-dotted countryside. In Toronto and Vancouver, choose from a unique selection of small-group sightseeing tours for a full experience of these cities.
Miles covered on train: 2,762
Days on train: 4
Nights on train: 4
Get a brochure
Includes sample trip itineraries, route maps, and insider tips.
Get Your Brochure
Have a question?
We can answer any questions or make suggestions.
Schedule a Call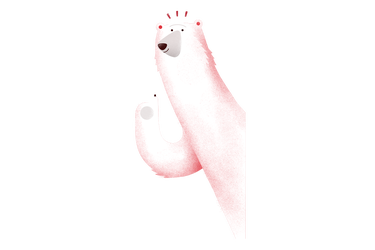 How to plan a train trip from Vancouver?
Step 1: Plan your trip with a Canadian Insider
There's nothing cookie-cutter about our train tours from Vancouver. Combining deep local knowledge and a passion for sharing Canada with the world, our travel experts work directly with travellers to design their perfectly personalized experience of Canada.
Step 2: Have everything organized for you
From booking hotel transfers and accommodations to arranging tours and activities — and even restaurant reservations — our local experts make your travel arrangements from the time you arrive in Canada to the time you leave. All you have to do is enjoy your train trip from Vancouver.
Step 3: Get help when you need it
We're here to make sure you get the inside scoop before you even leave home. And you can relax on your vacation because you know that we're a phone call away if you have any questions while you're in Canada.
Vancouver Train Experiences
These are some suggested experiences for your train journey from Vancouver. Your Canadian adventure starts here.
Rocky Mountaineer
The Rocky Mountaineer operates three daylight train routes through the Canadian Rockies. The train has an outdoor viewing platform, large windows and glass-dome coaches. Passengers enjoy optimal photo opportunities and spectacular views. The train runs from mid-April to mid-October and only during daylight hours. Each evening, passengers step off the train and stay overnight in a hotel. From Vancouver, you can go to Whistler, Quesnel, Kamloops, Jasper, Lake Louise, or Banff. City stops depend on the route you choose.
Explore: Rocky Mountaineer Train Trips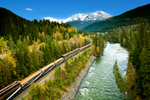 VIA Rail Train
VIA Rail trains operate across Canada, connecting the East Coast and the West Coast. Four main train routes run year-round. From Vancouver, you can embark on a train trip to Prince Rupert, Jasper, Winnipeg or Toronto. You can also go to Ottawa, Montreal, Quebec City, Halifax and more. VIA Rail offers daylight and overnight sleeper train experiences.
Explore: VIA Rail Vacations
Sleeper Train
There are three train routes in Canada that allow you to sleep on the train. Travel between Vancouver and Toronto on The Canadian and stop in Jasper or Winnipeg on the way. Choose to continue your travels on The Ocean train from Montreal to Halifax. You can also sleep onboard the Winnipeg to Churchill train. These sleeper train routes are available all year long. Some sleeper trains in Canada have panoramic viewing cars, so you have the best views day or night.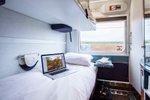 Vancouver City Information
Vancouver is the largest city in British Columbia, Canada's western-most province. Greater Vancouver is also Canada's third-largest metropolitan area. The city sits next to the Pacific Ocean, is close to the US border, and has the Coast Mountains to the north. Vancouver has a mild coastal climate, making it a delightful place to visit year-round.
You can spend hours discovering Vancouver's neighbourhoods. Visit Robson Street for excellent shopping and dining. Stroll past Gastown's heritage buildings. Shop for local food and artisanal products at Granville Island. There are many art galleries, museums, and gardens to explore as well. Whale-watching tours and harbour cruises are popular activities during the summer. Other major attractions include Grouse Mountain and Capilano Suspension Bridge.
Stanley Park, Vancouver's first park, is considered to be one of the world's top urban parks. Close to downtown, the park features ancient cedars, rainforest, beaches, and more. Every year, the scenic seawall path is used by millions of walkers and cyclists.
Both Rocky Mountaineer and VIA Rail run trains into and out of Vancouver.
The logistics were perfect
The train travel was great. The quantity and quality of tours were just right. We enjoyed being busy but also having some downtime and some time to explore on our own. The places w... 

Why book with Canadian Train Vacations?

We take care of all the details
You want to relax and enjoy your trip, not get overwhelmed by the planning. Let us make all of the bookings for you, including rail tickets, hotels, excursions and activities, meals and transfers.

Independent travel with expert support
Enjoy local expertise and guidance with a personalized itinerary. Your preferences and needs are our priority. We take care of you from the moment you land until the moment you leave.
Get help when you need it
You'll receive the inside scoop before you even leave home. And you can relax during your vacation because we're only a phone call away if you have any questions while you're in Canada.
Frequently Asked Questions
Train journeys from Vancouver can take you to the Canadian Rockies or across Canada. Rocky Mountaineer's trains go from Vancouver to Lake Louise, Jasper or Banff. VIA Rail's The Canadian train runs from Vancouver to Toronto, with stops in Jasper and Winnipeg.
The Rocky Mountaineer runs a train from Vancouver to Banff. This Vancouver scenic train ride only operates between mid-April to mid-October. If you're looking to travel outside of these months, please ask us and we can advise you how to get from Vancouver to Banff.
Train rides from Vancouver to Banff take two full days. On this Rocky Mountaineer route, passengers stop in Kamloops for one night along the way. The train leaves early in the morning and arrives in Banff in the evening.
The driving distance between Vancouver and Toronto is approximately 4,500 kilometres (2796 miles). Canadian train trips Vancouver to Toronto take four days and four nights.
There are several options for a Vancouver to Toronto train trip. One example is below.
Our Vancouver to Toronto train package includes two train rides. A train journey from Vancouver to Banff and then from Jasper to Toronto. Pricing starts from $6,090 USD per person for an 11-day trip, including transfers, hotels, and some meals and activities. Schedule a call with one of our Canadian Train Vacation Advisors to learn about trips to suit your preferences and budget.
There is no train between Vancouver and Calgary. Anyone travelling to Calgary would get the train to Banff, Jasper or Lake Louise, then drive the rest of the way. Approximate driving distances to Calgary: Banff - 1.5 hours, Lake Louise - 2 hours, Jasper - 5 hours.
Current Promotions
Sign up for special offers, monthly Canadian Insider tips, and vacation inspiration.