VIA Rail Canada Tours
VIA Rail Canada has perfected the art of ferrying passengers across Canada, day and night. On board VIA Rail's overnight trains, you can enjoy fine dining, relax in a lounge car, and stretch out in a cozy sleeper cabin. Sleeper cabins are a comfortable way to explore the natural beauty of Canada, from coast to coast.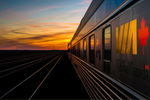 Take a multi-day train journey from Vancouver to Toronto. Wind your way past sleepy fishing villages in the Maritimes. Travel through the countryside of Quebec and Ontario. Head to Churchill for spectacular wildlife viewing. Old-growth forests, mountains, prairies, lakes, big cities - discover it all on one of our tours. VIA Rail trains run all year round, so you can explore Canada in every season.
Canadian Train Vacations have been creating personalized itineraries in Canada since 1996. Our VIA Rail vacations are completely customizable. We combine your chosen train route with activities, excursions, and dining experiences — all catered to your interests. You can choose your hotel class, add extra days and select your level of service on the train.
Most Recommended VIA Rail Trips
For inspiration, check out our most recommended VIA Rail train packages. You can spend a few hours on the train, a whole day, three nights or more — it's completely up to you.

Keep reading or chat with one of our local travel experts. We're passionate about Canada and can help you at any stage of your vacation planning.
Get in touch
Short on time? Choose our six-day Canadian Rockies train trip. This itinerary features an overnight train journey between Jasper and Vancouver. You'll explore Jasper and Banff national parks, tour the Icefields Parkway, and travel to the West Coast on VIA Rail's Canadian train. Spend one day and one night on the train.
Miles covered on train: 532
Days on train: 1
Nights on train: 1
Settle into life on board the train on a VIA Rail across Canada tour. Spend three nights on The Canadian train as you travel between Jasper and Toronto. You'll combine this with a Rocky Mountaineer daylight train from Vancouver to Jasper.
Miles covered on train: 2,775
Days on train: 5
Nights on train: 3
Our VIA Rail packages also include daylight train experiences through Eastern Canada. On this trip, you'll hop on board VIA Rail's Corridor train and travel through Ontario and Quebec. Explore different cities each day - Toronto, Ottawa, Montreal and Quebec City. You'll also visit the beautiful Niagara region.
Miles covered on train: 465
Days on train: 3
Nights on train: 0
Get a brochure
Includes sample trip itineraries, route maps, and insider tips.
Get Your Brochure
Have a question?
We can answer any questions or make suggestions.
Schedule a Call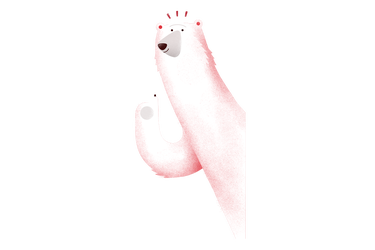 VIA Rail Classes
Depending on the train route, VIA Rail Canada offers multiple service levels. Need help deciding which one is right for you? Reach out to our travel experts for advice.
Sleeper Plus Class
In Sleeper Plus Class, you have a cabin with a private toilet and sink, and access to a shared shower. Cabins feature comfortable seating next to a large picture window. At night, your attendant sets up your bunk-style upper and/or lower beds. Cabins can sleep 1 to 4 people. Perks of Sleeper Plus class vary on each train route.
Sleeper Plus on the Canadian train: onboard gourmet meals served in the dining car. Snacks and non-alcoholic beverages are available. On the train, you'll have access to the Panorama and Skyline viewing cars. At the beginning of your trip, enjoy priority boarding and access to the station lounges in Vancouver /Toronto.
Sleeper Plus on the Ocean train: hot meals are served in the dining car. Ask your friendly hosts about available times to visit the lounge car.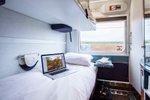 Prestige Class
In the VIA Rail Prestige Class, you have 50% more space compared to Sleeper Plus Class. The window is 60% larger, perfect for admiring the views. Cabins feature an L-shaped leather couch that converts to a lower bed at night. The bed faces the window so you can look out at the changing scenery. There is a toilet and sink in the cabin, and you will have access to a shared shower. Perks include personal concierge service, access to the Park Car, and priority meal reservations in the dining car. Enjoy afternoon tapas, unlimited snacks, and complimentary alcoholic and non-alcoholic beverages, too. Prestige Class is only offered on The Canadian train.
Business Class
In Business class on the day-time trains, you receive priority boarding and waiting lounge access. Onboard meals and drinks are included and served at your seat. You'll get breakfast, lunch or dinner, depending on your train time. Business Class is offered on The Corridor train.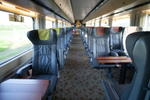 Quick Facts About VIA Rail Trains
VIA Rail is a passenger rail service that connects Canada. There are four main train routes. Major city stops include Vancouver, Jasper, Winnipeg, Toronto, Ottawa, Montreal, Quebec and Halifax.
Depending on the route, VIA Rail offers daylight or overnight sleeper train experiences.
VIA Rail offers a selection of snacks, light meals, and gourmet Canadian cuisine. Options available depend on the train route and class of service.
Train cars feature large picture windows to highlight the vast Canadian landscape.
Some trains include the Panorama car where giant windows extend to the ceiling.
There are three sleeper train routes: The Canadian, The Ocean and The Winnipeg-Churchill.
VIA Rail Map and Routes
The route you take on your trans Canada journey is up to you - and there are many options to choose from. Let a Canadian Insider help you put the pieces together. Some of the best via rail routes are listed below.
The Canadian
Hopping on this train is the ultimate way to discover how big and beautiful Canada is. 'The Canadian' was the flagship of the Canadian Pacific Rail line when it began service in 1955. The Canadian is an incredible cross-country journey between Toronto and Vancouver. The train covers 4,466 kilometres. Along the way, pass the forests of Ontario, the endless fields of the Prairie provinces, and the dramatic Rocky Mountains. Major city stops include Vancouver, Jasper, Winnipeg and Toronto. This route is an overnight sleeper train experience that takes four days and four nights.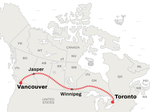 The Ocean
The Ocean train has been operating since 1904, making it the oldest continuously operated named passenger train in North America. The 1,350-kilometre journey takes you from the French-speaking province of Quebec to the Maritime province of Nova Scotia. Look out the window and you'll see rolling countryside and a backdrop of lighthouses and seascapes. You'll pass by small communities of French Canadian, Acadian, Celtic and English heritage. Major city stops include Montreal, Quebec City, Moncton and Halifax. This overnight sleeper train experience takes approximately 21 hours. The best time to enjoy it is from mid-June until mid-October.
Explore: East Coast Train Tours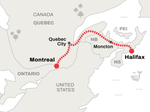 The Corridor
VIA Rail trips on The Corridor train carry you through southern Ontario and Quebec, the heartland of Canada. See winding rivers, pristine lakes, rural towns - and the big cities, of course. Stops include Toronto, Ottawa, Montreal and Quebec City. This scenic commuter train service offers Economy and Business Class seats.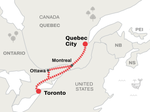 Places to Visit with VIA Rail
From the bright city lights of Toronto to the looming Rocky Mountain peaks, our personalized Canadian train tours on VIA Rail offer adventure on a grand scale. Our VIA Rail holidays take you to the best Canadian destinations.
Vancouver
Vancouver is a delightful city all year round. The city offers the best of both worlds - it has the culture, dining and shopping of a world-class metropolis, with mountains, ocean and hiking trails right on its doorstep. The climate of Vancouver is ideal in the summer, not too cold, not too hot. Treat yourself to ice cream as you wander through the city or cycle around Stanley Park.
Jasper
Jasper is often called the 'gentle giant' of the Canadian Rockies and offers visitors a more laid-back experience.. This small town is the perfect base for exploring Jasper National Park, a UNESCO World Heritage Site. There is something for everyone: adventure, discovery, and relaxation. Popular activities include hiking and wildlife viewing.
Toronto
Toronto sits on Lake Ontario's northwestern shore and is the capital city of the province of Ontario. A walk through the city's vibrant neighbourhoods reveals the incredible diversity of Canada's population. Discover ethnic restaurants, lively bars, Broadway shows, concerts, art galleries and museums. Notable landmarks include the CN Tower, the The Rogers Centre (the Skydome) and the Royal Ontario Museum.
Winnipeg
Winnipeg, the capital of Manitoba, is a lively prairie city with a buzzing arts and culture scene. The city has diverse dining, new museums, and high-quality theatre, comedy and music. No trip to Winnipeg is complete without a visit to The Forks, the city's top gathering place filled with restaurants, shops and attractions.
Montreal
Montreal sits on an island in the Saint Lawrence River, and the city is predominantly French-speaking. There are 19 boroughs, many of which were once independent cities. Neighbourhoods include cobblestoned, French colonial Old Montreal, industrial Sud-Ouest and colourful, artsy Plateau. The iconic and imposing Notre-Dame Basilica stands in the middle of Old Montreal.
Quebec City
Quebec City's narrow cobblestone streets, steep hills, and public squares are reminiscent of a European city. After wandering through the streets, you can head to The Baie de Beauport, the city's beach. Watch the locals play beach volleyball as the sunlight sparkles on the water.
Halifax
Halifax is the largest port in Canada's Maritime Provinces. The city's connection to the sea and the Celtic people across that sea are evident. You'll hear it in the local dialect and the songs and fiddle music played in pubs. Down on the historic harbourfront is the Maritime Museum of the Atlantic. After learning about Nova Scotia's maritime heritage, you can explore galleries and shops, then dine out on fresh lobster.
A great experience not to be missed
Firstly we thank Fresh Tracks for the excellent organization of our trip and dealing so efficiently with the minor problem we had with our car rental. Travelling in winter does hav... 

Peter, Diane, Steph and Bev
UK
Why book with Canadian Train Vacations?

We take care of all the details
You want to relax and enjoy your trip, not get overwhelmed by the planning. Let us make all of the bookings for you, including rail tickets, hotels, excursions and activities, meals and transfers.

Independent travel with expert support
Enjoy local expertise and guidance with a personalized itinerary. Your preferences and needs are our priority. We take care of you from the moment you land until the moment you leave.
Get help when you need it
You'll receive the inside scoop before you even leave home. And you can relax during your vacation because we're only a phone call away if you have any questions while you're in Canada.
Frequently Asked Questions
The Coast to Coast by train is the ultimate train trip across Canada. You'll see the country's top highlights, including Peggy's Cove, Niagara Falls and Lake Louise.
The Coast to Coast by train package starts at $12,340 for a 19-day trip, including transfers, hotels, and some meals and activities.
One train does not travel coast-to-coast in Canada. VIA Rail connects the Atlantic coast (Halifax) to the Pacific coast (Vancouver) with four different train routes.
VIA Rail's train routes connect Western Canada to Atlantic Canada, covering 7,770 miles. You can travel by train from Vancouver in British Columbia to Halifax in Nova Scotia.
Wi-Fi is available between Quebec City and Windsor on The Corridor train. The Ocean (between Montreal and Halifax) has Wi-Fi available in the train's service cars. There is no Wi-Fi on board The Canadian train (between Vancouver and Toronto). Select train stations and Business lounges have complimentary Wi-Fi.
Yes, you can bring your own food onto the train. Canadian train tours on VIA Rail sometimes include meals, depending on the route and service level. Food and drink are available for purchase in Economy Class. Please check with your vacation advisor to see if your service level includes meals.
On VIA Rail's overnight train routes, shared shower facilities are available on each train car. Sleeper Plus and Prestige class passengers have exclusive access to these facilities. Towels and toiletries are available.
VIA Rail is a different train company from Rocky Mountaineer. Rocky Mountaineer is a daylight sightseeing train between Vancouver and the Canadian Rockies. You do not sleep on board Rocky Mountaineer trains and they only run during the summer months.
Current Promotions
Sign up for special offers, monthly Canadian Insider tips, and vacation inspiration.