The Rocky Mountaineer Train
Last updated
The Rocky Mountaineer showcases rugged alpine terrain and wildlife you can only see by rail, paired with comfy carriages, exquisite meals and excellent service. We'll help you choose the right train trip, then personalize your time in the Canadian Rockies. Luxury, scenery and a dash of adventure? It's truly the trip of a lifetime.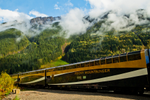 Canada's iconic daylight train only travels from sunrise to sunset. With routes to Banff, Jasper, Lake Louise, Kamloops, Whistler and Vancouver, you'll enjoy spectacular views and impeccable service along the way.
The travel experts at Canadian Train Vacations have extensive experience booking tours on the Rocky Mountaineer train routes. They can ensure your itinerary is a perfect match for your interests. When you book with us, you can add tours and excursions to the beginning or end of a trip, resulting in a completely customized travel experience. We offer friendly service and act as your point of contact from the time you start planning your trip until the very last day of your train tour.
Popular Rocky Mountaineer Train Trips in 2023
Our Canadian travel experts recommend the following Rocky Mountaineer tour packages to travellers looking for a truly luxurious train experience.

Keep reading or chat with one of our local travel experts. We're passionate about Canada and can help you at any stage of your vacation planning.
Get in touch
See all the highlights of the Canadian Rockies, from Banff and Jasper National Parks to the sparkling waters of Lake Louise. The Complete Canadian Rockies by Rail itinerary departs from Vancouver and includes two days of train travel.
Miles on train: 559 Miles
Days on train: 2
Train Stops: Vancouver, Kamloops, and Jasper
A popular route for photography buffs, Discover Whistler and the Canadian Rockies by Rail takes travellers from Vancouver all the way to Calgary, with train and transfers. Take a scenic tour of Icefields Parkway, walk on a real glacier, spend time in an alpine village or customize your tour with extra activities in Banff National Park or Jasper National Park.
Miles on train: 707 Miles
Days on train: 3
Train Stops: Vancouver, Whistler, Quesnel, and Jasper
For travellers interested in a shorter trip, Essential Rockies by Train lets you soak up the splendour of the Canadian Rockies on a quick excursion. You'll see wildlife, glaciers and waterfalls as you travel through the mountain ranges of Alberta and British Columbia.
Miles on train: 594 Miles
Days on train: 2
Stops: Vancouver, Kamloops, Banff and Lake Louise
Rocky Mountaineer Train Experience Add-Ons
Alaska Cruise
The rail portion of your trip can come before or after your Alaska cruise. A smaller ship allows you to visit more coves and inlets, and offers a more immersive experience in the area. Ask your travel advisor about adding a cruise to your Rocky Mountaineer trip. It involves an easy flight from Vancouver to the port of departure.
Floatplane Sightseeing
For an extra dose of adventure, hop on a floatplane and glide over Vancouver's skyline or the natural wonders of Whistler in British Columbia. Floatplanes take off from and land on the water, putting you right in the middle of the action.
Helicopter Tours
Enjoy 360-degree views of the Canadian Rockies while sightseeing via helicopter. You'll gain a new appreciation for Canada's natural beauty as you hover above lakes, rivers and waterfalls. You may even get a glimpse of the local wildlife.
Get a brochure
Includes sample trip itineraries, route maps, and insider tips.
Get Your Brochure
Have a question?
We can answer any questions or make suggestions.
Schedule a Call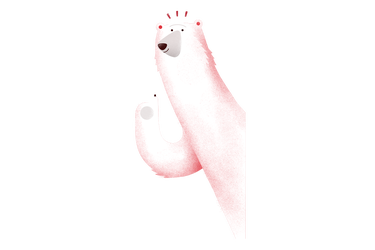 Maps of Rocky Mountaineer Train Routes
Rocky Mountaineer offers three stunning daylight routes connecting British Columbia and Alberta. We can personalize your trip around one of these train journeys or combine them together. Consult the map of your Rocky Mountaineer route for more information about what stops are included on each itinerary.
First Passage to the West
This route connects Vancouver and Banff and is the line the company first established when it was founded in 1990. The Rocky Mountaineer is the only passenger train to travel along this famous, historic section of the Canadian Pacific Railway. Memorable spots along the way include the charming train station at Lake Louise, the Stoney Creek Bridge, the dramatic Fraser and Thompson River Canyons and the location where the last spike was added to the railway in 1885.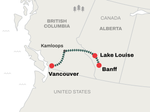 Journey Through the Clouds
This route traverses the later of the two main Canadian transcontinental railways: The Canadian Northern Line, which dates to 1917. It travels between Jasper and Vancouver, taking the breathtaking Yellowhead pass through the mountains. The highlight of the trip is the view of snow-covered Mount Robson, the highest peak in the Rockies.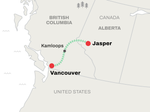 Rainforest to Gold Rush
This route connects North Vancouver and Jasper, with stops in Whistler and Quesnel. The train passes through the Fraser River Canyon. This routing was previously known as the "Fraser Discovery Route," and much of the hosts' involve the discovery of British Columbia's wild timber country and Gold Rush history. It's not uncommon to spot black bears, bald eagles, osprey and even grizzly bears.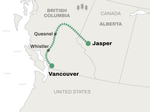 The Rocky Mountaineer Service Levels
Rocky Mountaineer offers two enticing service levels — Goldleaf and Silverleaf — with features that appeal to every traveller. We can help you decide which service level is right for you.
GoldLeaf Service
On GoldLeaf, you can take in Canada's iconic landscape from a bi-level glass-dome luxury coach. During meals, you'll feast on gourmet creations by Executive Chefs.
The GoldLeaf cars are double-level, and your assigned seat will be on the top floor, right underneath the dome window where you will have 360-degree views of the scenery around you. Downstairs is the dining room, where you will be served a la carte meals prepared onboard. GoldLeaf cars also feature an outdoor viewing platform where you can step outside for some fresh mountain air.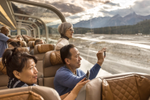 SilverLeaf Service
Winding through the Canadian Rockies onboard a luxury coach, you'll come face to face with magnificent scenery. It can be so breathtaking, you may think you're dreaming.
Hot gourmet breakfasts and lunches served at your spacious seat means you won't have to miss a moment of the splendour out your window. Nor will you miss a moment of the latest historical tidbit from your onboard Host. SilverLeaf cars also feature outdoor vestibules between the cars where you can step outside and feel the cool mountain breeze on your face.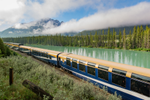 Rocky Mountaineer - Fact Sheet
The Rocky Mountaineer connects British Columbia and Alberta, with stops in Jasper, Lake Louise, Banff, Vancouver, Whistler, Quesnel and Kamloops.
The train runs from mid-April until mid-October.
The Rocky Mountaineer is a daylight-only train designed so that passengers can experience the most spectacular views and optimal photo opportunities.
The routes are designed with an overnight break about mid-way, where guests are transferred to a comfortable hotel.
Chef-prepared meals and local BC wines are included on the train, as well as gourmet snacks.
Inside Rocky Mountaineer train cars, you'll find comfortable seats and friendly hosts who are ready to answer your questions and point out landmarks along each route. Glass domes give passengers a bird's-eye view of waterfalls, lakes, glaciers and wildlife. Each train also has an outdoor viewing platform, making it easier to see local points of interest.
The best time of year to ride the Rocky Mountaineer depends on what you want to see. Late September is the best time if you want to view stunning fall foliage, while May is the best time to avoid summer crowds.
Rocky Mountaineer USA vs Canada Train Rides
The Rocky Mountaineer does operate daylight sightseeing trains in both the USA and Canada. 
In the USA, the Rocky Mountaineer only has one rail route, which travels between Moab, Utah, and Denver, Colorado. There is an overnight stop in Glenwood Springs. 
In Canada, the Rocky Mountaineer has three routes through the Canadian Rockies, between British Columbia and Alberta. You can go from Vancouver to Banff, Jasper, or Lake Louise. Overnight stops are in Kamloops, Quesnel, and Whistler (depending on the route). A benefit to taking the Rocky Mountaineer in Canada is the multiple options to choose for your train trip. Our Circle the Canadian Rockies by Train trip combines two Rocky Mountaineer journeys for an epic roundtrip train tour.
Difference in Service Levels
On the Rocky Mountaineer Colorado to Utah, there are two levels of service — SilverLeaf and SilverLeaf Plus. SilverLeaf Plus includes exclusive access to a separate lounge with upscale drinks and an elevated food experience. SilverLeaf Plus is only available on this USA route. There is no GoldLeaf class on Rocky Mountaineer train trips USA. 
If you want to experience the ultimate in rail luxury in North America, you need to take a Rocky Mountaineer trip in GoldLeaf through Western Canada. GoldLeaf is the most luxurious service and includes a seat in a bi-level glass-dome car with oversized windows. GoldLeaf has a separate dining area on the lower level where you can enjoy your freshly prepared gourmet meals.
SilverLeaf class in Canada and USA is the same. SilverLeaf includes a seat in a single-level dome car with beautiful views. Regionally inspired meals and drinks are served at your seat.
Destinations
On Colorado Rocky Mountain train rides, you'll see desert canyons, sandstone archways, rock formations, and the Colorado River.
In Canada, the Rocky Mountaineer takes you to Banff and Jasper national parks. You'll travel through dramatic canyons and mountain passes, past rushing waterfalls and coastal rainforests. The Rocky Mountaineer train journeys in Canada are longer than those in the USA, meaning you have more time to relax and gaze at the ever-changing scenery.
Once you've arrived in the Canadian Rockies, there are many impressive sights to explore on day trips and excursions. Cruise on Maligne Lake in Jasper, tour the famous Icefields Parkway, ride the Banff Gondola, or have afternoon tea at Chateau Lake Louise. You could even experience a thrilling helicopter tour over ancient glaciers, towering peaks, and turquoise lakes.
Places to Visit
From the shimmering waters of Vancouver to the fresh mountain air of Jasper, the Rocky Mountaineer train travels through many of Canada's best scenery and cities. Your Canadian Train Vacation Advisor can help personalize a trip for you that includes the best places to visit in Western Canada. Our Rocky Mountaineer rail packages may include stops in the following places.
Vancouver
All of the Rocky Mountaineer trips in Canada start or end in Vancouver. This West Coast city is a popular summer destination due to its mild climate. It's warm, but not so warm that you'd rather spend your whole vacation indoors. Vancouver blends world-class restaurants and cultural attractions with soaring mountains and outdoor activities — everything from easy paddles to challenging hiking trails, giving every traveller something fun to do.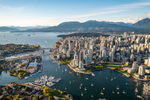 Jasper
If you want to spend your vacation relaxing, Jasper is the perfect destination. It's a sleepy mountain town with plenty of places to rest after a morning of paddling, hiking or sightseeing. It's home to inviting bakeries and a brewpub, as well as several nice dining establishments.
Banff
Located in Alberta, Banff is home to Banff National Park, one of Canada's most popular attractions. The town itself is filled with restaurants and shops, but the nearby national park offers tempting outdoor activities for nature enthusiasts. If you visit Banff National Park, you'll see lakes, waterfalls, glaciers and mountain peaks.
Lake Louise
Crystal-clear water and stunning glacier peaks are just a few of the many reasons to visit Lake Louise. Paddling enthusiasts flock to the lake during the summer months, but Lake Louise has year-round outdoor activities.
Whistler
Whistler, British Columbia, has fine-dining establishments, trendy shops and other amenities to make your visit to the Canadian Rockies a memorable one. Relax at a local spa or play a round of golf while you're in town. One of Whistler's most popular attractions is the Peak 2 Peak Gondola, which links Roundhouse Lodge with Rendezvous Lodge. The Rocky Mountaineer only runs in the warmer months, but Whistler is a famous ski destination.
Kamloops
Originally settled by the Shuswap First Nation, Kamloops is a popular stop on several Rocky Mountaineer train routes. Travellers enjoy visiting local wineries and viewing wildlife at BC Animal Park. The stop here on your Rocky Mountaineer trip is a quick overnight visit. You'll see most of the sights from the train.
Quesnel
Nestled between Prince George and Williams Lake, Quesnel is a popular stop on the route through British Columbia to the Yukon. Outdoor enthusiasts flock to Quesnel for some of the best fishing, hiking and canoeing in the world. Like Quesnel, the stop here on your Rocky Mountaineer trip is a quick overnight visit. You'll see most of the sights from the train.
The Rocky Mountaineer exceeded my expectations
Getting off the train at Winnipeg to temperature of –2 with a wind chill taking it down to –9 and snow! The hotel was outstanding despite the 12 hour delay to the Via rail train an... 

Why book your luxury rail trip with Canadian Train Vacations?

We take care of all the details
You want to relax and enjoy your trip, not get overwhelmed by the planning. Let us make all of the bookings for you, including rail tickets, hotels, excursions and activities, meals and transfers.

Independent travel with expert support
Enjoy local expertise and guidance with a personalized itinerary. Your preferences and needs are our priority. We take care of you from the moment you land until the moment you leave.
Get help when you need it
You'll receive the inside scoop before you even leave home. And you can relax during your vacation because we're only a phone call away if you have any questions while you're in Canada.
Frequently Asked Questions
The Rocky Mountaineer is a train company offering luxury sightseeing tours in Western Canada and the American Southwest. Each route features panoramic views of the Rocky Mountains, comfortable seating and delicious meals prepared with fresh local ingredients.
Armstrong Hospitality Group, owned by Peter Armstrong, operates the Rocky Mountaineer luxury train company.
Rocky Mountaineer train tours typically include 2 to 5 days aboard a rail route and 1 to 2 nights in a hotel. It's possible to extend your trip by adding tours and excursions at the beginning or end of your Rocky Mountaineer train ride.
Rocky Mountaineer train prices vary based on the length of your trip and whether you purchase any add-ons. For a standard trip with no extra tours or excursions, our Rocky Mountaineer train trips range from $3,590 USD to $6,780 USD.
All Canadian Rocky Mountaineer train journey begin or end at the Rocky Mountaineer train station in Vancouver. The other end-point depends on which route you select. For the First Passage to the West itinerary, it's Banff/Lake Louise, while for the Journey Through the Clouds and Rainforest to Gold Rush Rocky Mountaineer train routes end it is Jasper.
Rocky Mountaineer train holidays offer two levels of service: SilverLeaf and GoldLeaf. Although SilverLeaf service includes gourmet meals, panoramic views and personal attention from the tour hosts, GoldLeaf service comes with some extra-special touches that make it well worth the price. GoldLeaf passengers enjoy spacious seats in the upper level of the glass-domed coach and chef-prepared meals featuring local ingredients.
Rocky Mountaineer train tours aren't available during the winter. The company runs its luxury train excursions from April through October of each year.
Rocky Mountaineer train rooms aren't available to passengers. The train only operates during daylight hours, so trips with overnight stops include hotel accommodations. Reservations at a midpoint hotel come standard with each train tour, but passengers have the option to upgrade their hotels on some routes.
First Passage to the West is one of the best Rocky Mountaineer scenic routes because it takes passengers through the historic Spiral Tunnels and provides sweeping views of the Canadian Rockies. For even more scenery, pair the First Passage to the West itinerary with another Rocky Mountaineer route on a Circle Tour.
VIA Rail and Rocky Mountaineer both offer quality train service in Canada, but Rocky Mountaineer is a better pick for travellers interested in having a luxury experience in the Rockies.
You can catch the Rocky Mountaineer train from Moab in eastern Utah or from Denver, the capital of Colorado. The Rocky Mountaineer Denver to Moab train route is a two-day journey between these cities. You stop in Glenwood Springs overnight.
Current Promotions
Sign up for special offers, monthly Canadian Insider tips, and vacation inspiration.