Glide through the Rockies on a sightseeing train with panoramic views. Explore charming mountain towns, unwind in a luxury lodge and tour famous waterfalls or glaciers. Discover Canada's pristine wilderness before embarking on a cruise through Alaska's Inside Passage.
Alaska cruise and train tours allow you to combine high-end rail travel with whale watching and seaside excursions, creating a unique perspective on what makes the North so beautiful. Indulge yourself on a large luxury vessel or board a smaller expedition-style ship to explore Alaska's coves and inlets.
At Canadian Train Vacations, our agents are travel experts who know all the ins and outs of planning an Alaska cruise with train excursion. Coordinating an Alaska cruise and train ride does require careful planning. Look through the sample trips below for inspiration and then contact us if you need help putting everything together.
Most Popular Train Trips
Speak with our Canadian Insiders to add a cruise to your train vacation.


Keep reading or chat with one of our local travel experts. We're passionate about Canada and can help you at any stage of your vacation planning.
Get in touch
Quick Facts About Alaska Cruise and Train Tours
The rail portion of your trip can come before or after your Alaska cruise.
There are two types of cruise ships to choose from: a larger, more luxurious vessel or a smaller ship that allows you to visit more coves and inlets.
Depending on the route you select, the Rocky Mountaineer stops for the night in either Kamloops, Quesnel or Whistler.
There are two levels of service onboard the Rocky Mountaineer: Goldleaf and Silverleaf.
You have a good chance of spotting wildlife as the Rocky Mountaineer winds through the Rockies. There are 53 different species of mammals here, including wolves, bighorn sheep, black bears, elk and mountain goats.
#1 Travel tip: Small ship cruises
Some small ship cruises depart from Juneau or Sitka (Alaska), so you'll need to fly there. It's best to arrive at least one day before your cruise starts.

Katherine Foxcroft
Product Manager, Tours and Vacations
Train and Cruise Experiences
Blend two unique experiences into one seamless trip. Dense forests, sky-piercing mountain peaks, icebergs floating in the Inside Passage. Combine an Alaska cruise with a train ride to get the best of both worlds.
Alaska Cruise
The rail portion of your trip can come before or after your Alaska cruise. There are two types of cruise ships to choose from: a larger, more luxurious vessel, or a smaller ship that allows you to visit more coves and inlets. Each type of ship has advantages, and it depends on your style of travel and what you want to get out of your Alaska cruise adventure.
VIA Rail Train
The VIA Rail trains connect Canada from Vancouver to Halifax, with four different train routes. Major city stops include Vancouver, Prince Rupert, Jasper, Winnipeg, Toronto, Ottawa, Montreal, Quebec and Halifax. The trains run year-round. Depending on the route, they offer daylight or overnight sleeper train experiences.
Rocky Mountaineer
The Rocky Mountaineer connects British Columbia and Alberta, with stops in Jasper, Lake Louise, Banff, Vancouver, Whistler, Quesnel and Kamloops. The train runs from mid-April until mid-October. The Rocky Mountaineer is a daylight-only train designed so that passengers can experience the most spectacular views and optimal photo opportunities.
Service Levels Inside the Rocky Mountaineer
| | | |
| --- | --- | --- |
| | SilverLeaf | GoldLeaf |
| Coach Style | Single-Level Dome | Bi-Level Dome |
| Window Style | Oversized dome windows, allowing for excellent viewing of wildlife and other Rocky Mountain scenery throughout your journey | Fully domed windows with panoramic views upstairs. Private dining room on the lower level with large picture windows for the ultimate in comfort and scenery |
| Onboard Meal Service | Delicious hot entrée meals included, served at your seat | Gourmet a la carte meals included, served in private GoldLeaf dining room |
| Onboard Host | 2 hosts plus 1 culinary team | 3 to 4 hosts, plus a full culinary team |
| Scenic Viewing Area | Outdoor viewing between coaches | Large open-air vestibule |
| Beverages | Alcoholic and non-alcoholic beverages are complimentary through the journey | Alcoholic and non-alcoholic beverages are complimentary through the journey |
| Luggage Service | Luggage delivered to hotel in Kamloops/Quesnel | Luggage delivered to hotel in Kamloops/Quesnel |
Download a brochure
Get inspired with sample itineraries, train information, route maps, and travel advice from our local experts.


On Board the Holland America
Step onto one of Holland America's modern, comfortable vessels and begin your voyage at sea. Cruise along the Inside Passage, a legendary scenic corridor teeming with wildlife and sparkling with icebergs.
You'll see small fishing villages, hills covered in a dense blanket of pines and whales breaking the surface of the cold, clean waters. Make your way to historic ports of call such as Skagway (outpost of the Gold Rush), Sitka and Ketchikan.
Services on Holland America:
Gourmet dining options on board, featuring steak and fresh seafood.
World-class entertainment and enriching on-board activities, including cooking workshops, blues concerts and more.
Complimentary 24-hour in-room dining, right in your stateroom.
Nightly turndown service.
Daily housekeeping, fresh fruit and ice service.
Alaska Cruise and Train Routes
Depending on your schedule, you can enjoy the cruise portion of your trip first or start with a rail journey through the mountains. The Rocky Mountaineer offers three main routes, which can all be paired with an Alaska cruise:
First Passage to the West
This route connects Vancouver and Banff and is the line the company first established when it was founded in 1990. The Rocky Mountaineer is the only passenger train to travel along this famous, historic section of the Canadian Pacific Railway. Memorable spots along the way include the charming train station at Lake Louise, the Stoney Creek Bridge, the dramatic Fraser & Thompson River canyons and the location where the Last Spike was added to the railway in 1885.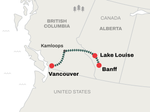 Journey Through the Clouds
This route traverses the later of the two main Canadian trans-continental railways: The Canadian Northen Line, which dates back to 1917. It travels between Jasper and Vancouver, taking the breathtaking Yellowhead pass through the mountains. The highlight of the trip is the view of snow-covered Mount Robson, the highest peak in the Rockies.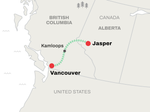 Rainforest to Gold Rush
This route connects North Vancouver and Jasper, with stops in Whistler and Quesnel. It was previously known as the "Frasier Discovery Route," and the focus is on discovering British Columbia's wild timber country and Gold Rush history. The train passes through the Fraser River Canyon, and it's not uncommon to spot black bears, bald eagles, ospreys and even grizzly bears.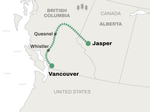 Cruising Through the Inside Passage
Cruise along the cost of Northern BC all the way up to Alaska. This route is sheltered from the Pacific Ocean winds and waves by large islands, such as Pitt Island and Princess Royal Island.
You'll pass remote communities, such as Telegraph Cove, Skagway and Ketchikan, and sail through Glacier Bay National Park—where enormous chunks of ice make a thunderous roar as they crack, split and crash into the sea.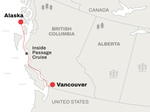 On Board the Expedition Ships
Expedition Ships are smaller and more agile vessels, with reduced passenger capacity to allow for larger cabins and a less crowded ship.
The small size also allows these vessels to travel to tiny inlets and fjords along the Alaskan coastline that cannot be reached by larger ships. These waters are rich with marine life, including sea lions, orcas and humpback whales — so keep your camera at the ready.
These small ships are always ready for adventure. For example, your vessel may be equipped with a high-tech kayak dock added to the back of the ship, complete with a launching pad that makes it easy for passengers to set off kayaking or stand up paddleboarding in the pristine waters off the Alaskan coast.
Places to Visit
Canada was built along the historic Canadian Rail system, so it makes sense that many major Canadian cities are easily accessible by train. With train stations often centrally located within these cosmopolitan cities or remote towns, it is easy to explore the best of Canada by train.
Vancouver
Many Alaska cruise and train packages begin in Vancouver, a vibrant city with high-end restaurants, museums and cultural attractions. Vancouver combines world-class city amenities with hiking trails and other outdoor adventures, making it one of the best places to begin an Alaska cruise and train trip. If you visit during the summer, you'll be pleasantly surprised by the mild climate.
#2 Travel tip: See cruise ships at Canada Place
If you are visiting Vancouver, walk down to Canada Place, an iconic landmark and the city's cruise terminal. Enjoy the beautiful views as you stroll along the promenade.

Hannah Poaros-McDermott
Travel Writer and Senior Content Coordinator
Jasper
Enhance your Alaska train/cruise combo with a stop in Jasper, one of Alberta's most beautiful destinations. Jasper is known for its mountain peaks, turquoise waters and hiking trails. The mountain town is also ideal for travellers who want to relax before embarking on an Alaskan cruise.
Banff
Banff is a lively town filled with restaurants and activities for travellers of all ages. It's also the hub of Banff National Park, which is known for its waterfalls, glaciers, lakes and mountain peaks. Banff is a great stop for any Rockies train and Alaska cruise vacation.
Whistler
Some Canadian Rockies train and Alaska cruise vacations include stops in Whistler, a resort town located in British Columbia. Whistler comes alive in the winter due to its popular ski slopes, but it also has golf courses, spas and activities suitable for laid-back travellers. After a day of sightseeing or shopping, unwind at one of Whistler's restaurants.
Kamloops
Kamloops was established by the Shuswap First Nation and served as a trading post before it was incorporated. Whether you visit before or after your Alaskan cruise, Kamloops is a great place to stop on your Canadian rail tour.
Quesnel
If your Alaska cruise and train vacation includes a ride on the Rocky Mountaineer, you'll need a place to stay overnight. Quesnel, a popular destination for nature lovers, fits the bill. It's one of the main stopping points on the route to the Yukon and offers plenty of opportunities to hike, fish and canoe.
The entire experience was awesome!
Our vacation was so much more than I expected! The entire experience was awesome! The region was beautiful, the glaciers and waterfalls were amazing, and we saw lots of wildlife up... 


Why book your train journey in Canada with Canadian Train Vacations?


We take care of all the details
You want to relax and enjoy your trip, not get overwhelmed by the planning. Let us make all of the bookings for you, including rail tickets, hotels, excursions and activities, meals and transfers.


Independent travel with expert support
Enjoy local expertise and guidance with a personalized itinerary. Your preferences and needs are our priority. We take care of you from the moment you land until the moment you leave.

Get help when you need it
You'll receive the inside scoop before you even leave home. And you can relax during your vacation because we're only a phone call away if you have any questions while you're in Canada.
Frequently Asked Questions
Yes! When we book your Rocky Mountaineer tour, it's easy to add on an Alaskan cruise as well. We make the transition from rail to sea seamless by offering special packages that combine Alaska cruises with Canadian train journeys, so you can book your entire vacation in one go.
Everything lines up perfectly and you only have to book once, ensuring your trip goes so much more smoothly.
It's up to you! You may simply want to unwind, settle in the glass-domed observation car and sip a cup of coffee while you admire the endless vistas of mountains, rivers and pine forests rolling past the windows. (You can bring a book to read, but guests often find they are too distracted by the views to get much reading done!)
Or, you can socialize and get to know your fellow passengers – curious adventurers just like you from around the world. Strike up a conversation over gourmet food and superb Okanagan wine.
The Rocky Mountaineer train begins in the unspoiled beauty of the Albertan Rockies and travels southwest through the Cariboo and Monashee Mountains. Some of Canada's most spectacular scenery will roll past your glass-domed train car, from the towering peak of Mount Robson to the crashing water of Pyramid Falls.
Stopping in Kamloops overnight, you'll continue on the next day toward the vibrant seaside city of Vancouver. The dry interior of BC gives way to rushing rivers, dense coastal rainforests and majestic mountains. Have your camera ready, it's likely you'll spot wildlife along the way.
Holland America, Princess Cruises, Celebrity Cruises and Norwegian Cruise Line are just a few of the cruise lines offering tours to Alaska from Canada. They tend to have large, luxury vessels. If you want to explore Alaska's coves and inlets, look for a cruise line with smaller ships.
For the best Alaska cruise and train package, we recommend setting aside at least 5 to 7 days for the cruise portion of your trip. This will give you enough time for whale watching, exploring Glacier Bay National Park and sightseeing along the Alaskan coast.
Alaska has many scenic destinations, including Sitka, the coastline of Chichagof Island, Glacier Bay National Park, Mendenhall Glacier and Denali National Park.
In terms of what you see on your cruise, it doesn't matter if you sail northbound or southbound. You'll see all the sights on your itinerary either way. Direction does matter if you're deciding whether to add an Alaskan cruise to the beginning or end of your Canadian train vacation. It all depends on your personal preference and the other stops planned on your trip.
It depends on where and when you travel. The best time to see the Northern Lights while cruising Alaska's waterways is September. It gets darker earlier than it does in the summertime, giving you more opportunities to see this natural phenomenon.
Alaskan cruise season typically lasts from May through September. July and August are the busiest months, so consider traveling in May or September if you want to beat the crowds. A September cruise is also ideal if you want to see the Northern Lights.
About the author: Katherine is Product Manager with Fresh Tracks Canada. Having worked in the Canadian travel industry for almost 20 years, she enjoys sharing her local expertise with visitors. She is based in Calgary and one of her favourite Canadian destination is the... Read more
Discuss your Canadian train vacation with a local travel expert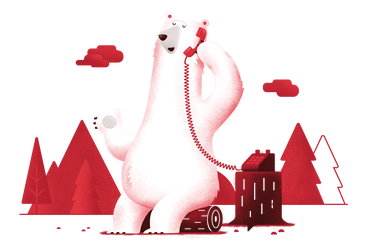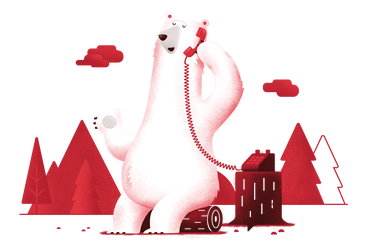 Current promotions
Sign up for special offers, monthly Canadian Insider tips, and vacation inspiration.