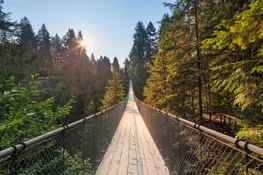 If you seek natural beauty, culture and relaxation - go west
Hushed old growth forests blanketed in moss, thundering waterfalls and rocky beaches lined with gnarled Arbutus trees.
The West Coast of Canada will give you goosebumps as you glide through the landscape on a train.
It's not surprising that the official motto of British Columbia is "Splendour without Diminishment." But to truly appreciate this splendour, you need to experience it for yourself.
Planning a trip to Canada and want to make it better?

Plan your trip with a Canadian Insider
You know that friendly character you met in the local café who told you to visit that well-kept regional secret which turned out to be the best part of your holiday? That's us.

Have everything organized for you
By this stage, you're already having dreams about mountains, moose and maple trees. We combine your personal preferences with our insider knowledge to save you hours of pointless internet trawling.

Get help when you need it
We're here to make sure you get the inside scoop before you even leave home. And you can relax on your vacation because you know that we're a phone call away if you have any questions while you're in Canada.
Like more information?
Get our brochure and discover Canada by train.
Get Your Brochure
Have a question?
We can answer any questions or make suggestions.
Schedule a Call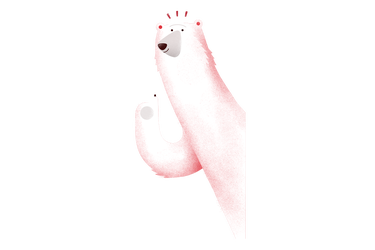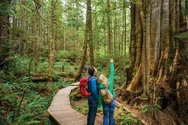 Quick facts about the West Coast
The West Coast of Canada has the warmest climate in the country - the flowers start blooming as early as February.
The province of B.C. is home to three UNESCO World Heritage Sites, six National Parks and over 400 provincial parks and recreation areas.
Half of British Columbia's 4.6 million people live in the metropolitan area of Vancouver. This means the rest of the province is quiet, peaceful and relatively unpopulated.
The narrow passage between Vancouver Island and the rest of Canada is known for being one of the best places in the world to spot killer whales. So, if you take the ferry to the island be sure to sit on the outdoor deck and have your camera ready!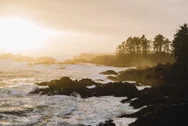 The B.C. Coast will inspire you
The far edge of a continent. The last wild side of Canada to be tamed. A remote corner of a former British empire.
There are so many stories hidden within the dense rainforests, windswept beaches and tiny fishing villages of B.C. Whether you are visiting as part of a full journey across Canada, or a smaller-scale trip focused on West Coast destinations, you'll be enchanted by the beauty around you.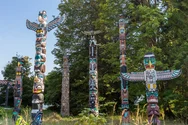 5 Reasons to take a West Coast train vacation 
1. Everything is a bit more relaxed here. Whether it's the mild weather or the calming sound of the ocean waves, the West Coast is more laid-back than the rest of Canada. If you want a break from the hectic pace of city life, sit for a while in a cafe in a place like Campbell River or Prince Rupert. You'll notice soon enough that no one is in a hurry.
2. The cuisine is fresh, varied and mouthwatering. Authentic sushi from the streets of Vancouver. Wild Pacific Salmon baked on a cedar plank. Homemade goat cheese from Salt Spring Island. You'll find a plethora of delicious things to eat on the West Coast. If you visit Vancouver Island, be sure to try the Nanaimo Bar — an irresistible dessert square made with a graham cracker coconut base, a creamy custard middle and a layer of chocolate on top.
3. You'll learn about First Nations culture.
B.C. is home to approximately 230,000 indigenous people from 203 different First Nations. From the totem poles displayed proudly in city parks to the many excellent interactive museums of the region, there are many opportunities to learn about the indigenous communities who have lived on the West Coast for thousands of years.

4. How about that weather?
Why do so many Canadians dream of retiring to the West Coast? It's because the weather here is so much milder and more pleasant than the extreme winter freeze of the Prairie and Eastern provinces. While Albertans and Ontarians are snow-shoveling a path from their door to their car, Vancouver Islanders are taunting them with photos of cherry blossoms in February and enjoying the warm sea breezes.

5. West Coasters will greet you with warmth.
The people on the West Coast are notoriously laid back and friendly. You'll meet plenty of people who will welcome you with a warm smile — and then you're only a short conversation away from making a new friend.
Highlights of Canada's West Coast
You could spend months exploring all of the nooks and crannies of Canada's West Coast and still not see it all. There are just so many tiny islands, remote inlets, far-flung communities and friendly towns to explore.
To get you started on planning your train vacations to the West Coast, here are a few of our favourite spots: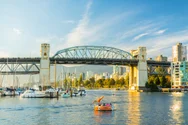 Vancouver
Vibrant and cosmopolitan Vancouver often tops lists of the world's "Best Places to Live." The attributes that make it delightfully liveable, such as walkable neighbourhoods, close access to nature and superb international dining, also make it very enjoyable to visit. Plus, the view of the snow-dusted mountains on the horizon never gets old.
When to go: Visit during the pleasant spring months, when the city's flower gardens and parks are in full bloom.
Train you'll ride on: VIA Rail Canadian
The highlight: Take a walk through the sprawling green Stanley Park and admire the ocean from the scenic seawall.
Recommended trip: Canadian Rockies Voyage by Train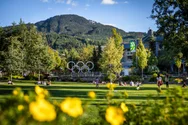 Whistler
Home to some of the best skiing and snowboarding in North America, Whistler is an alpine wonderland named after the whistling call of the furry marmot. In the summer, take to the trails and enjoy a selection of scenic hikes. In the winter, curl up with a hot chocolate and watch the snow turn the village into a living, breathing Christmas card.
When to go: Mid-January is often the best time for a winter trip. The snow will be consistent and the holiday season crowds will have left.
Train you'll ride on: The Rocky Mountaineer
The highlight: Add an evening foodie tour of Whistler's excellent culinary scene to your trip.
Recommended trip: Discover Whistler and the Canadian Rockies by Rail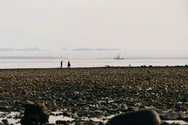 Campbell River
Known as the "Salmon Fishing Capital of the World,' Campbell River is one of the quirky small communities that are the beating heart of the West Coast.
Take a 30-minute flight from Campbell River to Knight Inlet Lodge, where you'll have the unforgettable experience of spotting grizzly bears in the wild.
When to go: September is the prime month for viewing grizzly bears, and it's also a great time to beat the summer crowds.
Train you'll ride on: VIA Rail Canadian
The highlight: Flying into the remote and unspoiled Knight Inlet, where bear viewing groups are limited to only 12 people at a time.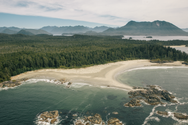 Tofino
Secluded on the west coast of Vancouver Island, Tofino, a small coastal village of about 1,600 residents, is one of Canada's secret gems. At Tofino's doorstep is the Clayoquot Sound region, a world UNESCO biosphere reserve. This Canadian area boasts one of British Columbia's most cherished nature reserves, the Pacific Rim National Park.
Rugged coastlines and lush temperate rainforests offer a feast of natural Canadian exquisiteness for the nature lover on your Canadian train trip.
When to go: Tofino's untamed beauty make it a popular destination during the summer months. Alternatively, visit in March, when thousands of grey whales migrate to the Sound in Canada and kick off the annual Pacific Rim Whale Festival.
Train you'll ride on: VIA Rail Canadian
The highlight: Choose from a range of outdoor experiences: surfing, whale watching, hiking and more.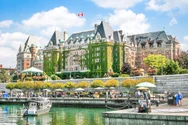 Victoria
British Columbia's capital city, Victoria, lies on the southern tip of Vancouver Island and has a temperate coastal climate year-round. Surrounded by rugged west coast wilderness, the city is full of lush green spaces and fascinating historic buildings.
Explore Canada's oldest Chinatown, enjoy an elegant afternoon tea, go on a whale watching tour, kayak across the Inner Harbour, and take in the city's unique ambience of old-world blended with the new.
When to go: The spring months mark the beginning of the whale watching season and are the ideal time to discover Victoria's flowering parks and gardens.
Train you'll ride on: VIA Rail Canadian
The highlight: Stroll through the world-renowned Butchart Gardens, home to 900 plant varieties across 55 acres.
Most Popular Western Canada Trips
Here are some trip ideas to get you started:
The best way to behold B.C.'s splendour is from the comfortable perch of your train carriage, where you'll enjoy delicious gourmet food and friendly service.
But of course, you'll want to do more than simply gaze at the wilderness from the train window. Talk to our Canada travel experts about adding on hiking, kayaking, wildlife viewing, food tours and other activities to your West Coast train trips. That way, you can fully explore the wild west coast.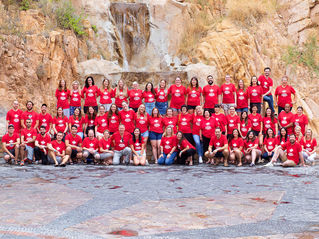 Ready to start planning your Canadian journey?
Here at Fresh Tracks Canada, we have gourmet globetrotters, tranquil train-travellers, bold backpackers, and nature lovers. But what ties us together is that we're all passionate travellers. When we're not helping people plan vacations to Canada, we're getting together to plan our own adventures.
True North Newsletter
Sign up for vacation inspiration, insider tips, exclusive offers and more.