Canadian Summer Train Vacations
Experience the beauty of Canada at summertime. The fresh pine scent of a quiet forest trail. The warm sand between your toes in a hidden cove along the coast. The sweet taste of locally made ice cream as you watch the sunset. Some of the best summer family vacations can be found in Canada. And when you explore this country by train, you'll gain a unique perspective on the local culture and natural wonders of the True North.
Whether you're dining on lobster on a sunny restaurant terrace in Halifax, whale watching on Vancouver Island or listening to an open-air concert in Calgary, those bright sunny days and long, balmy evenings will be packed with fun. The summers in Canada don't last long, which is all the more reason to get out there and make the most of every moment.
Our team of travel experts can help you plan your customized Canadian summer train vacation.
Most Popular Summer Train Tours in Canada
Speak to a Canadian Train Vacation Advisor to discuss all your options.

Keep reading or chat with one of our local travel experts. We're passionate about Canada and can help you at any stage of your vacation planning.
Get in touch
Quick facts about summer in Canada
The warm season in Canada is generally from June to August. However, the hot weather will often arrive earlier and stay later in central and eastern Canadian cities such as Toronto and Montreal.
When packing your bags, remember that layering will be your best friend. Temperatures are unpredictable and even in the summer it can be chilly at night, especially on the coast and in the Rockies.
Canada's prairie provinces have the most extreme temperatures. Although it can dip down into -40 degrees or colder in the winter in Alberta and Saskatchewan, it can get up to 35 degrees Celsius (95 Fahrenheit) and hotter in the summer months!
Get a brochure
Includes sample trip itineraries, route maps, and insider tips.
Get Your Brochure
Have a question?
We can answer any questions or make suggestions.
Schedule a Call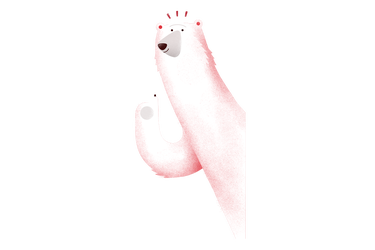 Canada Summer Trip Ideas
Summer is a great time to visit any destination in Canada, but there are some places that truly come alive during this season. This list will help you generate some ideas for your next summer vacation in Canada.
Rocky Mountains
Turquoise glacier lakes glimmer in the midday sun. The dense pine forests are alive with the chirps and whistles of the birds. A dusting of snow still remains on the highest mountain peaks, contrasted against the cloudless cobalt blue sky. When you explore the Rockies on a warm summer's day you can smell the alpine wildflowers, feel the sunshine on your face and really savour every moment in this untamed wilderness.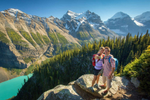 Vancouver
Vancouver is a delightful city throughout the year, but it really shines in the summertime. You'll have the best of both worlds: the culture, dining and shopping of a world-class metropolis and the oceans, mountains and hiking trails of an outdoor paradise. The climate of Vancouver is also ideal in the summer — not too cold, but also not scorching hot. It's just the right temperature to treat yourself to some ice cream after a day of exploring.
Quebec City
The narrow cobblestone streets, steep hills and welcoming squares of this European-esque city are a delight to explore under blue summer skies. Once you've wandered the streets of this historic French-Canadian city, head to The Baie de Beauport, the popular local beach. Play a game of beach volleyball or just relax and enjoy the sunlight sparkling on the water.
Nova Scotia
Long days at the beach and lobster dinners are a big part of the summer months in this coastal province. Try all the fresh local seafood, in season in the summer, including mussels, oysters and lobster. Most pubs and restaurants will feature live Celtic music acts throughout the season, making for an engaging night of entertainment and a unique cultural experience.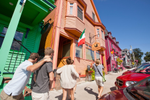 Why do the best Canadian Summer vacations include travelling by rail?
Don't let the country's frosty reputation fool you. Canada's summer weather brings long, warm days that create ideal conditions for soaking up the natural beauty
The Great Outdoors: The warm weather is ideal for hiking, camping, fishing, golfing and other outdoor pursuits.
Festivals Galore: Canadians celebrate the season with plenty of lively events, including the Canada Day fireworks on July 1st.
Long Summer Days: Due to Canada's northerly position, it doesn't get dark on summer evenings until around 9p.m. A late sunset gives you more hours in the day for sightseeing, wildlife watching or simply admiring the view with a glass of wine. You can hike through hidden pine trails, taste the sun-ripened summer berries and watch eagles swooping over the rushing rivers. Make the most of your visit as a luxurious train carries you from one spectacular Canadian hotspot to the next.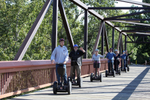 Train Experiences
Rocky Mountaineer
The Rocky Mountaineer, a luxury sight-seeing train, only runs from Spring through to the Fall, making Summer an ideal time for this experience. The service connects British Columbia and Alberta, with stops in Jasper, Lake Louise, Banff, Vancouver, Whistler, Quesnel and Kamloops. This train only runs during daylight hours so passengers can experience the most spectacular views and optimal photo opportunities. Guests spend their nights in local hotels along the route.
VIA Rail
VIA Rail is Canada's main passenger train and connects Vancouver to Halifax with four major train routes. Stops you can explore include Vancouver, Jasper, Winnipeg, Toronto, Ottawa, Montreal, Quebec and Halifax. The trains run year-round, but there are special presentations and activities during the summer, including live music, wine tastings and history talks. Depending on the route, they offer overnight sleeper train experiences.
Sleeper Train
There are two train routes in Canada which allow you to sleep on the train, both through VIA Rail. Travel between Vancouver and Toronto on The Canadian with stops in Jasper or Winnipeg. Or travel the East Coast of Canada on the Ocean train. Both sleeper train routes are available all year long. Some sleeper trains in Canada are equipped with special panoramic viewing cars to provide you with the best view of the scenery day or night.
Luxury train
Canada has two train services which offer luxury amenities. GoldLeaf service on the Rocky Mountaineer train connects Vancouver and the Canadian Rockies. The train runs by daylight and operates from mid-April to mid-October. Prestige Class sleeper service on VIA Rail's The Canadian train operates year-round and you can travel all the way from Vancouver to Toronto or vice-versa. Both luxury train services provide fine dining, spectacular views, and optimal photo opportunities.
All your local knowledge meant the vacation just flowed from one great day to the next
I'm now in love with western Canada and everything you did for us helped make it one of the most care free holidays we have ever had. Not just great hotels, but the right rooms, ge... 

Jennifer and David
Tring, UK
Why book with Canadian Train Vacations?

We take care of all the details
You want to relax and enjoy your trip, not get overwhelmed by the planning. Let us make all of the bookings for you, including rail tickets, hotels, excursions and activities, meals and transfers.

Independent travel with expert support
Enjoy local expertise and guidance with a personalized itinerary. Your preferences and needs are our priority. We take care of you from the moment you land until the moment you leave.
Get help when you need it
You'll receive the inside scoop before you even leave home. And you can relax during your vacation because we're only a phone call away if you have any questions while you're in Canada.
Current Promotions
Sign up for special offers, monthly Canadian Insider tips, and vacation inspiration.