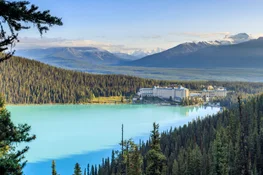 Railway Hotels Across Canada
Surround yourself with history at a Canadian railroad hotel
Many of Canada's most iconic hotels were built by the Canadian Pacific Railway as it expanded across the country. These grand railroad hotels are popular tourist attractions in their own right, offering architectural splendor and historical significance. It also helps that these properties are located in some of Canada's most appealing locations, from Rocky Mountain view points to downtown city cores.
Planning a trip to Canada and want to make it better?


Plan your trip with a Canadian Insider
You know that friendly character you met in the local café who told you to visit that well-kept regional secret which turned out to be the best part of your holiday? That's us.


Have everything organized for you
By this stage, you're already having dreams about mountains, moose and maple trees. We combine your personal preferences with our insider knowledge to save you hours of pointless internet trawling.


Get help when you need it
We're here to make sure you get the inside scoop before you even leave home. And you can relax on your vacation because you know that we're a phone call away if you have any questions while you're in Canada.
Like more information?
Get our brochure and discover Canada by train.
Get Your Brochure
Have a question?
We can answer any questions or make suggestions.
Schedule a Call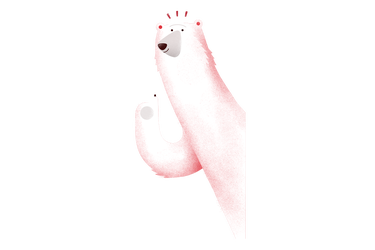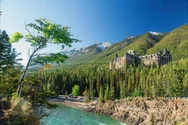 Fairmont Banff Springs
The Fairmont Banff Springs Hotel is one of the older railway hotels, having been built in 1888.
Located a short walk from the town of Banff, just above Bow Falls, the hotel is in the heart of Banff National Park — a UNESCO World Heritage Site. It is surrounded by spectacular alpine beauty; as William Cornelius Van Horne, president of the Canada-Pacific Railway back when the hotel was built, famously said:"If we can't export the scenery, we'll import the tourists".
Known as one of the world's premiere luxury resorts, the Fairmont Banff Springs is often called the "Castle of the Rockies."
The resort is home to the The Fairmont Banff Springs Golf Course. Designed by the famous Canadian architect Stanley Thompson, it's meant to exist in harmony with the natural contours of Canada's Rocky Mountains.
Inspired by the area's hot springs,the hotel's Willow Stream Spa offers soothing treatments, including massages.
Take in the views from the fabulous restaurants, such as the 1888 Chop House and the Waldhaus Restaurant.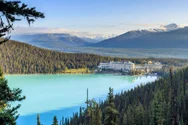 Fairmont Lake Louise
Situated in the Banff National Park in Alberta, the Chateau Lake Louise is located on the shores of the beautiful glacier lake for which it is named.
Originally built as a base for outdoor enthusiasts and alpinists over 100 years ago. It still offers guided mountain tours, world-class skiing in the winter, and scenic hiking and canoe activities in the summer.
The luxury accommodations feature 539 guest rooms and suites with modern décor, offering views of Lake Louise and the surrounding Bow Valley mountain ranges.
The resort is home to seven restaurants, including an ice bar in winter, an inviting Swiss-inspired restaurant, and an Italian kitchen.
The hotel has a full-service spa and a wide range of amenities to ensure that your Canadian vacation is one whose luxury you'll always remember.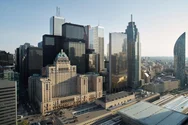 Fairmont Royal York
Originally opened as The Royal York Hotel on June 11, 1929 and is located across the street from Toronto's Union Train Station.
At 28 floors, the Château-style building was once the tallest building in the British Empire.
Known for its posh elegance, rich Canadian history, and word-class accommodations, the Royal York has been the Canadian residence of choice for Queen Elizabeth II and other members of the Royal Family when in Toronto.
A recent renovation features expansive new suites, an inviting 18th floor lounge, and grand luxurious common spaces.
The restaurants, including its French Brasserie Reign, draw from the multicultural influences of Toronto, sourcing local produce, wild-caught fish and seafood, and the finest ingredients across the world.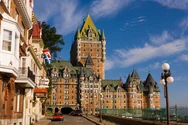 Fairmont Le Château Frontenac
Designed by architect Bruce Price, Fairmont Le Château Frontenac was opened in 1893. It is a National Historic Site of Canada in 1980 and a UNESCO World Heritage Site.
Famous guest include Charles Lindberg, Franklin D. Roosevelt, Winston Churchill King George VI and Queen Elizabeth.
The 610 renovated guest rooms and suites have a contemporary decor influenced by the elegance of European history.
Located in Old Quebec, the hotel is an ideal location for walking and exploring the city.
Its world-class Champlain restaurant is perfect for a special occasion or indulging in a unique culinary experience.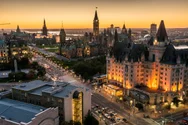 Fairmont Chateau Laurier
Often considered to be the grandest of Canada's Grand Railway Hotels, the castle-like Fairmont Chateau Laurier is a study in splendor, and is a local Canadian landmark and a popular vacation destination.
The hotel was commissioned by then-commissioner of the Grand Trunk Railroad, Charles M Hayes and designed by the Ross & McFarlane architectural firm of Montreal, Canada. The Fairmont Chateau Laurier was completed in 1912; timing intended to coincide with the opening of Ottawa's Train Union Station.
Located in Ottawa's downtown core, with ByWard Market on one side and the Rideau Canal locks on the other, the hotel is perfectly situated to explore the city.
Rooms range from traditional to luxury suites.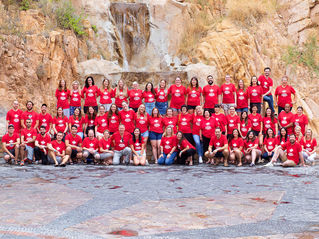 Ready to start planning your Canadian journey?
Here at Fresh Tracks Canada, we have gourmet globetrotters, tranquil train-travellers, bold backpackers, and nature lovers. But what ties us together is that we're all passionate travellers. When we're not helping people plan vacations to Canada, we're getting together to plan our own adventures.
Current promotions
Sign up for special offers, monthly Canadian Insider tips, and vacation inspiration.