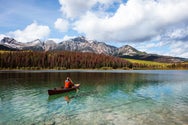 Our commitment to your safety
At Fresh Tracks Canada, your health and safety are our top priority
Our Commitment
We only work with suppliers that meet or exceed provincial standards for sanitation and physical distancing. This means that on every Fresh Tracks Canada trip, you can be confident your transportation, accommodations, tours, attractions and restaurants are going above and beyond recommended requirements to keep you safe.
We adopted a global standardized health and hygiene protocol and have been awarded the World Travel & Tourism Council (WTTC) Safe Travels stamp for tour operators. Read on to find out how we're keeping you safe before, during and after your trip.
Pre-Travel
Before you leave home, our agents work with you to answer questions and answer any concerns.
Your Concierge Team
We assign you a designated team who can answer health and safety or Covid-related questions that you may have about any aspect of your trip. Your concierge team can also talk you through any other concerns about travel in our new normal.
During Travel
From the moment you arrive in Canada to the day you depart, know that all of your in-between experiences in vehicles, trains, hotels, tours and restaurants will be as safe as possible.
Commitment From Our Partners
Fresh Tracks Canada only works with suppliers that meet or exceed provincial requirements set in place at time of your trip, as well as abide by the World Health Organization and WTTC health and safety standards.
Dining Safety
When you sit down for an included meal, know that the restaurant enforces all provincial guidelines set at time of your travel, this may include physical distancing, reduced capacity, temporary wall dividers between seats/tables, and that all staff has been properly trained in Covid-19 hygiene and safety procedures.
Priority Access at Attractions and Pre-booked Tours
With reduced capacity at attractions and venues, you can breathe easier knowing that we confirm all arrangements so you won't be disappointed.
Sleep Soundly
Our preferred hotels, lodges and resorts work hard to meet and exceed cleaning and sanitation requirements. Your guest room will be thoroughly cleaned, with high touch points such as door knobs and light switches completely disinfected. As well, high traffic public areas such as the hotel lobby, elevators and restaurants are regularly sanitized.
Post Travel
We welcome your feedback!
Share Your Experience
After you return home we ask you to share your experience travelling with Fresh Tracks Canada during the Covid-19 pandemic. This will allow us to constantly improve our partner relationships and safety procedures.
For International Travellers
Pre-arrival Mandatory Requirements
Fully vaccinated travellers, including U.S. citizens and permanent residents, are now eligible to travel to Canada, however must follow mandatory requirements to enter.
Unvaccinnated and partially vaccinated children under the age of 12 are not required to provide a valid pre-entry test, if they are accompanied by a fully vaccinated adult. Proof of vaccination (even if partial for a child under the age of 12 needs to be registered with ArriveCAN).
ArriveCAN – The official Government of Canada platform to enter your information when entering Canada
Upon login to ArriveCAN have the following ready to go:
The details of your first dose (date, country and vaccine you received)
The details of your second dose if one was required
A photo or PDF file of the record of each dose of your vaccination such as receipts, cards or confirmations
Bring your original proof of vaccination with you while you travel
Coming to Canada Checklist
Have the following items with you for an assessment by a government official at the border:
ArriveCAN receipt (on the mobile app, as a screenshot, on your email or as a physical printout)
Proof of vaccination (original, digital or paper copy)
Other travel documents, including the travel document entered in ArriveCAN (e.g your passport book). Note: passport cards are not acceptable to enter canada and you will be denied boarding
Random Mandatory Arrival Test
If arriving by air or car, you may be randomly selected for a mandatory arrival test. You must complete your arrival test with an approved test provider within one day of arrival.
Arriving By Air (applicable at Calgary (YYC), Montreal (YUL), Toronto (YYZ) and Vancouver (YVR) Airports only): If you are selected for testing, you'll receive an email (same email as used when completing the ArriveCan app) within 15 minutes of completing your customs declaration. This email will provide you with the important details as to where and when to get tested - please follow these instructions.
Arriving by Land (car/bus/train): If you are selected for testing, you'll be given a self-swab kit when you arrive at a land border crossing. You'll complete your test via telehealth appointment with the test provider. You'll need to follow these instructions at your destination.
For more information on this random test requirement, please go to the government website here. We have also put together a bit of an FAQ on this process, which can be found here.
Returning to the United States
Testing Requirements
Effective June 12, 2022, the CDC will no longer require air passengers traveling to the United States to show a negative COVID-19 viral test or documentation of recovery from COVID-19 before they board their flight. More details on this update can be found here.
Travelling Within Canada
Where can you travel in Canada
The majority of provinces have eased all Covid-19 related restrictions, including masks & proof vaccination. However the guidelines do vary by province. In Quebec, masks are currently still required in all indoor spaces. Proof of vaccination is subject to the individual businesses in Quebec, Yukon and Ontario. We strongly recommend referring to the provincial website for the most up to date information. Some links to local provincial updates and resources can be found here for your reference.
Frequently Asked Questions
With your trip coming up, we know you may be asking yourself, "What's going on over there in Canada with COVID-19?"
We are here for you and want to address a few of those concerns and provide some resources to help you prepare for your upcoming vacation to Canada..
As your tour provider, we are unable to advise on government policies as they relate to admittance into Canada. Still, we are happy to help guide you in the right direction.
However, just as it is your responsibility to ensure you have a valid passport for travel, it is your responsibility to determine what (if any) restrictions are in place that may prevent you from taking your trip.
Your Questions Answered
Frequently Asked Questions
If you need to change your dates due to COVID-19 restrictions and measures in place that are beyond your control (for example border restrictions are implemented, vaccine requirements change, or you test positive prior to departure etc.) we can assist with postponing your travels at that time. However, we are confined to certain booking terms with our travel partners. Currently our travel partners are allowing deposits to be converted into future travel credits for a postponed trip, but have not yet advised if they will be extending the same flexibility once full payments have been collected and we are closer to your scheduled departure. We will always endeavor to move your dates to a time when it is more convenient to travel at a minimal cost to you, but is not something we are able to guarantee.
You would be required to follow the mandatory Quarantine Requirements set by the Government of Canada. You will be allowed to leave the airport after testing, should that test subsequently come back positive the government will contact you and you will need to quarantine in place. Fresh Tracks can assist you with this however any associated expenses of the extended stay will be the responsibility of the guest
Fresh Tracks Canada can provide information regarding testing sites and booking instructions, please ask one of our agents. Due to HIPPA regulations, Fresh Tracks Canada staff are unable to book Health Appointments (for your test to return home) on your behalf. Please note, some modifications to your itinerary may be required to accommodate testing times and schedules, we will do our best to keep costs minimal however if major modifications are required there may be an additional cost associated.
Effective June 12, 2022, the CDC will no longer require air passengers travelling to the United States to show a negative COVID-19 viral test.
Please find information/updates on any testing requirements for your return to the United States here.
You should list your first hotel with Fresh Tracks Canada (or wherever you will be staying on your first night in Canada if your accommodation has been arranged independently) as your quarantine location on the ArriveCan app.
If you test positive you won't be able to board a plane to the United States until you test negative. You will also be required as per Health Canada to quarantine for 5 days to protect our population. We strongly recommend that you invest in third party insurance that covers COVID-19 should this event occur.
You should check the wording on your insurance policy and confirm with your policy issuer the conditions surrounding medical coverage for contracting COVID-19 while in Canada. If you do not have insurance coverage, we'd encourage you to seek out a policy that provides coverage for COVID-19 related events on vacation, including medical repatriation expenses so you can get home.
Our travel partners are obligated to meet the standards of their provincial health authority. These standards may vary from province to province, but in general, they call for enhanced cleaning, physical distancing and symptom screening.
We ask partners to not only confirm they're adhering to guidelines issued by their local health authority, but we also ask that they abide by the World Health Organization and World Travel & Tourism Council health and safety standards.
As COVID-19 restrictions vary from province to province, we recommend referring to any local restrictions in place that may prevent you from travelling if you were to book a Canadian Vacation during this time (or have a trip currently booked). Restrictions to be cautious of are those that would prevent you from leaving your home province, or isolation requirements on arrival in the province(s) you intend to visit.
Some links to local provincial updates and resources can be found here for your reference.
Please refer to any local resources available regarding testing sites and information.
Effective August 9, 2021 fully vaccinated American travellers with one of the approved vaccines (two doses of Pfizer, Moderna, or Astra Zeneca or one dose of Johnson & Johnson) do not need to quarantine on arrival into Canada (so long as their full course of vaccination was completed at least 14-days prior to departure). The same is applicable to other International arrivals effective September 7, 2021. Full announcement details can be found here.
Please refer to the Government of Canada website here, in addition to any local resources available to you."
For American and International arrivals - only those who are not fully-vaccinated, or who test positive at time of departure, will be required to quarantine on arrival (effective August 9, and September 7, 2021).
Please note that currently, only those who qualify as fully vaccinated, and their children/dependents travelling with them, can come to Canada.
Please refer to the Government of Canada website here for the most up to date information regarding mandatory quarantining on arrival in Canada.
Please refer to your local government's resources for the most up to date information on quarantine requirements.
Should travel conditions suddenly change while you are on your Fresh Tracks Canada vacation, our team will be monitoring developments as they occur and communicating updates to you directly should they impact your trip.
If local governments recommend or implement restrictions for visiting certain areas or provinces while you are travelling, we will make the necessary arrangements and alterations to your tour to protect your health and safety.
We will be using the cellphone number(s) and/or email address(es) provided at the time of booking to reach you while you are in Canada. Prior to departure, should your cellphone number(s) or preferred email address(es) change, please advise your Customer Account Specialist as soon as possible so we can ensure we have the most up to date contact information.
All quarantine requirements are to be arranged by the individual arriving in Canada. At this time, Fresh Tracks Canada is unable to facilitate these arrangements.
Please find additional information on the Government of Canada website here about entering Canada during COVID-19.
No, the train is not an approved service provider or product to quarantine.
Please reach out to your dedicated Customer Account Specialist if you are thinking of postponing your trip for a second or third time. We will work with you, and our travel partners, to find the best available solution at the time of advisement. Please note that the options we are able to offer today may differ from options available closer to your departure (depending on when you are booked to travel).
Also, note that there may be pricing differences and additional service fees may apply.
We are currently assisting those travellers due to depart in the next few months. As conditions change, and our travel partners make any adjustments to their services, we will be able to provide the best available options as we approach your itinerary start date. Please be patient with us as we work with our impacted travellers.
We recommend having a mask on hand when you travel. Face covering (mask) requirements differ depending on where in Canada you will be travelling, and what activities you will be participating in. Some tour operators may request you wear a mask for the safety of others and their staff members.
Some of our partners are required to follow federal regulations while operating their tours. Currently, Transport Canada mandates that everyone wears a face mask when travelling in vehicles considered 'transit'; for example, a transfer from Calgary to Banff. This regulation also applies on airplanes, seaplanes, helicopters, and trains.
It is also recommended to wear a mask in any indoor setting if unable to maintain a physical distance of 6 feet (2 metres).
We recommend factoring in additional time at the airport to account for any additional screening or longer lineups to account for physical distancing measures.
Please refer to local airport websites for the most up to date information regarding operations during this time. Some services may be closed or not operating as usual.
The face of travel has changed to protect your health and safety. Here's a broad overview of what you can expect:
Masks: For your safety and the wellbeing of others, always travel with a face covering that protects your mouth and nose. You will be required to wear a mask in all common spaces onboard both the Rocky Mountaineer and VIA rail. As well as masks are still encouraged in indoor public settings.
Air travel: Masks are required in airports and on airplanes.
Tours and transfers: Depending on what province you are visiting, you may be required to wear a mask and have assigned seating on tour buses or shuttle transfers. Vehicles will carry fewer passengers to allow for physical distancing.
Accommodation: Some hotels may encourage their guests to wear a mask in public spaces. Plexiglass partitions may still be in place in the hotel lobby for everyone's safety. Your room will look immaculate but might seem a bit bare since the magazines, and in some cases, minibars, coffee makers and single-use toiletries have been removed.
Dining: Some dining establishments across Canada may require you to provide proof of vaccination to enter their premises. Some restaurants have also kept their plexiglass barriers in between tables in place. Reservations are highly recommended.
VIA Rail: Only fully vaccinated guests are permitted to travel onboard VIA rail trains and must provide proof of vaccination prior to boarding. Masks must be worn at all times when in common areas such as the hallways, dome car, and train stations.
Rocky Mountaineer: Rocky Mountaineer requires that you check-in the night prior to your train departure at select locations (the locations will be advised in your pre-departure itinerary). Proof of vaccination will be required as part of the check-in process. Masks will also be required in all common areas both on and off of the train. For more details, you can also refer to Rocky Mountaineer's Health and Safety page for the most up to date information.
You may want to add the following items to your carry on:
Masks or face coverings that protect your nose and mouth.
Small 3oz (100ml) bottles of hand sanitizer, along with disposable wipes to clean things like airplane tray tables or the TV remote.
A portable phone charger. You may rely on your device more to do everything from online hotel check out to scan QR codes in order to read the restaurant menu.
If you're travelling with kids, pack extra diversions/entertainment in case of longer wait times at hotel check-in or to get seated at a restaurant.
Bring snacks, especially for longer journeys — many airlines have reduced their meal offerings.
Should you be denied entry on arrival for failing to comply with any of the COVID-19 restrictions currently in place, Fresh Tracks Canada cannot be held liable and you may be subject to cancellation penalties.
If you are unable to find the answer to your question here, please do not hesitate to contact your dedicated Customer Account Specialist or call our toll-free number for additional information.
True North Newsletter
Sign up for vacation inspiration, insider tips, exclusive offers and more.