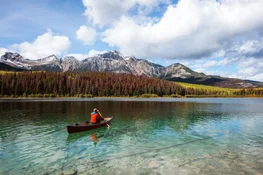 Our commitment to your safety
Current travel updates

At Fresh Tracks Canada, your health and safety are our top priority. This page includes information on any current travel conditions that may affect your journey.
Updated August 28, 2023 at 5 p.m. PST
Wildfires in British Columbia and Alberta
We are closely monitoring the wildfire situations in British Columbia and Alberta.
As of August 28, 2023, all of our guests' trips are currently running, but this can change quickly due to the nature of wildfires. If there is an impact to any component of a guest trip, we or our partners will be in touch by email and/or phone.
Please be aware that some parts of your trip may be affected by visibility or outdoor air quality. This is unfortunately beyond our control, due to the unpredictable nature of wildfires. Our partners will do their best to make your trip as comfortable and enjoyable as possible.
Should your trip be impacted by the fires, our team will be in touch to advise of alternative arrangements and to help navigate any issues. We will be working in chronological order of travel date. Thank you for your patience and understanding.
Our thoughts are with all the communities affected by the wildfires. Fresh Tracks Canada extends our gratitude to the firefighters and everyone who has worked to help with response and recovery efforts.
Our safe travel standards
We only work with suppliers that meet or exceed provincial standards for sanitation and physical distancing. This means that on every Fresh Tracks Canada trip, you can be confident your transportation, accommodations, tours, attractions and restaurants are going above and beyond recommended requirements to keep you safe.
We adopted a global standardized health and hygiene protocol and have been awarded the World Travel & Tourism Council (WTTC) Safe Travels stamp for tour operators. Read on to find out how we're keeping you safe before, during and after your trip.
Frequently Asked Questions
We are currently assisting those travellers due to depart in the next few months. If conditions change, and our travel partners make any adjustments to their services, we will be able to provide the best available options as we approach your itinerary start date.
Yes. We highly recommend insurance as our trips are non-refundable. Insurance coverage will protect your investment and offer peace of mind. Our insurance packages include all-inclusive and non-medical options. Please ask your Fresh Tracks Canada travel advisor about insurance.
You should check the wording on your insurance policy and confirm with your policy issuer the conditions surrounding medical coverage for contracting COVID-19 while in Canada. If you do not have insurance coverage, we'd encourage you to seek out a policy that provides coverage for COVID-19 related events on vacation, including medical repatriation expenses so you can get home.
Current promotions
Sign up for special offers, monthly Canadian Insider tips, and vacation inspiration.