Toronto Train Vacations
Begin your Canadian adventure in Toronto, a city known for its cultural diversity, food scene and lake-front skyline. Riding a Toronto to Vancouver train is the perfect way to travel across Canada and see a little bit of everything — from the rolling hills of the Prairie provinces to the peaks of the Canadian Rockies.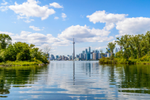 The best train rides from Toronto include stops in Winnipeg, Jasper, and other key Canadian destinations. You can also add excursions to Banff and Lake Louise. Comfortable accommodations and personalized activities selected just for you make train travel your best bet if you're looking to visit some of Canada's most popular destinations.
The travel experts at Canadian Train Vacations love sharing their knowledge about the best Toronto train tours available. We take time to learn about your interests, ensuring that every activity on your itinerary is something you enjoy. Whether you want to explore Canada's wilderness or relax at a high-end spa, we can make it happen.
Most Popular Train Trips from Toronto

Keep reading or chat with one of our local travel experts. We're passionate about Canada and can help you at any stage of your vacation planning.
Get in touch
Many of our trips, like this one, can be done in either direction. By starting in Toronto, your journey will end in Vancouver, one of Canada's largest cities, where you'll be surrounded by sparkling blue waters and soaring mountain peaks. This itinerary includes a ride on the Rocky Mountaineer, which has glass-domed coaches for some spectacular sightseeing. You'll even have a chance to explore Banff National Park and travel along the Icefields Parkway in Jasper. A highlight for many guests is the portion on VIA Rail's famous sleeper train, The Canadian.
Miles travelled on train: 2,775
Days on train: 5 days
Nights on train: 3 nights
Known as one of the best train trips from Toronto, the Canadian Prestige Journey takes you on a train from Toronto to Vancouver, allowing you to visit two of the most beautiful cities in the world. After departing from Toronto, you'll spend three nights on board the train before making stops in Ontario, Jasper, Lake Louise and Banff. On this train ride from Toronto to Vancouver, you'll enjoy fresh air, open valleys, turquoise waters and so much more.
Miles covered on train: 2,762
Days on train: 4 days
Nights on train: 4 nights
Set off on the adventure of a lifetime with the Canada Coast to Coast by Train itinerary, which includes 2 days on the famous Rocky Mountaineer, a sleeper train between Jasper and Toronto, as well as trains to Montreal and Halifax, along with the opportunity to explore Niagara Falls and other natural wonders. You'll see everything from rolling hills to mountain peaks, dine at some of Canada's best restaurants and have a chance to visit museums, shop at high-end boutiques and wander through national parks.
Miles covered on train: 3,930
Days on train: 6 days
Nights on train: 4 nights
Get a brochure
Includes sample trip itineraries, route maps, and insider tips.
Get Your Brochure
Have a question?
We can answer any questions or make suggestions.
Schedule a Call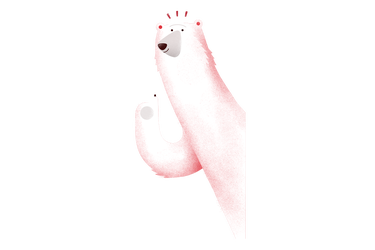 Tourist Attractions in Toronto
Established along the shore of Lake Ontario, Toronto combines natural beauty with all the amenities of a sophisticated city. Create the perfect vacation in Toronto with stops at some of these popular destinations.
CN Tower
Before taking a train trip from Toronto to Vancouver or any other Canadian city, check out the CN Tower, classified as one of the Seven Wonders of the Modern World due to its height. While you're there, dine at 360 Restaurant, which revolves slowly to give patrons panoramic views of Toronto and beyond. If you're an adrenaline junkie, don't miss the EdgeWalk experience, which allows you to walk around the top of the building's main pod while attached to an overhead rail.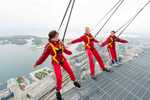 Toronto Harbour Cruise
Before you take a tourist train from Toronto to Vancouver, see the city from a new point of view with a Toronto Harbour cruise. Each sightseeing cruise takes you around the harbour, providing almost endless opportunities to take photographs of Toronto's famous skyline. Some cruises even have full meals on board, making this the perfect way to relax after a day of walking around.
Kensington Market
Kensington Market is a diverse neighbourhood filled with restaurants, shops and other attractions. Before you begin your train travel from Toronto to Vancouver, enjoy some Caribbean cuisine, stop for a drink at the local brewery or relax with a cup of java at one of the neighbourhood's many cafés. Add a private walking tour to your itinerary to learn about Kensington Market from a local insider.
Distillery District
Filled with 19th-century buildings, the Distillery District is the perfect blend of old and new. You'll find art galleries, boutiques and so much more, all situated along the historic neighbourhood's cobblestone streets. If you visit in December, you'll even get to experience the famed Christmas market, which combines the nostalgia of an old-fashioned Christmas with plenty of opportunities to shop for that perfect gift. Make your visit an unforgettable one by arranging a walking tour.
Niagara Falls
One of Canada's crown jewels, Niagara Falls is home to multiple historic districts, world-class restaurants and —of course— its iconic cascading waterfalls. View the falls from a viewing platform near the falls, from a boat below the falls, or even go behind the falls for a closer look at this natural wonder. If crowds aren't your thing, arrange for a private driving tour.
Train Experiences from Toronto
The Canadian Train
VIA Rail operates The Canadian, a sleeper train from Toronto to Vancouver, whose route stretches nearly 3,000 miles across Canada. It has stops in Jasper, Edmonton and Winnipeg. Many Toronto to Vancouver tours include a stint on The Canadian, making it one of the most popular trains in Canada. The Canadian even has a car with giant windows that extend to the ceiling, giving you panoramic views of your surroundings.
Rocky Mountaineer
The Rocky Mountaineer only operates during daylight hours, ensuring that you don't miss any beautiful scenery during your journey. If you're planning a trip to Toronto, you should know that the Rocky Mountaineer connects British Columbia and Alberta, so you may want to add an additional destination to your itinerary — the Rocky Mountaineer is bucket-list worthy.
Alaska Cruise
Extend your Toronto vacation with an Alaskan cruise adventure, which can be added to either the beginning or the end of your tour. Large ships are more luxurious, but smaller ones can get to out-of-the-way places larger boats can't go. Each type has its advantages, so choose the one that matches your interests and travel style.
Explore: Alaska Cruise and Train Tours
We loved the Canadian Rockies!
Our favorite part was the accommodations, tours, trains and the people. We loved the Canadian Rockies! We would have liked to have stayed longer in Vancouver.

Veronica, Louis, John and Elanor
PA, USA
Why book your train journey in Canada with Canadian Train Vacations?

We take care of all the details
You want to relax and enjoy your trip, not get overwhelmed by the planning. Let us make all of the bookings for you, including rail tickets, hotels, excursions and activities, meals and transfers.

Independent travel with expert support
Enjoy local expertise and guidance with a personalized itinerary. Your preferences and needs are our priority. We take care of you from the moment you land until the moment you leave.
Get help when you need it
You'll receive the inside scoop before you even leave home. And you can relax during your vacation because we're only a phone call away if you have any questions while you're in Canada.
Frequently Asked Questions
The Toronto to Vancouver train ticket prices are included in our packages, which start at $6,090 per person and varies based on the tours included in your itinerary. These packages also include transfers, hotels for nights you are not on the train, selected tours and activities, and your arrival night dinner. If you choose to travel in Prestige Class, your Toronto to Vancouver train cost will be about $15,390 per person.
Your total Toronto to Vancouver train time is about 97 hours and 10 minutes.
It takes about 6 hours to travel from Toronto to Montreal by train.
The train from Toronto does not stop in Banff. You can take a train to Banff from Vancouver. The train from Toronto goes to Edmonton and Jasper, where you can take a private or bus transfer to Banff. Several of our Toronto itineraries also include time in Banff.
Yes, VIA Rail's Canadian Train is the passenger train that connects Toronto and Vancouver. Traveling on VIA Rail from Toronto to Vancouver is one of the best ways to see Canada. Many of our train vacation packages include a ride on The Canadian.
If you plan to take the VIA train, Toronto to Vancouver routes are usually the most crowded during peak season, which runs from the end of May through August. To avoid crowds, try travelling in early April or mid-September.
Current Promotions
Sign up for special offers, monthly Canadian Insider tips, and vacation inspiration.