How To Spot Polar Bears in Churchill, Manitoba
By Fresh Tracks Canada
Published Feb 2, 2023
7 min read
Spotting a polar bear in the wild is a thrilling travel experience. In Canada, in a small town on Hudson Bay called Churchill, throngs of polar bears gather during the late fall. This place offers the perfect chance to spot the world's largest land predators in their natural habitat. In fact, that Churchill Manitoba is known as the "polar bear capital of the world." Tourists from across the world go to Churchill for its polar bear tours. It's a once-in-a-lifetime experience that's become popular in recent times.
Reaching a town that is connected to the rest of the world only by rail and air comes with some valid questions. What's the best time to visit Churchill? What should I pack for the trip? What should I expect? If you're considering a trip to spot polar bears, then look no further.
At Canadian Train Vacations, we know how to plan your vacation so it's memorable and hassle-free. Our travel experts have put together a detailed guide on Manitoba polar bears.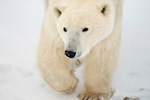 About the polar bears in Churchill, Manitoba
For anyone seeking to spot polar bears in their natural habitat, Churchill offers tourists one of the best experiences in the world. As you prepare to admire the wild beauty of polar bears, here are some facts you should know:
There are about 900 to1200 polar bears in and around the Hudson Bay area of Churchill during the autumn months of October and November. This pretty much ensures that you spot polar bears during your time in the town. (Don't forget to contact a Canadian Train Vacations advisor, who can plan your trip in the right season.)
Polar bears are also called the "Lords of the Arctic" because of their majesty and size. While standing up, polar bears can get up to 9 feet tall. Moreover, male polar bears can weigh up to 600 kg.
The locals in Churchill have incredible stories about encounters with these great bears. If you get the chance to meet a local, be sure to strike up a conversation. Tour guides also have insights and stories.
Along with the best polar bear sightings in the world, Churchill is known to showcase the northern lights (Aurora Borealis) 300 out of 365 days a year. If you'd like to be stunned by one more natural wonder in Churchill, make sure you check the skies for some green magic in the middle of the night.
How to go polar bear sighting in Manitoba?
There are three ways to enjoy bear spotting with polar bear tours in Churchill Manitoba. Let's explore each of them:
The most exciting way is on a Tundra Buggy. It's best suited for the frozen flat terrains of the October and November seasons and offers the best opportunity to spot these magnificent mammals. They are also the best option if you wish to get up close with the bears while being completely safe.
Another way is by taking a boat tour of Hudson Bay during the summer. When summer days arrive, the polar bears often take to the coast. On a boat tour, you might spot these bears playing, hunting, and resting by the coast with their furball-like cubs. If you don't see bears, you do have a good chance of seeing beluga whales in the summer.
The third way leads is one of the most thrilling polar bear adventures in Churchill, Manitoba. You can spot the bears on a guided trek over the snowy terrains of Churchill. To ensure safety, these treks are led by experienced guides. Often referred to as 'walking safaris', the experience offers an unmatchable thrill to adventure enthusiasts.
What can I explore in Churchill, Manitoba?
1. Take the Tundra Buggy adventure
All great polar bear tours Churchill Manitoba include the epic Tundra Buggy adventure. The vehicle of the giants, the Tundra Buggy was first used in 1979, when the village saw a boom in tourism.
As you stroll the streets of Churchill, it is hard to miss the sight of this unique bus. A tundra buggy has giant wheels that help it maneuver on the ice and bumps of the tundra. It is heated from the inside. It has an inbuilt bathroom, a viewing platform, and slidable windows to ensure a comfortable experience for tourists.
During the Tundra Buggy day-trip expedition, the drivers stop for lunch at a safe space. Polar bears are often visible from here! The mighty creatures may also steer close because of the food scent. This gives tourists an excellent opportunity to view them up close.
The buggy is robust enough to ensure safety, even against the bear giants! The height of the buggy reaches 14 feet, while the bears are typically 9 feet tall when they stand on their hind legs. Truly, the Tundra Buggy adventure is an experience of a lifetime. Make sure you ask your Canadian Train Vacations advisor to include this in your itinerary.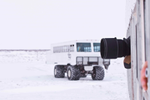 2. Tour Churchill town
Walk the streets that have been walked by the majestic polar bears for centuries. Here, you can explore the town of Churchill to learn how the villagers survive and thrive in adverse conditions. The temperatures here are below freezing more often than not, and safety from bears is the utmost priority for at least two months every year.
3. Enjoy the evening cultural presentation
Experience the lifestyle of the localities in an evening cultural presentation that tells you more about the town, its surroundings, and history. This activity offers you a fine insight into the land you are exploring. It is one of the first activities you will do on Churchill Manitoba polar bear tours.
4. Explore the Itsanitaq Museum
Churchill is also rich in history. At the Istanitaq Museum, you can explore Inuit carvings and artifacts that are among the finest and oldest in the world, dating from 1700 B.C.
5. Make a trip to the Polar Bears International House
The Polar Bears International House is an attractive and energy-efficient center that educates visitors about polar bears and climate warming. A visit here will introduce you to exciting information about the past, present, and future of polar bears in Churchil, Manitoba.
6. Visit the Parks Canada Centre
The Parks Canada Centre gives you a chance to understand the wonders of Wapusk National Park, It also talks about the National Historic Sites in Northern Manitoba through interactive exhibits.
7. Go on a dog-sledding adventure
If you're looking for fun things to do in Manitoba, the dog-sledding adventure should be top of your list. It is an activity that is especially recommended for families and adventurists alike. The sleds are pulled by trained and experienced sledding dogs.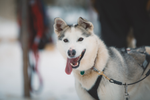 The best time to spot polar bears in Manitoba
The best time for you to visit would be during autumn when polar bears move from their Tundra summer habitat to the shore. This migration, during October and November, brings the polar bears to Churchill and the surrounding areas.
The bears live in this area for two months while they wait for Hudson Bay to freeze. Once the waters freeze, they move to the Bay to hunt their favorite meal, ringed seals from under the ice and snow.
You may also spot the occasional polar bears on the tundra in the summertime, during July and August. Tundra explorations make for one of the most exciting polar bear adventures in Churchill, Manitoba.
During summer, you also may spot the Beluga whales that visit the Churchill River Estuary to mate.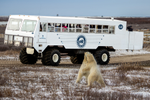 Clothes to pack for your Churchill tour
In autumn
Autumn is the peak polar bear season and also a great time for polar bear adventures in Churchill, Manitoba. Carry several layers of clothing and be prepared for snow, chilly breezes, and severe cold conditions.
Pack thermals, reliable snow boots, ski clothing, thick gloves, a woolen hat, sunscreen, and warm socks are some essentials to carry on your trip.
In summer
In summer, the temperatures generally range between 6°C and 25°C with some fluctuations. Carry a waterproof jacket, hiking boots, sunscreen, sunglasses, insect repellent, and other summer essentials during this time.
In winter
The months of December through March are winter season in Churchill, Manitoba. If you are travelling in Churchill, Manitoba during winter, carry insulated boots and an insulated parka that can withstand temperatures of -45˚C.
To prevent yourself from freezing, also carry thick gloves, a reliable woolen hat, long thermal underwear, and snow or ski pants. Sunglasses will help from snow glare from the sun. Don't forget to carry spare batteries for your flashlight, camera, etc since they do not last long in the cold weather.
Interesting polar bear facts
Polar bears are called 'Lords of the Arctic' for many reasons, including their size. A male polar bear can weigh as much as 600 kg and stand 10 feet tall. Even then, polar bears can run really fast. That's the reason they are the world's largest land predators.
Polar bears have sharp noses and can pick up scents from as far as 30 km away. This is how they detect the presence of seals under all that ice and snow — the lengths we go to for our favorite meals!
To the surprise of many, polar bears do not hibernate. Expectant mothers are the only exception. Pregnant polar bears dig a den near the sea to give birth. They stay at the same place for around 3 months. During hibernation, the bears live on their fat reserves and emerge during March or April to hunt.
Polar bears are known for their white fur but it's not that simple. Beneath their thick fur, polar bears have black-colored skin. And their fur is translucent, not white. It only appears white because it reflects visible light.
Unfortunately, polar bears as a species are classified as "vulnerable". Rising global temperatures have resulted in the melting of sea ice. This means that polar bears are losing their natural habitat year by year. The ice also forms relatively slower with each passing year, leaving the bears very little time to hunt for food.
You can find more details on how polar bears are surviving global warming at many places across the town of Churchill and at the Polar Bears International House. You can find out the kind of measures the community is putting in for the bears' safety, and how you can help.
Frequently Asked Questions
Are there polar bears in Manitoba?
In Autumn, polar bears gather in Churchill, a small town in Manitoba. With a human population of only around 900 during October and November, the residents live alongside polar bears.
How many polar bears are there in Manitoba?
As per the Government of Manitoba, the polar bear population of the Western Hudson Bay area is close to 935. The area extends from the Manitoba-Ontario boundary through to Chesterfield Inlet in Nunavut. You can spot bears from Churchill, a remote town in Manitoba.
Does Winnipeg have polar bears?
Manitoba has one of the few existing human settlements worldwide where polar bears can be observed in the wild. The town is called Churchill, and it is around 1100 rail miles from Winnipeg.
What city in Canada has the most polar bears?
Churchill, also called "polar bear capital of the world", is a small town in Northern Canada with the highest polar bear population. It is estimated that around 900-1200 polar bears descend to Churchill for nearly two months every year, while they wait for the ice to form over Hudson Bay.
Where can I see polar bears in Manitoba?
You can see polar bears in the wild in Churchill, Manitoba. Churchill is a small town on Hudson Bay in northern Canada. It has a population of around 1,000 people only. It can be reached by train, boat, or plane, with no roads connecting the town to the rest of the world.
Can you drive to Churchill, Manitoba?
There are no roads from Churchill that connect the town to the rest of Canada. The only overland route is by the Hudson Bay Railway. Tourists on Manitoba polar bear tours can take the Winnipeg–Churchill train twice per week. There are also regular flights into Churchill.
How warm does it get in Churchill, Manitoba?
November marks summertime in Churchill. The average temperatures in Churchill range from 15°C (59°F) in July to -15°C (5°F) in November. The warm season lasts for around three months, from June to September, with an average daily high temperature above 51°F.
Current Promotions
Sign up for special offers, monthly Canadian Insider tips, and vacation inspiration.