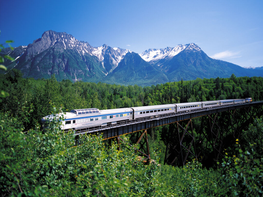 Experience the Rockies on the Train Between Vancouver and Jasper
By Fresh Tracks Canada
Published Jul 20, 2022
4 min read
Train travel is the perfect way to see the coastal mountains and the Rockies while indulging in convenience and luxury. There are multiple options to explore when it comes to booking your Canadian train vacation.
Rocky Mountaineer provides exceptional service on four memorable journeys throughout the breath-taking scenery of Western Canada. The daylight travel schedule glass-dome coach are purposeful choices that give you an unparalleled view of some of the most impressive landscapes in North America.
VIA Rail is another popular train service that offers various routes and services throughout Canada. This train includes night travel and may be preferable for those that don't want to disembark at a scheduled stop each evening or prefer continuous progress to cut down on travel time. Whatever you choose, experiencing the Rockies on the train between Vancouver and Jasper on VIA Rail or Rocky Mountaineer is an amazing vacation for travellers longing to see more of what Canada has to offer.
Vancouver to Jasper on Rocky Mountaineer
When travelling between Vancouver and Jasper on Rocky Mountaineer, you can choose to go either eastward from Vancouver to Jasper, or reverse the route and begin in Jasper. Both the Journey Through the Clouds and the Rainforest to Gold Rush routes travel between these two location.
There are several Canadian train vacations that include the Rocky Mountaineer routes between Vancouver and Jasper, such as the Complete Canadian Rockies by Rail or the ultimate return journey the Circle the Canadian Rockies by Rail. EIther lets you add various experiences such as additional nights in the Rockies combined with sightseeing tours.
Your journey will takes you past the spectacular Pyramid Falls before continuing on until you are enveloped by the mountain views. Listen to the history of the railway and the area as you savor your gourmet lunch. On the way to Jasper National Park is Mount Robson. This stunning sight is the highest mountain peak in all of the Canadian Rockies. The journey ends at the town of Jasper, where you are free to explore.
Choose between Silverleaf Service and Goldleaf Service for your train journey. Silverleaf Service involves travel in a single-level glass dome coach. The oversized windows give you spectacular views of the scenery. Goldleaf Service includes a bi-level dome coach. The addition of an upper level is a truly spectacular way to experience the panoramic views. Both levels of service include gourmet meals and exquisite story-telling from your host during the train journey. Silverleaf guests are served at their seats while those opting for Goldleaf Service eat their meals in a window-lined dining car.
Hotel options for your stopovers, along with other optional add-ons, are assigned by Rocky Mountaineer. You can view the details of your accommodations on your boarding pass. All hotels are clean, comfortable, and provide high-quality service for your needs.
Overnight train from Vancouver to Jasper on VIA Rail
To experience the Rockies on the train between Vancouver and Jasper in a different way, VIA Rail offers sleeper train service. This train trip takes around 20 hours and there are two weekly departures for this route.
Sleeper cars on this route can accomodate up to four people, depending on the size of your party, requirements, and availability. Both private and semi-private accommodations are available with upper and lower berths. Berths give you access to facilities shared by the car while private cabins include your own washroom. Booking a sleeper car gives you access to personal service attendants and sight-seeing domed cars, depending upon the season.
Train service from Vancouver to Jasper provides snacks and full, gourmet meals for breakfast, lunch, and dinner. Sleeper Plus Class meals are chef-prepared gourmet meals and have three courses to please your palate. Alcoholic beverages are also available for purchase. If you have special dietary restrictions or preferences, a special meal option is available that meets your needs.
This route is part of our Canadian Rockies Voyage by Train package.
Winter train travel from Vancouver to Jasper
During the winter is a special time to ride the train between Vancouver and Jasper, and it's possible as VIA Rail Canada runs all year long. Train travel is actually one of the best ways to experience the awesome views of the Canadian Rockies in the winter while avoiding potentially hazardous conditions other travel methods encounter. Choose a sleeper car for the overnight journey to get the best of both worlds as far as scenery and comfort. Book this experience with our Rockies Rail Winter Wonderland package.
Train travel is an excellent way to explore Canada. You get to experience all the comforts of luxury travel without missing the fantastic views. Make your next trip one that you won't forget by traveling by train.