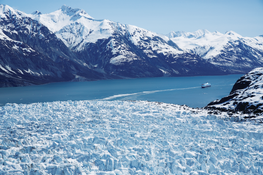 Alaska Cruise & Train Tours
See the Canadian Rockies by rail, then cruise in luxury
It's the perfect combination. By pairing an Alaska cruise with a Canadian train tour, you get a unique perspective on what makes the North so beautiful.
Marvel at sky-piercing peaks as you glide through the Rockies on a sightseeing train. Explore charming mountain towns, unwind in a luxury lodge and tour famous waterfalls or glaciers.
Then embark on an Alaska Inside Passage cruise. Sail past shimmering blue icebergs, watch whales in the distance and discover quaint seaside communities. Navigate small inlets and coves on a smaller expedition-style ship or indulge yourself on a larger luxury vessel.
Coordinating an Alaska cruise and train vacation does require careful planning. Look through the sample trips below for inspiration and then contact us if you need help putting everything together.
Planning a trip to Canada and want to make it better?

Plan your trip with a Canadian Insider
You know that friendly character you met in the local café who told you to visit that well-kept regional secret which turned out to be the best part of your holiday? That's us.

Have everything organized for you
By this stage, you're already having dreams about mountains, moose and maple trees. We combine your personal preferences with our insider knowledge to save you hours of pointless internet trawling.

Get help when you need it
We're here to make sure you get the inside scoop before you even leave home. And you can relax on your vacation because you know that we're a phone call away if you have any questions while you're in Canada.
Like more information?
Get our brochure and discover Canada by train.
Get Your Brochure
Have a question?
We can answer any questions or make suggestions.
Schedule a Call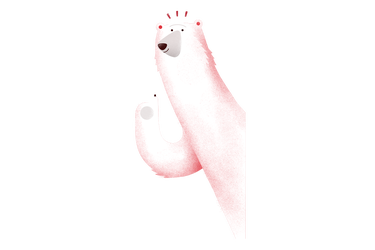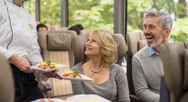 Quick facts about Alaska cruise and train tours
The rail portion of your trip can come before or after your Alaska cruise.
There are two types of cruise ships to choose from: a larger, more luxurious vessel or a smaller ship that allows you to visit more coves and inlets.
Depending on the route you select, the Rocky Mountaineer stops for the night in either Kamloops, Quesnel or Whistler.
There are two levels of service onboard the Rocky Mountaineer: Goldleaf and Silverleaf.
You have a good chance of spotting wildlife as the Rocky Mountaineer winds through the Rockies. There are 53 different species of mammals here, including wolves, bighorn sheep, black bears, elk and mountain goats.
Train And Cruise Experiences
Blend two unique experiences into one seamless trip. Dense forests, sky-piercing mountain peaks, icebergs floating in the Inside Passage. Combine an Alaska cruise with a train ride to get the best of both worlds.
Alaska Cruise
The rail portion of your trip can come before or after your Alaska cruise. There are two types of cruise ships to choose from: a larger, more luxurious vessel or a smaller ship that allows you to visit more coves and inlets. Each type of ship has its advantages and it depends on your style of travel and what you want to get out of your Alaska cruise adventure.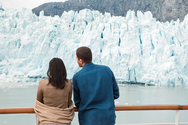 Onboard the Holland America
Step onto one of Holland America's modern, comfortable vessels and begin your voyage at sea. Cruise along the Inside Passage, a legendary scenic corridor teeming with wildlife and sparkling with icebergs.
You'll see small fishing villages, hills covered in a dense blanket of pines and whales breaking the surface of the cold, clean waters. Make your way to historic ports of call such as Skagway (outpost of the Gold Rush), Sitka and Ketchikan.
Services on Holland America:
Gourmet dining options on board, featuring steak and fresh seafood.
World-class entertainment and enriching on-board activities, including cooking workshops, blues concerts and more.
Complimentary 24-hour in-room dining, right in your stateroom.
Nightly turndown service.
Daily housekeeping, fresh fruit and ice service.
Alaska Cruise And Train Routes
Depending on your schedule, you can enjoy the cruise portion of your trip first or start with a rail journey through the mountains. The Rocky Mountaineer offers three main routes, which can all be paired with an Alaska cruise: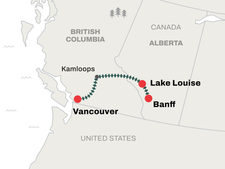 First Passage to the West
Vancouver → Kamloops → Lake Louise or Banff
This route connects Vancouver and Banff and is the line the company first established when it was founded in 1990. The Rocky Mountaineer is the only passenger train to travel along this famous, historic section of the Canadian Pacific Railway. Memorable spots along the way include the charming train station at Lake Louise, the Stoney Creek Bridge, the dramatic Fraser & Thompson River Canyons and the location where the Last Spike was added to the railway in 1885.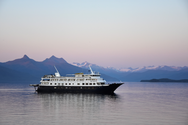 Onboard the Expedition Ships
Expedition Ships are smaller and more agile vessels, with reduced passenger capacity to allow for larger cabins and a less crowded ship.
The small size also allows these vessels to travel to tiny inlets and fjords along the Alaskan coastline that cannot be reached by larger ships. These waters are rich with marine life, including sea lions, orcas and humpback whales — so keep your camera at the ready.
These small ships are always ready for adventure. For example, your vessel may be equipped with a high-tech kayak dock added to the back of the ship, complete with a launching pad that makes it easy for passengers to set off kayaking or stand up paddleboarding in the pristine waters off the Alaskan coast.
At the end of the day, gather in the dining room and linger over fresh, tasty cuisine while sharing stories of your adventures.
Typical Services on Small Expedition Ships:
Hot tubs, sauna, fitness equipment, yoga classes and a massage suite
Flat screen TV, DVD player and iPod docking station in your cabin.
An intimate wine bar with plenty of views to enjoy while you sip.
A luxurious white-tablecloth dining room where gourmet meals are served with cheerful table service (no buffets).
Inside the Rocky Mountaineer
Service Level Comparison
| | | |
| --- | --- | --- |
| | SilverLeaf | GoldLeaf |
| Coach Style | Single-Level Dome | Bi-Level Dome |
| Window Style | Oversized dome windows, allowing for excellent viewing of wildlife and other Rocky Mountain scenery throughout your journey | Fully domed windows with panoramic views upstairs. Private dining room on the lower level with large picture windows for the ultimate in comfort and scenery |
| Onboard Meal Service | Delicious hot entrée meals included, served at your seat | Gourmet a la carte meals included, served in private GoldLeaf dining room |
| Onboard Host | 2 hosts plus 1 culinary team | 3 to 4 hosts, plus a full culinary team |
| Scenic Viewing Area | Outdoor viewing between coaches | Large open-air vestibule |
| Beverages | Alcoholic and non-alcoholic beverages are complimentary throught the journey | Alcoholic and non-alcoholic beverages are complimentary throught the journey |
| Luggage Service | Luggage delivered to hotel in Kamloops/Quesnel | Luggage delivered to hotel in Kamloops/Quesnel |
Most Popular Trips
Speak with our Canadian Insiders to add a cruise to your train vacation.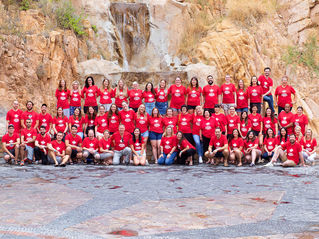 Ready to start planning your Canadian journey?
Here at Fresh Tracks Canada, we have gourmet globetrotters, tranquil train-travellers, bold backpackers, and nature lovers. But what ties us together is that we're all passionate travellers. When we're not helping people plan vacations to Canada, we're getting together to plan our own adventures.
Places To Visit
Canada was built along the historic Canadian Rail system, so it makes sense that many major Canadian cities are easily accessible by train. With train stations often centrally located within these cosmopolitan cities or remote towns, it is easy to explore the best of Canada by train.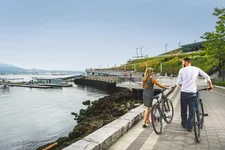 Vancouver
British Columbia
Vancouver is a delightfully liveable city throughout the year, but it really shines in the summertime. You'll have the best of both worlds - the culture, dining and shopping of a world class metropolis and mountains and hiking trails right on the doorstep. The climate of Vancouver is also ideal in the summer — not too cold, but also not scorching hot. It's just the right temperature to treat yourself to some ice cream as you wander around the city.
Questions about Alaska cruise and train vacations
Frequently Asked Questions
Yes! When we book your Rocky Mountaineer tour, it's easy to add on an Alaskan cruise as well. We make the transition from rail to sea seamless by offering special packages that combine Alaska cruises with Canadian train journeys, so you can book your entire vacation in one go.
Everything lines up perfectly and you only have to book once, ensuring your trip goes so much more smoothly.
It's up to you! You may simply want to unwind, settle in the glass-domed observation car and sip a cup of coffee while you admire the endless vistas of mountains, rivers and pine forests rolling past the windows. (You can bring a book to read, but guests often find they are too distracted by the views to get much reading done!)
Or, you can socialize and get to know your fellow passengers – curious adventurers just like you from around the world. Strike up a conversation over gourmet food and superb Okanagan wine.
The Rocky Mountaineer train begins in the unspoiled beauty of the Albertan Rockies and travels south west through the Cariboo and Monashee Mountains. Some of Canada's most spectacular scenery will roll past your glass-domed train car, from the towering peak of Mount Robson to the crashing water of Pyramid Falls.
Stopping in Kamloops overnight, you'll continue on the next day toward the vibrant seaside city of Vancouver. The dry interior of BC gives way to rushing rivers, dense coastal rainforests and majestic mountains. Have your camera ready, it's likely you'll spot wildlife along the way.
True North Newsletter
Sign up for vacation inspiration, insider tips, exclusive offers and more.