Churchill is the ultimate destination for polar bear tours. The Manitoban town is known as the polar bear capital of the world. Prime polar bear season in Churchill is from October to mid-November when 900 to 1,000 polar bears eagerly await the formation of sea ice on the Hudson Bay. This concentrated population provides an extraordinary opportunity for observing polar bears in their natural habitat. Churchill's abundant wildlife also includes Arctic foxes, beluga whales, seals, and various bird species. With thrilling Tundra Buggy expeditions and other tours, visitors can explore the area and marvel at the tundra landscape. 
Our team at Canadian Train Vacations help travellers plan trips to Churchill for polar bear viewing.  Continue reading to learn what it's like on a polar bear tour in Churchill.


Keep reading or chat with one of our local travel experts. We're passionate about Canada and can help you at any stage of your vacation planning.
Get in touch
This trip includes two nights on VIA Rail's sleeper train from Vancouver to Winnipeg and three nights in Churchill, the polar bear capital of the world. In Churchill, you'll search for polar bears on a Tundra Buggy. Other exciting activities include dog sledding, a guided tour of Churchill, and an evening cultural presentation.
Our two-week Lords of the Wilderness itinerary includes two amazing bear-viewing experiences. Fly to a remote wilderness lodge in the Great Bear Rainforest for the chance to see grizzly bears Then, travel across Canada by sleeper train. End your vacation with a trip to Churchill to view polar bears from the comfort of a Tundra Buggy.
Download a brochure
Get inspired with sample itineraries, train information, route maps, and travel advice from our local experts.


The Polar Capital of the World
As polar bear central, Churchill acts as a home base for conservation and outreach efforts. Polar Bear International House is a public center, which people can visit to learn about polar bears and polar bear research.
For the best polar bear viewing experience, you'll need to board a specially designed Tundra Buggy and journey out into the Churchill Wildlife Management Area (CWMA). It was the creation of this original tundra vehicle, the Tundra Buggy, that allowed venturing amongst polar bears in Churchill. Specially designed for the northern landscape, these all-terrain vehicles allow access to remote locations, which are best for safely viewing and photographing wildlife.
Since the number of visitors to the CWMA is highly restricted, your chances of seeing the bears up close is excellent. As well as capturing incredible, up-close photographs of polar bears, you'll see other wildlife such as arctic fox, ptarmigan, and snowy owl.
Tundra Buggy Experience for Polar Bear Watching

 
The Tundra Buggy offers an unparalleled experience for witnessing polar bears in Churchill, Canada. These remarkable vehicles are designed to provide a safe and immersive experience for polar bear tours. The unique features of the Tundra Buggy ensure that visitors can view polar bears while respecting the natural environment. Additionally, if polar bears approach the Tundra Buggy, the vehicle's height means that visitors are safely out of reach. This protects both polar bears and visitors.
Features of the Tundra Buggy include: 
Large, reinforced windows 

Elevated viewing platforms for unobstructed views

Spacious, comfortable seating

Sturdy construction and oversized tires for navigating the challenging terrain of the tundra 
Important notes about Tundra Buggy tours:
Safety and well-being of passengers and polar bears is a priority

Expert guides offer valuable insights into polar bear behaviours and conservation efforts

Vehicles adhere to strict guidelines and maintain a respectful distance to ensure minimal disturbance to the bears' natural behaviours
Tundra buggy tours give visitors an extraordinary opportunity to witness polar bears up close in their natural environment, creating memories that will last a lifetime. 
#1 Travel tip: When to visit Churchill
The best time for viewing polar bears in Churchill is during the fall, but it is possible to see them in the summer. If you visit in August, you'll likely see beluga whales too.

Hannah Poaros-McDermott
Travel Writer and Senior Content Coordinator
You can also go dog sledding in Churchill, Manitoba. A dog sledding experience adds an extra layer of excitement to polar bear tours. Dog sledding has a rich history and cultural importance in Manitoba, dating back to the time of the Thule people. Modern-day dog sledding tours in Churchill provide visitors with an opportunity to immerse themselves in this age-old tradition while exploring the pristine wilderness. Riding across the snowy landscape, pulled by a team of energetic and well-trained huskies, is an exhilarating and immersive way to appreciate Churchill's natural environment.
The swift and agile huskies demonstrate their skill, strength, and symbiotic bond with their human companions. Interacting with these remarkable animals, learning about their training, and witnessing their teamwork is awe-inspiring. Dogsledding adventures are the perfect complement to polar bear tours.
Experienced Guides and Safety Measures

 
Professional Guides to Lead Your Tour: 
Professional guides lead polar bear tours in Churchill. These knowledgeable guides provide expert insight into the area, ensuring visitors gain a deep understanding of the wildlife and landscape around Churchill. Guides ensure the safety of all participants, navigating the Arctic terrain and polar bear encounters with caution. These guides enjoy sharing fascinating stories and answering questions about the remarkable wildlife of Churchill. 
Safety Measures to Protect Visitors and Wildlife: 
When it comes to Churchill Polar Bear Tours, strict safety measures are in place to protect visitors and wildlife. Manitoba Conservation sets guidelines that limit the number of tundra vehicles, reducing the impact on the environment.
These measures include restrictions on travel routes and designated areas, safeguarding the delicate Arctic ecosystem. By adhering to these guidelines, visitors can safely explore the wilderness with peace of mind, knowing that their adventure protects the natural habitat of polar bears and other wildlife. 
Natural Environment of Churchill's Arctic Wildlife

 
Churchill's Arctic wildlife thrives within a diverse ecosystem. The region is defined by its proximity to Hudson Bay, the expansive tundra, and the sprawling boreal forest. 
Unique Features: 
1. Hudson Bay:
Hudson Bay provides a crucial habitat for various marine life, including beluga whales and seals. It also influences the seasonal movements and behavior of polar bears. This is one of the reasons why Churchill is a prime location for polar bear tours. 
2. Tundra:
The vast tundra of Churchill is a land of rugged beauty, characterized by low-lying vegetation, lichens, and mosses. This treeless expanse supports an abundance of species, including polar bears, Arctic foxes, and Arctic hares. Migratory birds flock to the region during the summer. 
3. Boreal Forest:
The boreal forest surrounding Churchill showcases a different facet of the region's natural environment. This vast woodland is home to diverse species, including black bears, wolves, moose, and a variety of bird species. The boreal forest provides a vital habitat for these creatures, offering shelter and sustenance within its dense canopy. 
Key Species: 
1. Polar bears
:
Churchill is known as the polar bear capital of the world. A significant population of these majestic creatures inhabit the area, particularly during the fall months. These months are prime polar bear season.
2. Arctic foxes
:  
With their small ears and thick, white coat, these foxes are well-suited to the Arctic tundra, where they blend seamlessly into the snowy landscape. Their coats change to brown in the spring or summer.
3. Arctic hares
:
Arctic hares can be found darting across the tundra, their white fur serving as camouflage against the snow, protecting them from predators. 
#2 Travel tip: Crossing the street
Churchill has a small population and only a few shops and restaurants. Don't worry too much about looking for traffic before you cross the street, but always look left and right for a polar bear!

Katherine Foxcroft
Product Manager, Tours and Vacations
Accommodations on Polar Bear Tours
As Churchill is a small town in a remote location, there are limited accommodation options. There are cozy inns and simple bed-and-breakfasts, rather than 5-star resorts. For example, the Tundra Inn is a charming family-run property offering comfortable, spacious rooms. For the months of October and November, during peak polar bear season, it is best to reserve Churchill accommodation early.
Winnipeg is usually the starting point for polar bear tours, since it's easy to catch a flight to Churchill from here. Our polar bear packages often include a night in a Winnipeg airport hotel before your flight to Churchill. If you want to extend your vacation, you could stay in Winnipeg longer — add on nights before or after your polar bear viewing adventure.
Tundra-inspired Cuisine 
Tundra-inspired cuisine in Churchill, Manitoba incorporates local ingredients and flavors that reflect the Arctic landscape. 
Arctic Char: A popular fish in tundra-inspired cuisine, Arctic Char is known for its delicate texture and rich flavor. It is often prepared using traditional methods such as smoking or pan-searing, highlighting the natural taste of this cold-water fish.
Bison: As a sustainable and locally sourced meat, bison features prominently in tundra-inspired dishes. From hearty bison stews to succulent bison steaks, this lean and flavorful meat adds a taste of the wild to the cuisine.
Wild Berries: The tundra is home to an abundance of wild berries such as lingonberries, gooseberries, and blueberries. These berries are used in various desserts, jams, and sauces, providing a burst of natural sweetness.
 Game Meats: Tundra-inspired cuisine often incorporates game meats such as venison, caribou, and muskox. These meats offer a unique and robust flavor profile, perfectly complementing the ruggedness of the region.
Foraged Ingredients: The tundra offers a treasure trove of edible plants and herbs. Foraged ingredients like Arctic sorrel, Labrador tea, and fireweed add distinctive flavors and textures to dishes, infusing them with a taste of the wild.
Traditional Indigenous Dishes: Tundra-inspired cuisine in Churchill includes the culinary traditions of the Indigenous communities in the region. Traditional dishes like bannock (a type of bread), pemmican (a dried meat mixture), and wild rice reflect the deep cultural heritage of the area. 
Tundra-inspired cuisine in Churchill Manitoba celebrates the unique flavors and ingredients found in the Arctic landscape, creating a culinary experience that embraces the ruggedness and natural beauty of the region. From fresh fish and game meats to wild berries and foraged ingredients, each dish offers a delicious connection to the tundra and a taste of the local culture. 
What
to
wear on a polar bear watching trip
?
Layered clothing: Dress in layers so you can adjust your insulation levels as needed.

Insulated and waterproof outerwear: Wear a warm, insulated parka and waterproof pants to protect against the cold and potential moisture. 

Thermal base layers: Choose moisture-wicking, thermal base layers to keep you warm and dry. 

Warm accessories: Wear a hat, gloves, and scarf to protect exposed areas from the cold. 

Warm, waterproof boots: Choose insulated, waterproof boots to keep your feet warm and dry. 

Thermal socks: Wear thick, thermal socks to provide extra warmth and comfort. 

Hand and foot warmers: Consider bringing hand and foot warmers for additional warmth during outdoor activities. 

Sunglasses and sunscreen: Protect your eyes and skin from the glare of the snow and the sun's rays. 

Binoculars and camera: Bring binoculars to enhance your polar bear viewing and a camera to capture unforgettable moments. 
Wearing appropriate clothing ensures you are comfortable during a polar bear watching trip. You can embrace the Arctic environment while staying warm and protected. Some polar bear tour packages offer winter clothing rentals. Options include snow pants and snow boots. Please ask your Vacation Advisor about these rentals at the time of booking.
#3 Travel tip: Always have layers
The Tundra Buggy has an outdoor platform which is great for when you want to take photos of polar bears. Wrap up warm though as it gets very cold!


Louise Weiss
Director of Legendary Hospitality
Can you see polar bears during summer?
When you imagine viewing polar bears in Canada, a warm sunny day might not be what you're picturing. But summer is when polar bears first return to Churchill, Manitoba. After spending the winter hunting seals on the ice of Hudson Bay, these impressive animals make their way back to the Churchill area in early to mid-summer, when the sea ice begins to melt.
Along with the opportunity to see Canada's famous polar bears, a visit to the Hudson Bay region in summer offers warmer weather than in the traditional fall viewing season (October/November). There's also plenty of chances to see other Canadian wildlife up close and personal in the ruggedly beautiful tundra and taiga — the forests of cold, subarctic regions — landscapes of the Manitoba coastline. During the months of July and August, the Churchill area is also a fantastic place to see beluga whales who migrate into the warm, shallow waters of the Churchill River to give birth and feed on fish.
Why book your luxury rail trip with Canadian Train Vacations?


We take care of all the details
You want to relax and enjoy your trip, not get overwhelmed by the planning. Let us make all of the bookings for you, including rail tickets, hotels, excursions and activities, meals and transfers.


Independent travel with expert support
Enjoy local expertise and guidance with a personalized itinerary. Your preferences and needs are our priority. We take care of you from the moment you land until the moment you leave.

Get help when you need it
You'll receive the inside scoop before you even leave home. And you can relax during your vacation because we're only a phone call away if you have any questions while you're in Canada.
Frequently Asked Questions
Polar bears live in the Northern parts of Canada, in areas near the Arctic Ocean. Churchill, Manitoba holds the title of being the polar bear capital of the world. The town's unique location along the shores of Hudson Bay means that a significant number of polar bears inhabit the area in the fall when polar bears are waiting for sea ice to form.
The best time to see polar bears in Churchill is from October to mid-November. 
Our Canadian Train and Polar Bear Experience starts from $8,590 USD per person. This trip combines the VIA Rail sleeper train from Vancouver to Winnipeg with a 3-night polar bear adventure in Churchill so you can see more of Canada's beautiful scenery and wildlife. Our Lords of the Wilderness trip offers you the chance to see grizzly bears and polar bears. Prices start from $13,430 USD per person.
The Tundra Buggy Lodge is a unique accommodation option. The mobile lodge is situated at Polar Bear Point in the Churchill Wildlife Management Area. There are two sleeping units, a lounge, and a dining hall. Sleeping arrangements are dormitory-style — bunk beds with privacy curtains. If you are interested in staying at the Tundra Buggy Lodge, please contact one of our Vacation Advisors.
About the author: Katherine is Product Manager with Fresh Tracks Canada. Having worked in the Canadian travel industry for almost 20 years, she enjoys sharing her local expertise with visitors. She is based in Calgary and one of her favourite Canadian destination is the... Read more
Discuss your Canadian train vacation with a local travel expert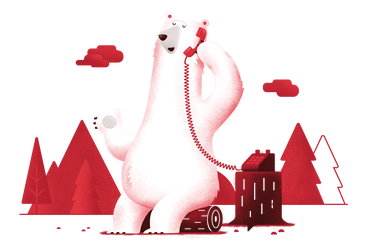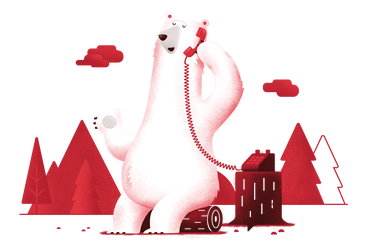 Current promotions
Sign up for special offers, monthly Canadian Insider tips, and vacation inspiration.