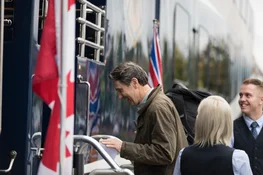 Your 2022 Pre-Travel Checklist
Published May 19, 2022
4 min read
Choosing your Canadian vacation destination, then deciding what you want to see and do is always exciting. Reading about new places to see, different train routes, adventures to plan, hotels to stay at, and restaurants to try is what vacation planning is all about.
It can be easy to get caught up in the fun and overlook some really important details — details that can turn excitement into anxiety and cause some serious challenges.
Here are a few things to think about before you leave home.
Confirm entry requirements
Requirements for entry to Canada are subject to change, and it's important to stay up to date. Your Vacation Advisor at Fresh Tracks is your first point of contact and will advise you on requirements.
"Once we, in Customer Service, liaise with the guests, we reiterate what the current entry requirements are and also refer our guests to our Safe Travel Page," says Elléa Moreau, Customer Account Specialist at Fresh Tracks Canada. "Our best practice is repetition."
As a Fresh Track guest, you will be advised and updated on entry requirements at several other stages before you travel, including when final payment is due, upon receiving travel documents, and one week prior your trip start date.
"We follow very closely the entry requirements for Canada, as well as for the USA, and once a change of entry process is made for either country, we proactively reach out to the clients traveling in the upcoming weeks to advise them," says Moreau. "We also update the guests traveling in the upcoming months, accordingly."
Talk to your advisor about insurance
Travel insurance is always a smart plan — so is understanding your policy.
"We strongly recommend our clients secure their trip investment by purchasing insurance — be it with us through or independently with another provider — and to choose the policy that suits their situation best," says Moreau, adding that Fresh Tracks Canada is partnered with MSH International.
Keep in mind that many insurance providers have declared COVID-19 as a "known event," which means claims related to the pandemic may not be covered.
"We advise clients to review the policy thoroughly and even compare with other providers and ask us or other providers any questions they have so they understand the claims that would be covered."
One of the pandemic side effects is that we have moved to an almost cashless world — almost. Even tips can be paid by card, but not always.
"I advise guests that they can either use their debit card at an ATM to get cash for tips or exchange a certain amount of money — say $10 to $20 Canadian a day — beforehand at their local bank," says Moreau. "I also recommend they check in advance with their bank if they will be charged a fee for a transaction in Canadian dollars, so that they can decide which option suits them best."
And if you do bring US dollars, understand that, unless you are in a bank, it may be taken on par with change given in Canadian dollars.
Arrange Care for Your Pets
Your furry (and feathered and finned) friends need and deserve to be well cared for while you are away. If you are looking for pet care, start by asking for recommendations asking trusted sources— friends, family, vet, groomer. Services like Pawshake and Rover are great but involve finding, screening, and interviewing to find the right person. Boarding kennels and pet resorts book up quickly, and you may want to check them out in person beforehand.
Deciding which clothes to bring depends largely on weather and activities. Moreau offers a great tip: pack layers, regardless of the season.
"Bring a raincoat and a fleece or thermal top as it is light and easy to carry and remove," she says.
While forgotten toiletries and socks can be purchased almost anywhere, be sure to pack hard-to-replace necessities: phone and laptop chargers, prescription medication, specialty personal products, and shoes that are already comfortable and don't need breaking in.
"Ensure you bring a carrier bag to pack the essentials, especially for train trips onboard VIA RAIL," says Moreau. "Your main luggage will be stored, and you will not be able to access it while on board the train."
Are your plants watered? Are your fridge and pantry empty of perishables? Do you need someone to collect mail and other deliveries? Unplugging appliances, taking out the garbage, closing the windows, ensuring the washing machine and dishwasher are empty — these types of details niggle at us when we are too far away to check. Unless you have someone at home who can take care of things, make a list, and check it twice.
Check your itinerary carefully
When you have a few moments of quiet, review your itinerary and look for the meeting locations. They aren't always at your hotel.
"As our guests are fully independent travellers, they sometimes have to make their own way to a certain location to meet our partners for their tour or transfer," says Moreau. "Often, clients will have reviewed the itinerary but haven't read it thoroughly and realize too late that their meeting location was not the hotel entrance."
If you have questions about your vacation, ask your dedicated Fresh Tracks Customer Account Specialist. Every member of the Fresh Tracks team is an insider — someone you can count on if issues arise and who will do their best to find a solution. These days, knowing someone on the inside provides some serious peace of mind.
About the author: Carolyn Camilleri is a Contributing Writer with Fresh tracks Canada. A magazine writer and editor since 1996, she loves the discovery that comes from travel. Her work has appeared in several Canadian travel publications, including Where Victoria, Harbour... Read more