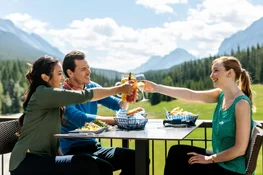 How To Drink Like a Local in Canada
By John Lee
Published Mar 25, 2021
5 min read
Our guide to help you navigate the best spots for beer, wine and spirits as you travel from coast to coast
For a country that has dabbled with prohibition – Prince Edward Island in 1901, Yukon during the First World War and the entire country from 1918 to 1920 – latter-day Canadians certainly know how to enjoy a drink, or three.
But while uninspired wines and fizzy factory beers dominated palates here for decades, there's been a refreshing surge in tasty regional producers throughout the country in recent years. For visitors, that means a golden opportunity to sip some distinctive Canadian tipples – so long as you know what to order and where they are.
Removing the guesswork, here's our handy guide to the scene in five thirst-slaking regions. But keep in mind that each province has its own producers – just ask your restaurant or bar servers for local recommendations. And don't miss our little chaser at the end of this story: Insider tips for navigating Canada's drinking scene like a local.
Drinking in British Columbia
With a strong claim to being Canada's current craft beer capital, British Columbia is frothing with top-ranked microbreweries. Vancouver and Victoria are particularly well-stocked but smaller communities often have brewers as well. Breweries typically have tasting rooms – a great way to meet the locals – but you'll also find bars throughout the province serving celebrated B.C. beers from Driftwood, Powell, Persephone and more.
Craft distilleries are also surging here, from Vancouver's Odd Society Spirits to Vancouver Island's Shelter Point. And B.C. is home to one of Canada's biggest wine sectors (alongside Ontario). Dominated by the Okanagan Valley in the province's sunny interior, visit bucolic vineyards or check local restaurant menus for wineries including Quail's Gate, Tinhorn Creek and Mission Hill, to name a few.
Big Rock Brewery has justifiably dominated Alberta's craft beer scene for decades. But while their most popular beverages – from Grasshopper Wheat Ale to dark and malty Traditional Ale – are still found in many local bars, a full serving of newer artisan producers has also been popping up. Look for drafts from Tool Shed, Alley Kat and Jasper Brewing Company, the first brewery to open in a Canadian national park.
There's also a growing number of distilleries to discover, especially the multi-award-winning Eau Claire Distillery. Located in Turner Valley south of Calgary, Eau Claire makes gin, vodka, whisky and Prickly Pear EquineOx, a sweet, barley-based tipple that everyone should aim to try. And no visit to Banff in the Canadian Rockies is complete without stopping in at Park Distillery to sample craft cocktails made from their spirits.
The largest wine-grape growing region in Canada, more than 150 wineries (many located on the delightful, vine-striped Niagara Peninsula) call this province home. Keep your taste buds primed for popular producers like Peller Estates, Inniskillin and local favorite Kew Vineyards. And if you haven't tried it before, make sure you sip an after-dinner glass of Ontario icewine while you're here – made from grapes frozen on the vine.
This French-flavored region has a long, savor-worthy history of homegrown wine and beer production. Wine-wise, you'll find visit-worthy vineyards and farm producers from Est-du-Québec to the Eastern Townships and beyond. You'll also find Canada's most diverse wine menu, from icewines to hearty reds and from sparkling whites to sophisticated fruit wines. Look out for ice cider here, too; a distinctive Quebec dessert tipple that's long been a local favorite.
And while Canada's craft beer scene is currently undergoing a countrywide golden age, Quebec's artisan ale sector is much older and traditionally more sophisticated than any other region – European-style wheat beers, sours and fruit beers are well established here. Look out for big-hitting breweries like Unibroue but also hunt down smaller producers such as Dieu du Ciel and Le Trou du Diable.
Drinking in the Maritimes
The east coast is home to some of the best pubs – and merriest drinkers – in Canada. But what should you sip on while you're here? If you're in New Brunswick, consider sampling a beer or two from favoured Fredericton producer Picaroons. And if you're in Nova Scotia, don't miss a draft from Propeller Brewing.
Nova Scotia also has a flourishing wine region just outside of Halifax, with more than 20 wineries focused particularly on whites and sparkling wines. But if you're keen to sample a unique spirit, aim for some Iceberg Vodka, produced using water harvested from icebergs off the Newfoundland coast – you'll also find gin and rum made with this distinctive ingredient.
Canadian Insider Drinking Tips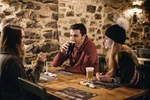 Tipping: Many bars in Canada have table service, which means you order at your seat rather than at the counter. This usually means a tab is created for you and, when you settle your bill, tipping of 15 to 20 percent is common. Alternatively, if you order, pay for and and pick up your drink at the counter, drop a dollar coin or two into the tip jar for each drink.
Buy or bring your own: Often government operated, liquor stores are easy to find in Canada. Grocery stores do not commonly sell liquor here, although that is changing in some areas. You may find restaurants advertising a "corkage fee" – this means you can bring your own wine to the restaurant and you will be charged a fee for the privilege (often somewhere between $5 and $20). This approach to dining out is especially popular in Quebec.
"Spirited" festivals: Wherever you find yourself on your Canadian travels, check ahead to see if there's a drink-themed festival or two to drop into while you're here. Wine, beer and spirits festivals abound in many areas and they're a great way to sample regional tipples and meet the locals. Consider B.C.'s Vancouver Craft Beer Week in late May or Ontario's Niagara Icewine Festival in January, plus many more.
What are your amazing experiences with Canadian beverages? Share your memories, photos and videos via Facebook, Twitter or Instagram.