What You Need to Know About Traveling in the Rockies
By Fresh Tracks Canada
Published Nov 18, 2021
4 min read
Celebrated for its breathtaking landscapes of snow-capped mountains and bright blue glacier-fed lakes, as well as pristine natural environments and iconic wildlife, the Canadian Rockies are a bucket-list destination for many travelers.
If you're planning a trip to this part of Canada, there are some things you should know. The planning stage can make or break your trip, and our Canadian Insiders have the knowledge to make your experience as rewarding and memorable as possible.
Of course, the best part of any vacation is often the surprises along the way.
"Expect the unexpected," says Amanda Blake, Sales Coordinator at Fresh Tracks Canada.
The Canadian Rockies offer some of the most beautiful sights in the world, and you never know what's waiting for you around the next turn.
It's Always a Good Time to Visit the Canadian Rockies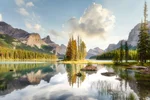 Each season in this beautiful region offers plenty of reasons to visit. While the Summer is the most popular time, visiting the Rockies in the Spring or Fall means that you can enjoy activities like hiking, wildlife viewing, and glacier tours, but with fewer crowds. Fall also offers the vivid spectacle of the larch trees turning gold.
If you'd like to travel by train, the Rocky Mountaineer runs from May to September. With routes to Jasper, Banff and Lake Louise, its luxury carriages wind through the heart of the Canadian Rockies, showcasing untouched terrain you can only see by rail.
While the Rockies are impressive all year round, snow transforms the area into a magical Winter wonderland, with plenty of seasonal activities to enchant and entertain. Imagine being pulled through a snowy dreamscape behind a team of sled dogs, or cozying up in an alpine pub. You can also ride VIA Rail's Canadian between Vancouver and Jasper to experience a real-life snow train.
The Canadian Rockies Cover a Big Area
The Canadian Rockies stretch through two provinces — British Columbia and Alberta — spanning 69,498 square miles. The UNESCO World Heritage-listed Canadian Rocky Mountain Parks include four national parks, Banff, Jasper, Kootenay and Yoho.
Jasper and Banff receive the bulk of visitors and both offer a compelling mix of comfortable — even luxury — amenities and deep immersion in nature. But you should be prepared for how spread out everything is.
"Surprise is definitely a common reaction when learning the travel time in the Rockies," Blake says. "I think it's a common misconception that everything is packed together for convenience. For those without cars, I recommend looking into sightseeing transfers to get the most out of all that open space. This allows time to stop and see the sights with a local expert. Direct transfers are also available for those on a tighter schedule."
The Icefield Parkway, which run between Lake Louise and Jasper, is one of the top drives in the world, winding through mountain peaks, icefields and vast sweeping valleys. Along the way, are several not-to-be-missed experiences, including a trek across the Athabasca Glacier in a massive ice explorer.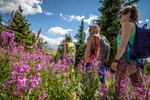 Your packing list for a trip to the Canadian Rockies will depend on the season and your planned activities, but the weather can be variable, no matter the time of year. The splendour of nature is one of the major attractions in the Canadian Rockies, so hopefully you'll be outside as much as possible.
"The Rockies can be unpredictable when it comes to weather," Blake says. "The best bet is wearing layers and sturdy shoes/boots. Summer is for lighter fabrics, but keep longer sleeves handy for the chilly wind at higher elevations. In Winter make sure to bundle up and leave as little exposed skin as possible."
In addition to packing clothes that you can layer, consider options that are quick-drying. And you'll want to bring a warm hat, even in the Summer. There's a reason the toque is considered an iconic piece of Canadian clothing.
A GORE-TEX or similar waterproof jacket is appropriate in the warmer months, but you'll want to bring a down or insulated jacket if your journey is in the Winter. Waterproof, insulated boots, as well as scarves and gloves are also a must.
Wildlife can be Encountered Anywhere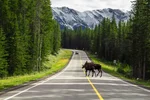 Chances are pretty good that you're going to see something wild, whether that's from the train, on a road trip or a hike. You might even encounter an elk or a bear as you stroll through a mountain town.
"Although certain locations in the Rockies can seem crowded, wildlife is part of day-to-day life whether you see it or not," Blake says. "Be respectful of their home that you're visiting."
The stars of the Canadian Rocky wildlife show include moose, bison, elk, grizzlies and black bears, bighorn sheep and mountain goats. Blake cautions that it is important to understand how to safely watch wildlife, should you be lucky enough to spot something.
Parks Canada advises hikers to always carry bear spray, ensuring it is accessible and familiarizing oneself with its use before heading out on the trails. They also recommend that hikers travel in groups and make noise to let wildlife know you are in the area, avoiding surprise encounters.
Your seaon of travel will also affect your chances of seeing wildlife. When booking your trip, ask your advisor about adding on a guided wildlife tour to increase your odds of a sighting and to learn more about the amazing creatures that call the Canadian Rockies home.