Banff National Park Train Tours
Set off on the adventure of a lifetime with a train trip from Vancouver to Banff. A Banff train vacation is the perfect way to relax and see some of Canada's most beautiful sights, all without having to worry about airline delays or traffic. As you make your way to your destination, you'll enjoy jaw-dropping views of mountains, waterfalls and canyons.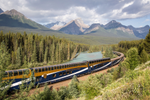 Once you arrive in Banff, you'll see why it's so popular. Bring out the adventurer inside with a helicopter tour, a hike through the forest or a bike ride on one of the local trails. If you'd rather take it easy, soak in one of Banff's hot springs, visit an art gallery or try the local cuisine.
If you're ready to take a train from Banff to Vancouver, contact Canadian Train Vacations for expert guidance. Our agents have travelled all over Canada, gathering information on the best hotels, restaurants, activities and transportation options. They use their knowledge and experience to create customized itineraries that fit every budget. We do everything from finding trains to Banff to making recommendations regarding add-ons and excursions.
Most Popular Banff Train Tours in 2023
Complete Canadian Rockies by Rail starts in Vancouver and takes you through the Canadian Rockies, home to some of the country's most pristine lands. You'll ride the Rocky Mountaineer to Jasper, stay at Chateau Lake Louise and travel along the most scenic route in Canada.
For a shorter Banff train vacation, try the Essential Rockies by Rail itinerary, which begins in Vancouver and has stops in Kamloops, Lake Louise, Banff and Calgary. For adventure seekers, this Banff train ride provides opportunities for hiking, canoeing, ice climbing and horseback riding. If you prefer a slower pace, you'll have a chance to relax at a spa, enjoy a gourmet meal or take a leisurely stroll.
The Banff and Canadian Rockies Explorer is one of the best Banff train rides for outdoor enthusiasts. On this itinerary, you'll spend three full days in Banff National Park, giving you plenty of time to practice your photography skills and take in the sights. You'll also have time to explore Victoria, Whistler or Vancouver.
Get a brochure
Includes sample trip itineraries, route maps, and insider tips.
Get Your Brochure
Have a question?
We can answer any questions or make suggestions.
Schedule a Call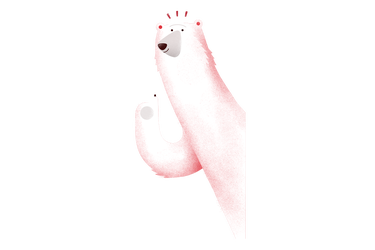 Must-Do Banff Train Ride Experiences
Don't miss out on all that Banff has to offer. Try one of these Banff National Park train adventures.
Rocky Mountaineer
The Rocky Mountaineer operates during daylight hours only, giving you endless opportunities to enjoy the scenery. It operates between mid-April and mid-October and connects Alberta with British Columbia. The Rocky Mountaineer stops in Jasper, Banff, Lake Louise, Vancouver, Quesnel, Whistler and Kamloops.
VIA Rail Train
VIA Rail has four routes connecting Vancouver to Halifax, allowing you to explore a large portion of Canada in a single trip. Major stops include Montreal, Jasper, Vancouver, Prince Rupert, Halifax, Ottawa, Toronto and Winnipeg. VIA Rail operates throughout the year and has sleeper cars available on some routes. It does not stop in Banff, but travellers can transfer from Edmonton or Jasper.
Sleeper Train
Canada has two train routes that allow you to sleep on board. Both are run by VIA Rail. One is the Ocean train, which runs between Montreal and Halifax. The other is The Canadian Train, which connects Vancouver with Toronto. Some sleeper trains even have special viewing cars to ensure you see as many sights as possible during your trip. No sleeper train goes directly to Banff, but you can ride the Canadian to Jasper and take a scenic driving tour along the Icefields Parkway to Banff.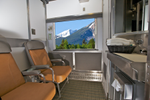 Why book your luxury rail trip with Canadian Train Vacations?

We take care of all the details
You want to relax and enjoy your trip, not get overwhelmed by the planning. Let us make all of the bookings for you, including rail tickets, hotels, excursions and activities, meals and transfers.

Independent travel with expert support
Enjoy local expertise and guidance with a personalized itinerary. Your preferences and needs are our priority. We take care of you from the moment you land until the moment you leave.
Get help when you need it
You'll receive the inside scoop before you even leave home. And you can relax during your vacation because we're only a phone call away if you have any questions while you're in Canada.
Frequently Asked Questions
The Rocky Mountaineer train typically arrives in Banff between 7 p.m. and 8:30 p.m. MT.
You can ride the Rocky Mountaineer train from Banff to Vancouver. One of the railway's routes runs from Banff to Vancouver, with a stop in Kamloops.
The Rocky Mountaineer is a daylight-only train, ensuring that you get to enjoy stunning views of the Canadian countryside as you travel. If you want to sleep on a train, ride the Canadian to Jasper and take a scenic driving tour along the Icefields Parkway to Banff.
It typically takes 15 to 20 hours to travel from Vancouver to Banff, but if you're taking a Banff train vacation, you won't be traveling directly from one point to the next. You'll be stopping in Kamloops along the way, reducing the amount of time you spend on the train in one go. The exact amount of time it takes also depends on travel conditions.
Canada doesn't have any trains with direct service from Banff to Calgary. If you want to visit Calgary during your trip, take a train to Edmonton, Banff or Jasper and then we can arrange a tour or transport to your destination.
Banff has plenty to see and do, but you should be able to cover the highlights within 3 to 5 days. That gives you time to take pictures, check out the local lakes and waterfalls, look for wildlife and enjoy some of the mountain town's best amenities.
The Rocky Mountaineer runs a train route connecting Banff and Vancouver. This luxury daylight train tour includes gourmet meals, leather recliners, a glass-domed viewing car, and your hotels at night.
Current Promotions
Sign up for special offers, monthly Canadian Insider tips, and vacation inspiration.