Best Place to See Northern Lights
Churchill, Manitoba, is one of the best places in Canada to see the Northern Lights. These phosphorescent green, yellow and pink lights sometimes appear in northern skies at night. For centuries, travellers have been entranced by this phenomenon. There are several places in Canada where you can see the Northern Lights, and winter, November to March, offers the best viewing. 
The team at Canadian Train Vacations can help plan your Aurora Borealis vacation. Travel to Manitoba, the Yukon, or the Canadian Rockies for this once-in-a-lifetime experience. Spend the daylight hours doing exciting winter activities, like dogsledding or snowshoeing. In the evening, head to remote locations for guided lights viewing. All our Canadian Northern Lights tour packages are customizable to your interests. We take care of your hotels, transportation, and activities. 
Popular Northern Lights Trips in 2023-24
Journey to Churchill, Manitoba—one of the top three places in the world to see the Northern Lights. During the dark, cold Arctic winter, cross the frozen Churchill River in a Tundra Buggy and watch the mystical Aurora in comfort. This Northern Lights trip features a culinary adventure under the stars, interpretive tours and guided winter activities.
Availability: February
Places Visited: Winnipeg and Churchill
Accommodation Style: Hotels
Activity Level: Easy
This winter adventure in Whitehorse, Yukon, has four nights of Northern Lights viewing. The area's low precipitation levels mean it is one of the best places to view Canada Northern Lights. Enjoy a range of guided activities like dogsledding, snowshoeing, ice fishing or snowmobiling.
Availability: December to March
Places Visited: Vancouver and Whitehorse
Accommodation Style: Hotels
Activity Level: Easy
Add a Northern Lights Excursion to These Trips
Why not add a Northern Lights tour Canada to a winter train trip? The Yukon is just a couple of hours north of Vancouver or Calgary and is prime Northern Lights viewing territory. Some Canadian train trip itineraries that include Vancouver and/or the Canadian Rockies are:
Rockies Rail Winter Wonderland
Trans Canada by Rail in Winter

Keep reading or chat with one of our local travel experts. We're passionate about Canada and can help you at any stage of your vacation planning.
Get in touch
Get a brochure
Includes sample trip itineraries, route maps, and insider tips.
Get Your Brochure
Have a question?
We can answer any questions or make suggestions.
Schedule a Call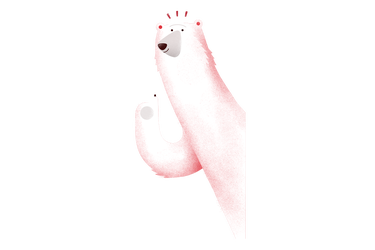 Where to see the Northern Lights in Canada?
Canada has several top destinations for Northern Lights viewing. You could catch the lights in any Canadian province, but your chances increase when you head north. The below list features our favourite places in Canada for seeing the Aurora. Much of Canada's north can be hard to access, so we've only listed the easiest places to reach.
The best time to see Northern Lights in Canada depends on the location. The Northern Lights forecast is a great tool that you can use to track the intensity of the Aurora over your travel days.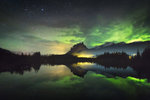 1. Churchill, Manitoba
Churchill is the best place to see the Northern Lights in Canada. The town sits under the auroral oval, and the Northern lights are visible up to 300 nights annually. Long nights and cold temperatures offer the best experience for witnessing auroral activity, so we recommend visiting during January, February or March.
Located on the shores of Hudson Bay, Churchill is also a hotspot for polar bear viewing in the fall and beluga whale viewing in the summer. You may see the lights during these seasons, too. 
Best time to go: January, February, and March
Number of nights visible: up to 300 nights per year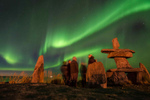 2. Yukon
The Yukon is one of Canada's northern territories and a top destination for Northern Lights viewing. The beginning of winter provides the highest probability of a Northern Lights show, though it is possible to spot the lights anytime from August to April. Like Churchill, visiting in winter is best as the nights are long and dark with clear skies. The lights appear brighter when there is a dark sky. 
In the summer, the Northern Lights are not visible in the Yukon because of the midnight sun.
Best time to go: between November and March
Number of nights visible: up to 240 nights per year
Also read: Northern Tales in Yukon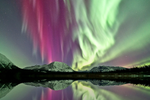 3. Canadian Rockies
The Canadian Rockies are famous for dramatic mountain peaks and turquoise lakes, but did you know that you can see the Northern Lights here, too? Jasper and Banff national parks are two of Canada's best locations for Northern Lights viewing. 
Jasper is the world's second-largest Dark Sky Preserve. Dark Sky Preserves are areas with low light pollution. So, Jasper is the perfect place to stargaze and watch the Northern Lights. You can visit Jasper during the Dark Sky Festival in October for an even more magical experience.
Best time to go: between October and April
Number of nights visible: up to 300 nights per year, depending on light pollution
Explore: Canadian Rockies Train Trip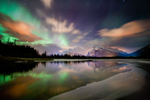 4. Newfoundland and Labrador
If you are on the East Coast of Canada, head to Newfoundland and Labrador to see the Northern Lights. Your best bet for viewing the Aurora in this province is to find a remote spot away from light pollution. There are some great viewing spots near the coast, in the national parks, and up north. The province has large areas of untouched wilderness, providing fantastic conditions for Northern lights viewing.
Best time to go: September to October and March to April
Number of nights visible: up to 60 nights per year
5. Yellowknife, Northwest Territories
Yellowknife in Canada's Northwest Territories is beneath the auroral oval, making it one of the best places for a Northern Lights vacation. The lights are visible up to 240 nights per year, with fall and winter being the main viewing seasons. Cold temperatures and clear, dark skies create the ideal canvas for the bright colours of the Canadian Aurora Borealis.
Best time to go: between November and April
Number of nights visible: up to 240 nights per year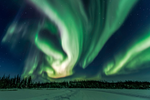 Why Are the Northern Lights in Canada so Special?
Besides looking beautiful and being on many travelers' wish lists, the Northern Lights are fascinating from a scientific point of view and have lots of cultural significance.
The lights are surrounded in many myths and legends across the world. For example, in Finnish folklore many people say the lights are created by the Arctic fox running through the snow. The country's Sami people, however, believe the lights are the souls of the dead. In old Norse Viking legends, the lights were reflections bouncing off warriors' armor.
In Canada, some Indigenous Peoples see the lights as sacred, regarding them as ancestral spirits dancing in the sky for the Great Spirit. For other groups, the lights are sky people playing ball, while others believe they are the spirits of those who passed in a difficult way. Many people speak hearing the lights, with crackling, sizzling, and hissing sounds. Some legends warn against attracting the attention of the lights because they can draw close and carry you away.
Canadian Insider Tips to Experience Aurora Borealis
The best way to see the Northern Lights is on a guided tour. A guide that knows the local area will check the Aurora forecast and take you to unique viewing locations.

Be prepared to stay up late because the best time to view the Northern Lights is between 10pm and 2am, often around midnight. We suggest having a nap in the afternoon to compensate for these late nights!

Tour guides on a Canada Northern Lights tour will take you to remote viewing locations that might be hard to reach on your own. Be ready to travel and wrap up warm.

An advantage of joining a tour is that most providers offer winter gear rentals (if you do not own appropriate attire for the chilly Canadian temperatures).
More information on Northern Lights 2023 trips
Have questions about seeing the Northern lights in Canada and don't see the answer here? Contact one of our travel experts to learn more about Northern lights vacation packages Canada.
We got to see the Northern Lights
Our vacation was unbelievable! We got to see the Northern Lights and my kids loved the dog sledding. We wish we would have stayed longer.

Helen, Pedro, Kevin and Denise
NSW, AUSTRALIA
It was amazing to see Polar Bears up close
It was amazing to see Polar Bears up close and personal in their environment. The frosting on the trip was seeing the Northern Lights. Amazing!

Why book your train journey in Canada with Canadian Train Vacations?

We take care of all the details
You want to relax and enjoy your trip, not get overwhelmed by the planning. Let us make all of the bookings for you, including rail tickets, hotels, excursions and activities, meals and transfers.

Independent travel with expert support
Enjoy local expertise and guidance with a personalized itinerary. Your preferences and needs are our priority. We take care of you from the moment you land until the moment you leave.
Get help when you need it
You'll receive the inside scoop before you even leave home. And you can relax during your vacation because we're only a phone call away if you have any questions while you're in Canada.
Frequently Asked Questions
What are northern lights?
The Northern Lights, also called Aurora Borealis, are waves of light that appear in the night sky in the Northern hemisphere. The lights appear near the magnetic poles. The same phenomenon occurs in the Southern hemisphere and is called the Southern Lights or Aurora Australis. Both light displays appear in various colours, including green (most common), yellow, pink, purple and red.
What causes northern lights?
The Northern Lights are caused when charged solar particles collide with atoms in the Earth's atmosphere. If these particles collide with oxygen, the lights appear green. If the particles collide with nitrogen, the lights are blue or purple. 
How much is a trip to see the northern lights?
Prices vary for Northern Lights Canada tours. Our Yukon packages start from $2,570 USD per person, while our Churchill packages start from $5,140 USD per person. Prices depend on travel dates, location, accommodation, and length of stay. Reach out to one of our Vacation Advisors for more information.
Where in Canada can you see the Northern lights?
Two of the best places in Canada for seeing the Northern Lights are Churchill, Manitoba, and the Yukon. Northern Lights appearances are never guaranteed, but these places have regular sightings.
Is a northern lights tour worth it?
Seeing the Aurora Borealis Canada is a once-in-a-lifetime experience. A Northern Lights tour is worth it as it gives you the best chance of seeing the lights. Our Canadian Northern Lights tours include guided northern lights viewing, transportation and hotels. 
How to capture northern lights on camera?
With the correct camera settings, you can capture the Northern Lights. If you are taking photos with your phone, use a slow shutter speed, switch to night mode, and set up a tripod to get the best Northern Lights images. A slow shutter speed is necessary because the lights move quickly. 
Current Promotions
Sign up for special offers, monthly Canadian Insider tips, and vacation inspiration.