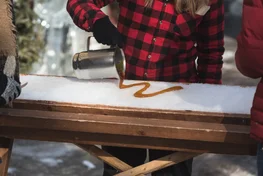 5 Delicious Facts About Canadian Maple Syrup
Published Mar 15, 2022
4 min read
Maple syrup season is one of the many reasons Canadians look forward to spring. In February through April, as temperatures begin to rise, sap begins running in the maple trees. This sugary, clear-coloured tree-water is collected and cooked down, becoming Canada's iconic maple syrup, which is enjoyed around the world. But there's more to this delicious national treat than you might think. Here are five facts you might not know about Canadian Maple Syrup.
1. It Really is Liquid Gold
Canada produces 85 per cent of the world's maple syrup, often referred to as liquid gold. In 2020, Canada exported nearly 135 million pounds of maple syrup, worth more than $515 million. Why Canada? Freezing nights and warm days are needed for the maple sap to flow properly, and Eastern North America has the ideal climate. The province of Quebec produces the most maple syrup — a whooping 72 per cent of the world's supply. The Quebec Maple Syrup Producers (QMSP) govern the province's maple syrup producers and they take the syrup's value seriously. Back in 2000, the organization established a maple syrup reserve to keep syrup in stock and ensure a constant supply for national and international markets even in years when there was a bad harvest. One site is about the size of five football fields and can store 94,000 barrels.
2. It Inspired a Great Canadian Syrup Heist
Easily qualifying as the most Canadian crime in recent history, a network of criminals stole $18.7 million worth of maple syrup from one of the reserve's storage Quebec facilities. During the summer of 2012, the QMSP realized that more than 9,000 barrels of syrup stored in their warehouse in St-Louis-de-Blandford had been emptied and the syrup replaced by water. Over the course of the ensuing police investigation, 20 people were arrested.
"The Maple Syrup Heist" on Netflix's "Dirty Money" series documents the criminal enterprise, looking into the black market for maple syrup.
3. Maple Syrup was Discovered by Canada's Indigenous Peoples
According to the Canadian Encyclopedia, the Abenaki, Haudenosaunee and Mi'kmaq peoples have long valued the sap of the sugar maple. Early French colonists learned about collecting maple sap from these Indigenous communities. The first accounts of settlers producing maple sugar comes from the late 1700s. Today, many maple syrup producers and festivals — such as Sucrerie De La Montagne — replicate the original process during celebrations to mark the sugaring-off season. After drilling holes into the maple trees and fitting them with wooden spouts, sap is collected in buckets. All the sap is brought to a sugar shack, the famous "cabane à sucre," where it is boiled down to syrup in large metal kettles over a fire.
If you're lucky enough to be in Canada during sugaring-off time, don't miss trying maple taffy, a special treat made by pouring boiling condensed maple syrup on snow.
Explore Quebec on our Canadian History and Culture by Rail tour.
4. Maple Syrup has Health Benefits
It might be sweet and delicious, but maple syrup also contains 54 beneficial compounds and is an unexpected source of essential minerals, including calcium, zinc, magnesium and potassium. The unique polyphenol, quebecol, is found in maple syrup. A diet rich in polyphenols, which is found in fruit, green tea and red wine, is believed to reduce inflammation and support a healthy immune system. Maple syrup also contains inulin, a prebiotic fiber that aids in digestion.
5. It's for More than Pancakes
Nothing beats warm maple syrup paired with your favorite crepe or pancake, but that's just one of the many uses for this liquid gold. Use it as a sweetener in your coffee or drizzled over vanilla ice cream. Whisk it into salad dressing for a unique, nuanced flavor. Use it on roast veggies (it elevates brussel sprouts to epicurean levels). If you love to cook, there are plenty of recipes that incorporate maple syrup.
It's also a fine ingredient on your bar cart, as a sweetener in cocktails, like in the Fairmont's Canada 150 Cocktail, the Whiskey Maple.
When visiting Canada, look for maple-infused dishes on restaurant menus. Le Sam Bistro at the iconic Fairmont Le Château Frontenac in Quebec City features fine-dining dishes with maple syrup, such as its Leeks Salmon Tartare, and its tempting Maple Syrup Mille-Feuille dessert.
You'll also find that the maple sap used to create maple syrup is also the base for many delicious Canadian delicacies, from fortified wines to liqueurs to maple-cured fish and meats.
Maple leaf cream sandwich cookies are also a popular souvenir for travelers looking to bring a taste of Canada home.
As maple sap requires below-freezing temperatures in the Winter and a slow Spring thaw, the East Coast and Maritimes are the best places in the country to experience maple syrup and all its products.
About the author: Athena McKenzie is the Managing Editor at Fresh Tracks Canada. An experienced lifestyle journalist, she has written about travel, design, arts and entertainment. Her work has appeared in The Globe and Mail, Toronto Star, Zoomer Magazine, Elle Canada and... Read more