How to have a Canadian Christmas
Published Nov 25, 2022
4 min read
While most cultures that celebrate Christmas have some common elements — trees, gifts, a version of Santa — discovering unique regional traditions makes travelling during the festive season magical. Canada, with its multicultural roots and rich local heritage, has some very special holiday traditions all across the country. Here is a roundup of just a few Canadian Christmas highlights to include on your itinerary.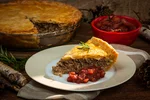 Traditional holiday foods and treats
Christmas feasting is a huge part of the holiday season anywhere you go. Canada inherited its traditional turkey dinner from the British, and it is widely available and usually served with stuffing, mashed potatoes, vegetables, gravy and cranberry sauce. Many of the Fairmont hotels across Canada offer a delicious holiday menu, complete with turkey and the fixings.
In Quebec (and really any French-Canadian community), families gather on Christmas Eve and sometimes New Year's Eve to enjoy Tourtière, an absolutely delicious meat pie, the origins of which can be traced to French settlers in the 1600s. While recipes vary from family to family and chef to chef, most are made using pork or a mix of pork, veal or game and spiced with cloves, nutmeg and allspice.
For dessert, bûche de Noël — literally "log of Christmas" — is a decadent rolled sponge cake richly decorated to look like a log. The cakes first appeared in Paris in the 1870s and soon after in Quebec. The log aspect, however, has roots in ancient times, where the ashes from a special log burned at solstice brought families good luck.
Chicken bones are another unique Canadian holiday treat — and, no, they are not made with chicken. These hard pink cinnamon candies with chocolate centres are shaped like chicken bones and are looked forward to every year as gifts and treats. They were invented in 1885 in Saint Stephen, New Brunswick by Ganong, Canada's longest standing family owned and operated chocolate company.
In Ontario's Niagara region, the holiday season lines up nicely with the much-anticipated ice wine season. These treasured vintages are made from grapes harvested after they freeze, which concentrates their natural sugar and results in distinctively sweet, flavourful dessert wines. Many Niagara wineries participate in events and tours, as well as wine and food pairing.
Explore Niagara on our Canadian History and Culture by Rail trip.
Let there be light — festivals
Elaborate outdoor displays of sparkling lights, often accompanied by music, refreshments and other entertainments, are very popular holiday attractions in Canada. In some places, these magnificent light displays are the focus of festivals and have drawn world-wide acclaim.
In southern Ontario, from November 12 to February 20, the Niagara Falls Winter Festival of Lights has been a holiday favourite for 40 years and is considered Canada's largest free outdoor festival.
In Toronto, Nathan Philips Square is open to ice skaters and beautifully aglow for the Cavalcade of Lights from November 22 to January 8.
Meanwhile, from December 1 to January 8, the grounds at Toronto's Casa Loma are open for holiday light tours, featuring spectacular decorations, outdoor lighting displays and live performances.
West Coast favourites include taking in the dazzling (and dizzying) views of splendidly decorated forests in the Capilano Canyon from the Capilano Suspension Bridge and Cliffwalk, a cantilevered walkway clinging to a granite cliff. The lights are on this year from November 19 until January 22.
Another Vancouver-area favourite is the Festival of Lights, which transforms the amazing VanDusen Botanical Gardens into a magical wonderland from Nov 25 to January 2.
Learn more of the Best Things to do in Vancouver.
Near Victoria on Vancouver Island, the Magic of Christmas at the Butchart Gardens has been captivating people with spectacular light and decoration displays for decades. This year, you can see the lights from Dec 1 to January 6.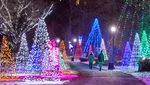 Gift shopping at an outdoor Christmas Market
What could be more fun than bundling up for some holiday shopping at a European-style outdoor market? Browse the stalls for handcrafted and artisan gifts for loved ones, while sipping mulled wine or hot chocolate, sampling delectable treats and enjoying festive music and carolers. And no matter what the weather is doing, Canadians love these markets and flock to them every year.
While they happen in virtually every community, some of the biggest include the Vancouver Christmas Market, Banff Christmas Market, Distillery District Winter Village in Toronto, Marché de NOËL Allemand de Quebec, Grand Marché de Noël de Montréal and Jean-Talon Christmas Market in Montreal.

Boxing Day — not a sporting holiday
No, this has nothing to do with putting on gloves and stepping into the ring. The day after Christmas in Canada is known as Boxing Day, a secular holiday in Commonwealth countries around the world. The version of Boxing Day inherited in Canada from the British traditionally meant boxes were filled with donations gathered during Advent for distribution by the Anglican church. Recent decades have seen Boxing Day move away from charity to refocus almost entirely on shopping at post-Christmas sales, eating holiday leftovers, snowy walks, and going to movies.
Polar Bear Dips
From Conception Bay, Newfoundland to Vancouver and Victoria, people in communities across Canada brave icy winter waters for a very refreshing and very quick swim. These bone-chilling community events vary in size and are most often tied to charity fundraisers. The biggest and most renowned is held on New Year's Day at Vancouver's English Bay. Established in 1920, the Vancouver Polar Bear Swim Club gets between 1,000 and 2,000 participants for the event. But that's just the people who register — estimates are generally much, much higher. While the pandemic put the chill on some of these community events, rumour has it the swimmers may be back to welcome in 2023.
Learn more about Canadian culture: 10 Slang Terms in Canada
About the author: Carolyn Camilleri is a Contributing Writer with Fresh tracks Canada. A magazine writer and editor since 1996, she loves the discovery that comes from travel. Her work has appeared in several Canadian travel publications, including Where Victoria, Harbour... Read more