Best Attractions in Toronto
By Fresh Tracks Canada
Published Feb 6, 2023
9 min read
If you are planning a trip to Canada, don't miss Toronto! It is the largest and one of the most vibrant cities in Canada. There is a lot to explore in Toronto. If you're visiting for the first time, you may find it difficult to narrow down the top tourist attractions in Toronto.
Every neighbourhood of Toronto has its own story. There are many hidden gems and tourist attractions in Toronto. As Canadian travel experts, Canadian Train Vacations is here to help you. We have curated a comprehensive list of the best attractions in Toronto. If you love to travel and explore, the following places should be on your itinerary.
1. Explore the Royal Ontario Museum
The Royal Ontario Museum is home to a range of exquisite cultural and historical pieces collected from all over the world. The museum is located at 100 Queen's Park, Toronto, Ontario. You can easily reach here by bus, cab, or public transportation. General admission is $23 CAD for adults and $14 CAD for Children ages four to 14.
2. See the animals at the Toronto Zoo
The zoo is one of the best outdoor attractions in Toronto. If you love wildlife, you should visit the Toronto Zoo. Spread over 10km, it is a great place to walk and explore. It features a unique polar bear habitat and an African penguin exhibit. From alpacas to giraffes, there's a lot to see here. We recommend at least two hours to explore the zoo.
Admission is $24.50 for adults and $15.50 for children.
TIP: Time your visit to see the animals being fed.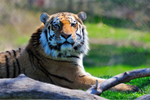 3. Enjoy the View from CN Tower
Built between 1972 and 1976, the CN Tower was once the tallest building in the world, at 553 meters tall. It is the most famous tourist destination in Toronto. It can be enjoyed from the ground, but the view from the top is simply breathtaking. There is also a revolving restaurant at the top for dining and lunches. It is located at 301 Front Street West, Toronto, Ontario.
It is open from 9 AM to 9 PM every day. Entry fees start at $53 but depend on what activities you want to do, such as the EdgeWalk, the outdoor walkway around the observation deck.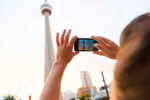 4. Visit the Art Gallery of Ontario
The Art Gallery of Ontario is one of the major attractions in Toronto. It is home to a large collection of artwork dating back centuries. The building is an architectural masterpiece in itself. Located at 317 Dundas St W, it is easily accessible by public transportation.
TIP: If you want to skip the line to enter the museum, prepurchase a day pass for $25 CAD or an annual pass for $35 CAD.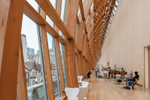 5. Eat at Kensington Market
You're bound to get hungry after exploring all the tourist attractions in Toronto, Canada. It's time to head to Kensington Market, just west of downtown Toronto. This multicultural neighbourhood offers various food shops and restaurants which serve cuisines from all over the world.
Additionally, you can explore the beautiful shops that sell vintage items. You will want approximately two to three hours to explore this neighbourhood, which is easily accessible by public transportation.
TIP: Admission is free, as it is a public neighbourhood, but we recommend around $50 CAD/couple for a meal.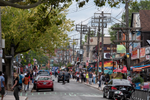 6. Witness Marine Life at Ripley's Aquarium of Canada
The aquarium is also one of the most popular tourist places in Toronto. It is one of the largest indoor aquariums in the country. It is home to about 450 different fish species and other sea animals. You can also feed them if you want. It will take you 2-3 hours to explore the aquarium. Tickets cost $44 CAD for adults and $20 for youth ages six to 13, and $12.50 for children ages two to five.
7. Take a Selfie at the Museum of Illusions
The Museum of Illusions opened in 2018. It is one of the new family attractions in Toronto, Canada. It is fun for both adults and kids alike. The museum features an elaborate series of illusions, along with their explanations. There are selfie points along the way, and it is one of the most
Instagrammable places in Toronto. It is located at 132 Front Street East. Tickets are $23.50 CAD.
8. Go Down Memory Lane with Bata Shoe Museum
If you're interested in the history of shoes, visit the Bata Shoe Museum. It is located just across from the Royal Ontario Museum. You can gain access to the museum for just $14 CAD.
TIP: Check out the outside of the building as well. The building is shaped like a shoebox.
9. Learn About Hockey at the Hockey Hall of Fame
Hockey is an extremely famous sport in Canada, which makes this a must-visit tourist destination in Toronto for all sports fans. See interesting exhibits about the sports and try fun interactive displays. It is also the home of the Stanley Cup, the NHL's biggest trophy. You can get a ticket for $20 CAD.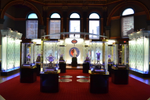 10. Go Down Memory Lane at St. Lawrence Market
Named the best food market in the world in 2012, this famous tourist destination in Toronto has been operating since the early 1800s. Apart from buying the freshest and best produce, you can also explore several cuisines at this market. From Indian to Ukrainian, there's something for every palate. And when you're done eating, go upstairs to explore the art gallery. The market also hosts a public kitchen for special cooking classes and is home to St Lawrence Hall, where you can catch exhibitions and live performances.
TIP: Hiring a tour guide gives interesting insights into the vendors and the area's history.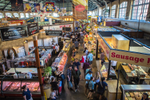 11. Get answers at Ontario Science Centre
The first interactive museum of its kind in the world, this place is specially designed for all those interested in Science. It is one of the best attractions in downtown Toronto and also one of the best family attractions in Toronto. There are live experiments, demonstrations, planetariums and games to explore and enjoy. The entire tour of the place will take you about two hours.
TIP: We recommend you book tickets online to skip the lines, especially during school holidays. A ticket costs $22 CAD.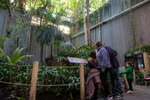 12. Shop at Toronto Eaton Centre
No trip is complete without shopping! Toronto Eaton Centre is a shopper's paradise that's located in the middle of downtown Toronto. Home to the world's best luxury brands, flagship stores, restaurants and movie theatres, Eaton Centre is an iconic structure that's known as one of the best tourist places in Toronto. It receives approximately 50 million visitors every year. You can reach this place easily by taking any public transport.
TIP: Don't miss the 115-foot long pedestrian bridge between Eaton Centre and Hudson's Bay Company building. It's an architectural gem.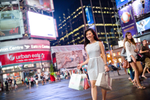 13. Wander Through the Distillery District
This quaint village-like area gets its name from the fact that it once housed the largest distillery of the British empire. With nearly 50 Victorian buildings, this is a national heritage site. Now home to some of Toronto's best art galleries, boutiques, bars, restaurants, studios, and shops, Distillery District is one of the top 5 attractions in Toronto. Among the various festivals held throughout the year, the Toronto Christmas Market attracts the most visitors.
TIP: Distillery District covers13 acres and is a pedestrian-only area. Wear comfortable shoes!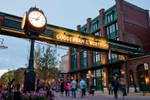 14. Feel Regal at Casa Loma
Located in Austin Terrace in Toronto, the Casa Loma is reminiscent of a medieval castle. It was constructed in 1914 by Sir Henry Pellatt, a multi-millionaire. The palace has now been converted into a museum for public viewing and sees at least 650,000 visitors a year. The castle has three floors that include 100 rooms, grand washrooms, towers, secret pathways and underground tunnels. You can also visit the well-maintained stables and estate gardens. Casa Loma is open from 9.30 AM to 5 PM and a ticket costs $40 CAD.
TIP: Being one of the fun attractions in Toronto, we recommend you reach early to skip the crowds and then grab lunch at one of the many restaurants nearby.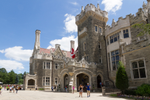 15. Walk Through the Aga Khan Museum
Constructed by Prince Sadruddin Aga Khan and Princess Catharine Aga Khan in the 1950s, this museum is completely devoted to Islamic Arts. It is the largest museum for Islamic Arts in North America. The museum is located in serene surroundings in the northern part of city and has a reflecting pool all around it. There is also a restaurant that provides a fine dining experience. An entry ticket costs $20 CAD and the museum is open 10 AM - 5.30 PM, Sunday-Tuesday.
TIP: Post-Covid, Museum entry has been more restricted. We recommend you book tickets online to avoid any inconvenience.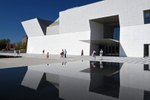 16. Take a Stroll around Toronto Islands
Toronto Islands is a chain of several islands along Lake Ontario. One of the best outdoor attractions in Toronto, there's a lot that one can do, such as water sports, camping, fishing, boating, bird watching, picnics and even visiting art galleries and shops. It also offers stunning views of the Toronto skyline.
TIP: No private vehicles are allowed on the island, so you can catch a passenger ferry from Jack Leyton Ferry Terminal. Rent a bike to explore the islands.
17. Explore Old City Hall
The Old City Hall is a Romanesque-style building that's over a century old. It was very close to demolition, but activists saved the historic site. Now the city hall serves as a museum and a war memorial. There is a lot you can uncover if you love architecture and history.
TIP: If possible, carry just the basics in your bags. The security check at the entry is quite thorough and you will have to pass through metal detectors.
18. Take a Trip to Niagara Falls
The list of the top 10 attractions in Toronto is incomplete without the famous Niagara Falls. Just 90 minutes away from Toronto, Niagara falls is a group of three waterfalls that lie on the border of Ontario and New York (USA). As expected, you will be greeted with stunning views, exciting trails and hikes, guided tours, and plenty of staying and eating options nearby.
TIP: Helicopter rides can be easily arranged to get the best views.
19. Stroll through High Park
If you want to explore the greener side of Toronto, you should check out High Park. One of the best outdoor attractions in Toronto, this place is favoured by families with children or elderly members. High is Toronto's largest park and includes a large playground, swimming pool, diverse vegetation, walking trails, and so much more. The beautiful lakefront provides a perfect backdrop to fun-filled picnics.
TIP: During April-May, the park blooms with cherry blossoms.
20. Visit Black Creek Pioneer Village
This is a one-of-a-kind village that showcases Toronto during the 1860s. Historic buildings, unique stables and sheds, picturesque gardens and trade exhibits - Black Creek gives you a real immersive experience of rural life in the 19th century. An entry ticket costs $15 CAD and it stays open from 11.00 AM - 4PM
TIP: You will have to pre-book a tour online till March 2023. Do check their website for more changes in entry rules.
21. Take a tour of Steam Whistle Brewery
Located close to Ripley's Aquarium, this is one of the most quirky and lively places in Toronto. Founded in 1998, this brewery was developed from a national historic site - The John Street Roundhouse building. This roundhouse used to serve as a depot for the Canadian Pacific Railway steam locomotive. So, grab a pint of Steam Whistle and take a tour around the area or kick back and relax at the Taproom.
22. Relax at Woodbine Beach
Woodbine Beach is the perfect place to spend a relaxing day. This beach is along Lake Ontario and offers a perfect blend of relaxation and revelry. The 3-km long shore is a popular spot for sunbathing, swimming, water sports, beach volleyball, picnics and an Olympic-sized pool.
TIP: The beach can get noisy and crowded as it is one of the popular outdoor attractions in Toronto. If you need a breather, you can walk across to the calm and scenic Woodbine Park.
23. Catch the Vibe at Yonge-Dundas Square
Yonge-Dundas Square is often called the Times Square of Toronto. Known for fast-fashion shops, affordable eateries, street performances and its giant screens, you can easily spend 2-3 hours here without realising it. It's a perfect snapshot of Toronto city life and comes alive once the sun sets.
24. Head Over To Chinatown
Chinatown is one of the oldest neighbourhoods in Toronto and offers delightful stories in every nook and corner. Curl up at a restaurant with warm dim sum, brothy noodles or spicy chops. Shop the outdoor stalls for hard-to-find produce and unique housewares. Given its prime location, you can easily reach Chinatown by taking any mode of transportation.
25. Unwind at Harbourfront Centre
An iconic cultural destination, Harbourfront Centre hosts several art exhibits, food festivals, live music and dance shows. The water-front complex, located at 235 Queens Quay West, hosts around 4000 events in a year. Apart from the art scene, you can also relax in one of the many inviting cafes and restaurants in and around the centre.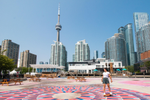 Frequently Asked Questions
What should I not miss in Toronto?
You should not miss the CN Tower when you're in Toronto. It is one of the most iconic and remarkable buildings in Toronto that provides a bird's eye view of the city.
What is the most visited place in Toronto?
Some of the famous tourist destinations in Toronto are the CN Tower, Casa Loma, the Art Gallery of Ontario, the Royal Ontario Museum, and Ripley's Aquarium.
What is Toronto best known for?
Toronto is best known as a Canadian metropolis. It has sky-high buildings with a waterfront. The city's vibe is vibrant and full of energy, with a good mix of historic and modern establishments.
How many days are enough for Toronto?
You must spend at least 4-5 days in Toronto. There is a lot to see and explore in this capital city of Ontario. You will thoroughly enjoy your time here.
Where can I go when I'm bored in Toronto?
There are many famous tourist destinations in Toronto. You can see the animals at the Toronto Zoo, feed the fishes at Ripley's Aquarium, or stroll through the Distillery District. You will never be bored in this city!
Get a brochure
Includes sample trip itineraries, route maps, and insider tips.
Get Your Brochure
Have a question?
We can answer any questions or make suggestions.
Schedule a Call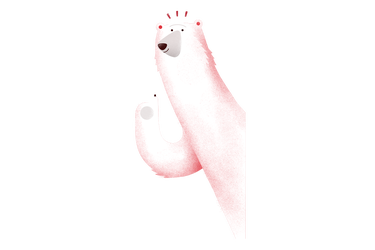 Current Promotions
Sign up for special offers, monthly Canadian Insider tips, and vacation inspiration.