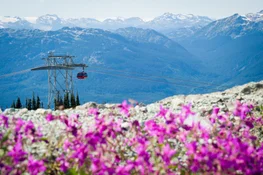 Top Things to do in Whistler in the Summer
By Fresh Tracks Canada
Published Jun 27, 2022
5 min read
There's a reason Whistler-Blackcomb is known internationally as one of the world's best mountain resorts, and while famous for its epic snow and winter ski season, it's a year-round playland with offerings for all kinds of visitors. Whether hiking, shopping, river rafting or just taking in the unique coastal mountain vibe, guests will enjoy the summer for the mild weather, remarkable mountain views and endless adventures.
Guests on the Rocky Mountaineer's Rainforest to Goldrush route will have time to explore this stunning mountain town. You can also add a day tour or longer visit to any Vancouver train trip.
Here are the top things to do in Whistler in the summer.
Though known casually as Whistler, the two mountains of Whistler and Blackcomb officially make up the resort and the Peak 2 Peak Gondola is the first of its kind to connect them. Built in 2008, it has one of the longest free-span cable rides in the world (1.88 miles) and is the fastest way to get from one side to the other. Offering 360 degree views of Whistler Village, the surrounding mountain ranges, glaciers, lakes and forests, Peak 2 Peak offers the most elevated perspective available — without getting in a plane — and is a top thing to do in Whistler in the summer.
Squamish Lil'wat Cultural Centre
The state-of-the-art Squamish Lil'wat Cultural Centre has won awards for preserving and promoting the two dominant Indiginous cultures from the Sea to Sky Corridor. Built as a blend of a Squamish Nation Longhouse and lil'wat isken (pit house), visitors to the centre can learn about each group's history in the region from knowledgeable cultural ambassadors, who enrich their storytelling with artifacts, art, and drum ceremonies.
Whether you have an hour or a day, Whistler has a trail to meet your needs — some trails are wheelchair accessible. Hiking is a top thing to do in Whistler in the summer. With forests stretching in every direction, visitors can stretch their legs on the forest trails of the Lost Lake Loop, which consist of flat, forgiving pathways surrounded by swimmable glacier-fed lakes and amazing vistas.
For something a little less time consuming, the Train Wreck hike is a well-loved local favourite that meanders along the Cheakamus River and over a bridge, ending at a set of abandoned train cars-turned-art-installation. Starting at Cheakamus Crossing just south of Whistler Village, the Train Wreck trail also connects to a more significant network of trails for those looking for a longer, or more challenging hike. The trail to Whistler's Rainbow Lake is a perfect excursion for those looking for something not too long and not too short, with a bit of elevation. While swimming in Rainbow Lake is off limits (it supplies the region's drinking water), nearby Alta Lake is a great alternative.
If you've added a tour to Whistler to your West Coast train vacation, you can expect some great food and drink, with many options in and around the Village. There are also less conventional ways to take a meal, such as the Canadian Wilderness Adventures ATV salmon bake. With a final dining altitude of 6,000 feet, visitors will be wined and dined on fresh local salmon after an all-terrain-vehicle climb to the top of Blackcomb Mountain's Crystal Hut. Ask your travel advisor about adding this experience to your vacation.
If covering a lot of culinary ground in a short amount of time is an objective, Whistler Dining Tours has a tour for any taste. Their guided walking tours for dinner and lunch are typically a few hours long and include some of Whistler's best restaurants and experiences, like champagne sabering in a 15,000 bottle wine cellar and eating at some of the wonderful, if lesser known, restaurants Whistler Blackcomb has to offer.
A legacy of the 2010 Winter Olympics, Whistler's Olympic Park (WOP) is a safe place to try something completely new. While well-endowed with a network of hiking trails and summits that meander through the gorgeous Callaghan Valley, summer bobsleigh lessons are available through the WOP's Sliding Centre and are a top thing to do in Whistler in the summer. There's also biathlon and target shooting at the Olympic Shooting Range — something to really challenge those looking for a memorable experience. A nine-hole disc golf course is also on offer.
Golfing is a top thing to do in Whistler in the summer, and the 18-hole Nicklaus North Golf Course is a par 71, top-tier golf experience designed specifically for the unique valley bottom geography. One of only five courses in the world bearing the Nicklaus name, golfers will be challenged and excited by the links' topography. Whistler also offers three other challenging courses, all located close to the Village and designed by award-winning golf course architects. Big Sky, designed by Robert Cupp, is a par 72; Fairmont Chateau Whistler's course designed by Robert Trent Jones Jr.m is a par 72; and Whistler Golf Club is a par 71 course designed by none other than Arnold Palmer.
Touring the town's museums is a great thing to do in the summer in Whistler to get out of the heat. British Columbia's rich artistic culture is on display at the Audain Art Museum, where guests can view a permanent collection that spans two centuries of Indigenous and historically significant art, including The Dance Screen by Haida Chief James Hart, 15 paintings by E.J. Hughes, and a steady rotation of internationally recognized exhibits.
To really understand how the resort town came to be, the Whistler Museum is a must-do. From its rustic beginnings as an off-the-track recreation spot for intrepid skiers and hikers, to its modern day status as one of the world's best designed resort municipalities, Whistler's story is varied and deeply interesting for anyone with a curiosity around mountain culture. Using exhibitions and interactive educational experiences, the museum presents an innovative range of programs to refine visitors' knowledge of the region.
Floatplane tour of Whistler
Deeply embedded in a chain of mountain ranges that go as far as the eye can see, Whistler can be hard to conceptualize geographically without some serious elevation. Floatplane tours are hands- down the best way to get a proper look at the beauty of the mountains, and a top thing to do in Whistler in the summer. Tours leave from Green Lake and offer various scenic options, including the Valley tour, the Glacier tour, and the Alpine Lake Landing Tour,
Running from May through October, Whistler Floatplane Tours take between 20 minutes and a couple of hours, depending on which tour is booked. Ask your travel advisor about elevating your Canadian train vacation with a private floatplane tour and picnic.