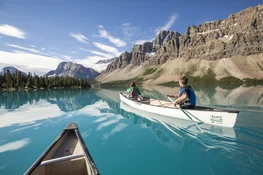 5 Ways to Immerse Yourself in the Canadian Rockies
By Fresh Tracks Canada
Published Dec 21, 2021
1 min read
How will you get the most out of your Canadian Rockies trip? From awe-inspiring cliff-edge walks to luxury train rides and afternoons spent paddling on glacier-fed lakes, here are some of our favourite ways to experience this stunning region of Canada.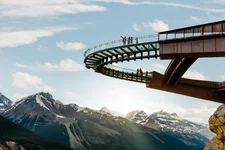 Get your thrills on a glass-floored cliff-walk.
Glass is all that separates you from the 918-foot drop to the valley below on the Columbia Icefield Skywalk. The fully-accessible walkway provides breath-taking perspectives on waterfalls, wildlife, and fossils — a quintessenial Rockies experience.