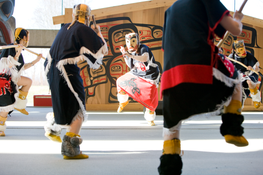 6 Ways to Explore Indigenous Culture in Canada
Published Jun 2, 2022
4 min read
Culture in Canada is celebrated for its diversity, but long before colonists arrived 400 years ago, it was home to a wide variety of Indigenous Peoples. Inuit, Métis and numerous First Nations have been living on the land now known as Canada for as long as 14,000 years.
Today, in addition to the Métis and Inuit Peoples, there are 634 First Nations speaking more than 50 distinct languages. Some Indigenous communities are in the process of reclaiming their culture and languages. For Canadians and visitors alike, exploring Indigenous culture is a journey into a world rich with traditions, practices, languages and knowledge that continue to be at the centre of life in these diverse, resilient communities in every part of the country.
Here are six ways to respectfully explore Indigenous culture in Canada while on your Canadian train vacation.
Stay at Haida House in Haida Gwaii, British Columbia
Off the Northern coast of British Columbia is Haida Gwaii — Xaayda Gwaay.yaay — one of the most ancient cultures in Canada. You can immerse yourself in an authentic Haida cultural experience in this renowned and geographically spectacular place. Overlooking the Tlell River and surrounded by ancient rainforest, Haida House at Tilaal provides deluxe accommodation, regionally inspired cuisine and authentic Haida hospitality. It is also the starting point to guided and self-guided eco-adventures into the pristine wilderness to discover the many natural attractions and cultural sites found on Haida Gwaii's Graham and Moresby Islands.
A trip to Haida Gwaii is an easy add-on to our West Coast train vacations.
The Sk̲wx̲wú7mesh Lil̓wat7úl Cultural Centre in Whistler, British Columbia
Whistler is world renown as a ski-resort, but the mountain has long been significant to the local Indigenous Peoples. Two First Nations communities that live in the Whistler area are showcased at the Sk̲wx̲wú7mesh Lil̓wat7úl Cultural Centre. Both the Sk̲wx̲wú7mesh and L̓il̓wat7úl are caretakers of the land, and their history is tied to the rivers, lakes and mountains. Here, you can learn the stories of the past and present of these communities on tours featuring presentations, song, short film and an exhibit of objects vital to their culture: baskets, blankets, canoes, carvings (also known as totem poles), drums, tools and regalia. Special events also take place throughout the year, for example canoe carving, crafts and holistic medicine.
Certain routes on the Rocky Mountaineer have time in Whistler or you can add a day-tour after your Vancouver train trip.
Talaysay Talking Trees Tour in Vancouver, British Columbia
For those willing to listen and learn, every plant and tree has its own story to tell. On a Talaysay Talking Trees Tour, explore Vancouver's Stanley Park with an Indigenous cultural ambassador, who will share how trees and plants of the Pacific Northwest have been harvested by Indigenous People for food, medicine and technology for thousands of years. The tour also includes ecological practices, ancient and contemporary history, stories, legends and Indigenous ways of living. Talaysay Tours is owned by Candace and Larry Campo of the Shíshálh (Sechelt) and Sḵwx̱wú7mesh (Squamish) First Nations and all tour guides are members of Indigenous communities locally and in the surrounding region.
Speak to your Vacation Advisor about adding a walking tour to your Canadian train vacation.
Huron Traditional Site, Wendake, in Quebec
Experience the past and present traditions of a culture in Canada with the Huron-Wendat First Nation at the Huron Traditional Site in Wendake, a municipality within Quebec City. Guided tours led by Hurons in traditional costume and medicine-wheel making are available year-round, as well as a variety of seasonal tour and activity packages. In the summer months, sign up for a canoe ride, nature stroll, traditional meal and live performance. In the winter, take a guided snow-shoe trip and visit the long house for a presentation on traditional ways of life. The Nek8arre restaurant is open in the summer months and offers new and traditional dishes that are mainly game and fish based.
Add a visit to this cultural site to your Canadian History and Culture by Rail trip.
Warrior Women in Jasper, Alberta
Matricia Bauer and Mackenzie Brown are Warrior Women, an award-winning, mother-and-daughter duo that hosts a number of Indigenous cultural experiences in Jasper, as well as at events and conferences across Alberta and Canada. Through drumming, singing and storytelling, the Warrior Women are ambassadors of their Cree culture and knowledge. They also host walking tours where they share traditional learnings about plants and their medicinal and nutritional uses and hold workshops on a range of topics, such as Medicine Wheel, Spirit Animals, and Indigenous awareness.
Many of our Canadian Rockies train vacations include time in Jasper.
Grizzly Tours at Knight Inlet Lodge, British Columbia
Imagine the thrill of viewing grizzly bears in their natural habitat on tours led by Indigenous guides — truly a bucket-list vacation. Knight Inlet Lodge is located in a sheltered cove 240 kilometres (150 miles) northwest of Vancouver on the southern end of the Great Bear Rainforest. The fully Indigenous-owned property offers dining and accommodation in a magnificent setting. Bear viewing by boat starts in April when both black and grizzly bears begin emerging from hibernation to feed on spring growth. In late August, watch bears from viewing stands, where you can see bears drawn to the pink salmon making their way up the inlet to spawn. Other activities include whale watching, kayaking and marine tours as well as walking, hiking and tracking, all led by guides knowledgeable in local history and legend.
This incredible experience is part of our Lords of the Wilderness Bear Viewing trip.
About the author: Carolyn Camilleri is a Contributing Writer with Fresh tracks Canada. A magazine writer and editor since 1996, she loves the discovery that comes from travel. Her work has appeared in several Canadian travel publications, including Where Victoria, Harbour... Read more