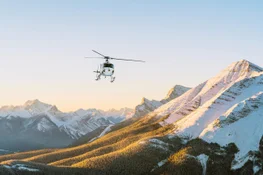 Eight Thrilling Rides in the Rockies
By Fresh Tracks Canada
Published Oct 5, 2022
4 min read
If you're looking for breathtaking scenery and plenty of opportunities to encounter wild animals in their natural habitat, there's no better way to spend a vacation than by travelling through the Canadian Rockies. Home to Jasper and Banff National Parks, the Canadian Rockies are accessible by train, making this region an ideal destination for tourists who prefer to travel by land rather than air.
The travel experts at Canadian Train Vacations can help you pick the perfect activities for your trip. Banff and Jasper offer a wide range of options to suit travellers of all ability levels — whether you regularly hike or you prefer to move at a more leisurely pace.
Check out our guide to eight thrilling rides in the Canadian Rockies.
1. Motorcycle sidecar tour
Traveling by sidecar is one of the top activities in Jasper. It's ideal for tourists who want to feel the wind against their faces as a tour guide zips through the park on a Harley Davidson motorcycle. Traveling along the highway, you'll be surrounded by a stunning backdrop of sparkling lakes and soaring mountains.
One of the many benefits of traveling via motorcycle and sidecar is that you can visit many areas that aren't accessible to tour buses and other large vehicles. Your tour guide will pull over at several points of interest, giving you a chance to watch for bears or hike to a nearby waterfall.
Choose this activity during a Canadian Rockies Discovery Tour.
The slower pace makes this activity means it's well-suited to travellers who are fit enough to mount a horse but don't necessarily want to do anything too strenuous. In addition, riding makes it possible to access out-of-the-way areas, increasing the chances that you'll see an elk, a bear or some other type of Canadian wildlife.
While riding a gentle horse, you'll pass the Bow River, which is surrounded by marshes and natural sulfur springs, and eventually make the climb up Sulphur Mountain. When you reach your destination, you'll have the opportunity to take photos of the landscape below. The two-hour ride includes basic riding instructions and a helmet to wear while you take in the view.
3. Helicopter sightseeing tour
A helicopter tour of the Canadian Rockies is ideal for an adventurous person who wants a bird's-eye view of the region's wilderness. While flying along the Cline River, you'll see Abraham Lake, Coral Creek and other natural wonders. The highlight of the tour is the sweeping views of the Rocky Mountains and their six nearby glaciers: White Goat Glacier, Cline Glacier, Lioness Glacier, Lion Glacier, Hanging Glacier and Resolute Glacier. The helicopter reaches altitudes of 12,000 feet. You'll need a light jacket or a winter coat, depending on when you visit.
Add this activity to a Complete Rockies by Rail tour.
If you love dogs and don't mind bundling up, dog sledding is a once-in-a-lifetime experience that gives you a chance to see the Canadian Rockies at their best. You'll be greeted by a team of Alaskan huskies, Canadian Eskimo Dogs or other northern dog breeds, which are well-known for their strength and stamina. These dogs love making new friends just as much as they enjoy pulling sleds, so feel free to pet them as you prepare for your ride.
It would help if you were fit to drive your own sled, but the tour operator offers guided rides, making this activity ideal for older adults and people with disabilities. If you take a guided ride, all you need to do is sit and relax while your guide and the team of sled dogs do all the work.
Explore Winter train trips.
Lake Minnewanka and Maligne Lake are glacial lakes fed by runoff from the area's many glaciers. Boat cruises are ideal for travelers who enjoy getting out on the water and having access to 360-degree views of the surrounding landscape. They're also the perfect way to unwind after a day of hiking or riding horses. Maligne Lake offers spectacular views of Spirit Island, while Lake Minnewanka has opportunities for canoeing and kayaking once your cruise ends. You may even spot some local wildlife from your boat.
6. Buggy ride on a glacier
You'd think taking a buggy ride on a glacier would be reserved only for performance athletes, but people of all ages and ability levels can try this unusual activity. The buggy is wheelchair-accessible, making it easier to get up close and personal with Athabasca Glacier, a vital part of the Columbia Icefield. You'll also participate in the Columbia Icefield Skywalk experience, which is completely accessible to travelers using wheelchairs. The Skywalk offers unobstructed views of cliffs, glaciers, waterfalls and more. Many tourists see mountain goats and other wildlife from this unique vantage point.
Ask your Canadian Train Vacation advisor about which trips include a driving tour of the Icefields Parkway, where this activity is located.
7. Sleigh ride around Lake Louise
Looking for a romantic getaway? A sleigh ride around Lake Louise is the perfect activity during your honeymoon or an anniversary trip. Even if you don't have a special occasion to celebrate, you'll enjoy snuggling up in the sleigh and listening to the sound of the horses gliding through the snow. The sleigh ride is also ideal for family vacations or trips with your closest friends. The sleighing season typically runs from mid-December through April, depending on the weather.
This activity is an option during the Rockies Rail Winter Wonderland trip.
Rocky Mountaineer offers luxury train excursions in the Rocky Mountains. While on board, you can enjoy awe-inspiring views of the Canadian Rockies from the glass-domed coach and its outdoor viewing platform. These daylight-only trips also offer delicious meals prepared with local ingredients. Lasting 2-3 days, you'll stay at local hotels for the nights.
A train excursion is ideal for travelers who want to relax while surrounded by natural beauty.
Experience two of Rocky Mountaineer's routes on the Circle the Canadian Rockies by Train trip.