Best Time to Visit Toronto in 2023
By Fresh Tracks Canada
Published Mar 1, 2023
9 min read
Toronto is one of the most vibrant and beautiful destinations in the world. If you want to know the best time to visit Toronto, you have come to the right place. The largest city in Canada, Toronto, is a global leader in commerce, banking, technology, entertainment, and culture. What is the best time of year to visit Toronto? Toronto has a wide range of exciting things to do throughout the year. The city hosts events all year long that draw tourists from all over the world. It includes everything from beer and food festivals to music, art, and movies.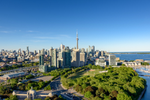 Toronto has beautiful old buildings, enthralling scenery, and fantastic shopping destinations. But it is also full of secret nooks and hidden gems. There is something for everyone in this city filled with all things entertaining and fascinating. Visiting Toronto means exploring CN Tower, St. Lawrence Markets, Toronto Islands, and Ripley's Aquarium. Undoubtedly, this city is perfect for people of all ages.
There can be a lot of details to take care of when planning a trip to Toronto. The travel experts at Canadian Train Vacations help travelers from when they arrive in Canada until when they leave. Read this guide to learn the best time to visit Toronto, Canada, and other tips and advice.
Why Should You Visit Toronto?
There are many reasons to travel to Toronto. Its appeal lies in the rich history showcased in the beautiful museums. In addition to knowing when to visit Toronto, you should also be aware of the treasures it holds.
Here are the top five reasons to visit Toronto given by our travel experts: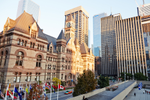 The city offers amazingly diverse and delicious food
Toronto is home to many restaurants serving different types of cuisines. So, if you are a food enthusiast, you are in for a treat. From French to Italian, you will find everything here. A wide range of continental restaurants, local food trucks, aesthetic cafes, energetic brunch locations, bars with delicious food, and much more are available.
For its relaxing parks and beaches In Toronto, there are over 1600 parks.
You can find natural features like beaches, lakes, and greenery here too. High Park, situated in the west, is one of the well-known parks. You can see beautiful cherry blossom trees here during spring. Some more amazing places are Tommy Thompson Park, Woodbine Beach, and Riverdale Park West.
There are many architectural marvels and museums
The city is home to several architectural wonders. Ripley's Aquarium, Aga Khan Museum, The Casa Loma, the Art Gallery of Ontario, and the Royal Ontario Museum are just a few must-visit places.
It is home to some exciting shopping destinations
The entire city of Toronto has numerous shopping spots, from malls to trendy neighborhoods. With nearly 300 stores and restaurants, the Toronto Eaton Centre on Yonge Street is one of the biggest malls in Canada. Take a stroll down Yonge Street to find stores to browse and shop at, including boutiques. If you are looking for antique and vintage shops, Kensington Market is ideal. St. Lawrence Market is another well-liked shopping destination. Various indulgences, such as fresh cuisine, unique souvenirs, and antiques, are available here.
Top attractions
Apart from the museums, there are various other places that you should visit in Toronto. The primary aquarium, Ripley's Aquarium of Canada, is located in downtown Toronto to the southeast of the CN Tower. The Toronto Zoo is one of the largest zoos in Canada. Another stunning tourist destination that you must visit in Toronto is Lake Ontario, one of the five Great Lakes that are situated close to the Canadian border.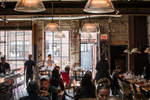 Best Time to Visit Toronto: Month-By-Month Breakdown
The Toronto climate exhibits all four seasons, unlike a tropical location where the temperature is warm throughout the year. The city is known for its cold winters and warm summers. Here is a month-wise breakdown of the seasons that Toronto experiences:
April to May: Spring
Toronto is at its best during this beautiful spring season. The climate provides a pleasant environment for sightseeing. The temperature varies from 33°F to 66°F. Since summer visitors have not yet arrived, spring is a great time to get hotel discounts.
Packing tip: The springtime climate can feel cold at times. Thus, bring a layering jacket, along with lightweight shirts and sweaters. Wearing jeans or thick pants can provide comfort. The city could experience rain during this time, therefore remember to keep an umbrella and a raincoat.
June to August: Summer
The most expensive period to visit Toronto is June to August because those are the summer months. There is plenty of sunshine for outdoor activities, including hiking, biking, boating, ship cruise, beach activities, and amusement parks. The warmest and most humid month is July, which is also the wettest. The temperature varies from 68°F to 95°F.
Packing tip: The summertime can be either hot or mildly cold. Thus, bring summer clothes, but pack sweaters or a light jacket in case it gets chilly during the day or at night.
September to November: Fall
Fall weather can be unpredictable, with a few unusually warmer days. Beginning in October, the city streets and alleys get lined with vivid crimson leaves. It gets chilly at night, especially around November. It is pleasantly sunny during the day, making it ideal for exploring the city. The range for the average temperature is 40°F to 73°F.
Packing tip: For the mornings and evenings, pack some pants, long-sleeved shirts, and a thick coat. You must dress suitably because late evenings and nights get chilly.
December to March: Winter
Toronto and many parts of Canada have a white winter in December, and the snow covers the streets. Canada truly lives up to its nickname, the Great White North. The wintertime temperatures may drop below freezing and hover between 15°F and 35°F.
Packing tip: In Canada, winter brings bitter winds and snow. Come prepared with a warm cap and sturdy gloves. Also, remember to bring a heavy coat and enough warm layers.
Climate and Activities in Toronto: By Month
1) Enjoy a post-holiday-crowd lull in January
January is the coldest month in Toronto. The air can get super-dry. Do not forget to carry your hand lotion and lip balm. After the December festivities, the city experiences a tourist-crowd lull in January. You can see fewer crowds and several post-holiday sales at this time.
Key events
Toronto International Boat Show (January 20-29) - An annual international boating event

Winterlicious (January 27-February 9) - An annual gastronomic extravaganza
2) In February, shelter from the cold at indoor events
February is the month with the most snow in Toronto. Several indoor and outdoor events are lined up this month. This time of the year is reasonably dry with less rainfall. However, the days are often cloudy, and snow is common.
Key events
Bloor-Yorkville Ice Fest (February 18-19)

-

Display of ice creations

Mirvish Productions' Hamilton (Starting February 22)

-

A

multi-award-winning historical musical
3) The green begins in March
March in Toronto is known for its unpredictable weather. However, it marks the beginning of spring as you start seeing patches of greenery around you again. You get to see an average of six hours of sunshine daily.
Key events
Canada Blooms (March 10-20)

- Toronto Flower Show and horticultural competition

Toronto Comicon (March 17-19)

-

A comic, anime, and pop-culture convention

The St. Patrick's Day Parade

(March 19)

- A cultural/religious celebration to commemorate St. Patrick
4) Avoid the rain at April film screenings
The weather in April is not too hot or cold, making it an ideal time to visit. You may experience frequent light showers at this time.
Key events
Hot Docs Film Festival (April 27-May 7)

- A screening of the world's best documentaries

Spring Pop-up by Toronto Art Crawl (April 16) -

A free indoor art market
5) The weather gets nice at last in May
May month marks the beginning of the peak tourist season in Toronto. The weather is at its best with loads of sunshine. There is a moderate chill in the air coupled with gentle breezes.
Key events
Tastemaker Toronto (date yet to be announced)

- A curated food festival with local and international chefs

Asian and South Asian Heritage Month (the whole of May)

- Recognition of the contributions of Canadians of Asian origin

Victoria Day weekend (May 22)

- A Canadian statutory holiday in honor of Queen Victoria's birth anniversary
6) June is for flowers and rainbows
June marks the beginning of peak summer in Toronto. The tourist influx starts rising from this month onwards. The city blooms with colorful flowers, and the sunny weather lifts everyone's spirits.
Key events
Pride Toronto (June 25)

- Supporting the LGBTQ+ community

North by Northeast Festival (June 13-17)

- An annual music and arts festival

Toronto International Dragon Boat Race Festival (June 17-18)

- Dragon boat racing and cultural event
7) July offers the best of Toronto
July is the hottest and most humid month in Toronto. It is ideal for sightseeing and outdoor activities. The tourist crowd is at its peak in July.
Key events
Summerlicious (date yet to be announced)

- A summer food festival

Toronto Fringe Festival (July 5-16)

- An annual theater festival

Beaches International Jazz Festival (July 6-30)

- One of Canada's largest free jazz festivals
8) August is all about summer pleasures
The climate in August is an extension of July. The weather is pleasantly warm, with soothing breezes and occasional rains. You may want to turn on the air-conditioning of your room to battle the humidity.
Key events
Caribana (August 3-7)

- A festival of Caribbean culture and traditions

Taste of the Danforth (August 18-September 4)

- An annual street festival organized by Toronto's Greek community

Dream in High Park (date yet to be announced)

- An outdoor theater event
9) Summer persists, then autumn sets in during September
The temperatures start to drop in September. But it is still comfortable, and you do not need to bundle up yet. It signifies the approach of autumn.
Key events
Nuit Blanche (September 23)

- An annual night-time arts festival

Toronto Ukrainian Festival (September 15-17)

- A celebration of the Ukrainian culture
10) The fall foliage delights every October
The warm hues of fall provide an aesthetic delight to Toronto's landscapes. Admire the changing colors and sceneries around you.
Key events
Toronto Chocolate Festival (Starting October 1)

- A month-long celebration of all things chocolate

Toronto International Art Fair (October 26-29)

- Showcasing more than 200 independent Canadian artists
11) The holiday season kicks off in November
November marks the onset of winter in Toronto. The temperatures continue to drop, giving way to the wintry holiday season.
Key events
The Royal Agricultural Winter Fair (Starting November 3)

- An annual agricultural and equestrian fair

Toronto Santa Claus Parade (The 3rd Sunday of November)

- A festive parade to mark the onset of the holiday season
12) Decembers are cold and delightful
Visit Toronto in December to experience a real-life winter wonderland. Although it is cold, a sense of vibrancy fills the air.
Key events
Distillery District Christmas Market (The last two weeks of December)

- An annual Christmas shopping and dining experience

Holiday Magic on Bloor-Yorkville (date yet to be announced)

- A festival of lights and music
Final Thoughts
There is no unsuitable time to travel to Toronto, as each season offers unique activities, attractions, and weather. No matter when you arrive, there will always be enjoyable activities and events. So, if you are searching for the best time to visit Toronto, the correct answer primarily depends on your preferences regarding hobbies and the ability to tackle extreme climates.
You are more likely to experience mild weather when you visit Toronto in early spring, especially in April and May. You can plan a trip in the spring season that includes visiting parks and tourist attractions, dining at upscale restaurants, buying souvenirs, and exploring the city's bustling streets for hidden gems.
September and October are also among the best for visiting Toronto. Even if it may be a little chilly, the air is still comfortable enough to skip the extra thick layers. Just remember that, similar to the spring, the fall could bring rain, so make sure you pack an umbrella, just in case.
So, what is the best time of year to visit Toronto? Every season has its pros and cons. Therefore, we highly recommend you figure out the purpose of your visit and, accordingly, choose the best time for yourself. If you still cannot decide, spring and fall are ideal for visiting Toronto.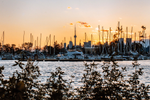 Frequently Asked Questions
What is the best part of Toronto to stay in?
If you are wondering where to stay in Toronto, the Downtown, Entertainment District, Yorkville, and Midtown areas are the best locations to look for accommodation. These parts offer tourists many things to explore and do. They are well-connected too.
What is peak season in Toronto?
Summer is the peak season in Toronto. June, July, and August see an influx of tourists in the city. It is chiefly due to the pleasant weather and the activities organized at that time.
What is Toronto's hottest month?
July is Toronto's hottest month. The average daily maximum temperature can go up to 77°F. The minimum temperature in this month is around 68°F.
What is the cheapest time to visit Toronto?
December to April is the cheapest time to visit the city. The cold temperatures discourage many tourists from visiting Toronto at this time. Consequently, accommodations are available at economical rates. So, if you are a budget traveler and do not mind cold winter destinations, this is the best time to visit Toronto, Canada.
Get a brochure
Includes sample trip itineraries, route maps, and insider tips.
Get Your Brochure
Have a question?
We can answer any questions or make suggestions.
Schedule a Call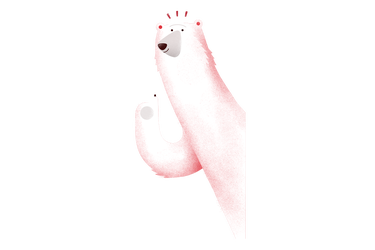 Current Promotions
Sign up for special offers, monthly Canadian Insider tips, and vacation inspiration.