Toronto's Best Restaurants
By Fresh Tracks Canada
Published Feb 2, 2023
8 min read
A trip to Canada's biggest city is not complete without experiencing Toronto's best restaurants. Regarded by travellers as one of the world's best foodie cities, you're sure to eat something delicious on your visit.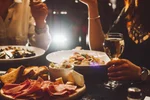 The bustling city — known to locals as the "6ix" and "Tdot" — offers everything from fine dining to casual fare, and so much more. Most restaurants focus on high quality locally sourced ingredients, but every chef has their own unique spin. Whatever your taste buds are craving, you can find it here.
With so many options, knowing which restaurants are a must-visit and which are a pass can be difficult. That's where the experts at Canadian Train Vacations come in. With nearly 30 years of travel industry experience, our Canadian Insiders are more than prepared to help you plan your next vacation. Our experts have narrowed down 10 of the top restaurants in Toronto.
Discover Toronto on a train vacation: Vancouver to Toronto Train Tour
Top Restaurants in Toronto
There's no shortage of fancy restaurants in Toronto for you to try. And with new dining opportunities lurking around every corner, it can be tough to stand out–but the restaurants on this list have done just that.
In putting together this list, our experts considered industry awards, customer reviews, atmosphere, quality of service, and personal experience.
Please note: these restaurants are listed in no particular order. Their position on the list does not indicate ranking.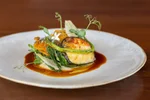 Address: 66 Wellington St W 54th floor, Toronto, ON
Phone Number: (416) 364-0054
Directions
Prices: $$$ Average-Above Average
With over 25 years of culinary experience and countless awards, Toronto's Canoe Restaurant & Bar (1) is a must-try dining experience and one of the most famous restaurants in Toronto. Serving up seasonal, Canadian-inspired dishes the upscale restaurant offers a signature eight-course tasting menu that chef Ron McKinlay considers a "culinary love letter to Canadian ingredients." The tasting menu includes a variety of seafood, breads, and seasonal fruits and vegetables that are sure to tickle your tastebuds.
Located on the 54th floor of the TD building, this contemporary culinary gem provides breathtaking views of Toronto's skyline–the perfect backdrop for you to savour your meal. It's no wonder this spot is one of the highest rated restaurants in Toronto.
The restaurant is busiest between 6 p.m. and 8 p.m. so if you're looking to avoid a crowd, aim for a lunch or later dinner time slot. Ideal for anniversary dinners, first dates, and catching up with friends, Canoe Restaurant & Bar is sure to impress.
Address: 88 Avenue Rd, Toronto, ON
Phone Number: (416) 924-0888
Directions
Prices: $$$$ High
An experience like no other, Sushi Masaki Saito (2) offers an authentic Japanese omakase meal, where instead of ordering off the menu, what you eat is in the hands of Chef Masaki Saito. As a two-star Michelin chef, Saito is guaranteed to impress you with his knife skills and mouth-watering dishes. Open since 2019, Sushi Masaki Saito is considered one of the top restaurants in Toronto. When you're at Satio's table, you know you're in for a good time. And with a seasonally rotating menu, there's always something new to taste here.
The restaurant design is sleek and minimal, giving off a calm, almost romantic atmosphere. There's no best time to visit Sushi Masaki Saito, but the restaurant is often very busy and getting a reservation can be difficult. Due to the high cost and unique experience, this spot is best for celebrating very special occasions.
Address: 169 Niagara St, Toronto, ON
Phone Number: (416) 703-4222
Directions

Prices: $$$ Average-Above Average
With a cozy atmosphere and delish, seasonally inspired meals, Edulis (3) is one for your bucket list. The menu changes with the seasons but always puts emphasis on seafood, vegetables, and wild mushrooms.
Aside from offering the freshest in-season ingredients, Edulis is all about the dining experience. Here you can count on being greeted like an old friend as you sit down for your feast. For many, walking through the doors feels like walking into an old friend's kitchen.
Open since 2012, Edulis has become one of Toronto local's favourite spots for dinner and Sunday lunch. In the warmer months, try to get seated on the gorgeous, flower-covered patio.
Keep in mind, Edulis is a non-tipping restaurant, and you will be required to prepay for your booking.
Address: 96 Harbord St, Toronto, ON
Phone Number: (416) 323-1385
Directions
Prices: $$ Low-Average
With its intimate atmosphere and French-inspired dishes, Dreyfus (4) is the perfect spot for a romantic night out. Enjoy classic French cuisine paired with top-quality local products for a meal you won't soon forget.
Located in a charming, Victorian brick house in the heart of the Harbord Village, Dreyfus is easily one of the best date night spots in the city. But keep in mind, this little gem fills up quickly, so your best bet is to make reservations ahead of time.
The menu features a delectable selection of small plates and shareable mains that help elevate the intimacy and coziness.
Open from 5 p.m. util 11 p.m. Thursday-Saturday, this "french-ish" restaurant will become one of your favourite weekend spots.
Address: 1 Benvenuto Pl, Toronto, ON
Phone Number: (416) 961-8011
Directions
Prices: $$ Average
Known locally for its famous coconut cream pies, Scaramouche (5) has been a favourite among tourists and Torontonians since it first opened its doors in 1980. Pairing local ingredients with a sophisticated atmosphere, this restaurant offers the ultimate dining experience. Savour a seasonally rotating menu of elegant french cuisine while you soak up breathtaking views of the city. Ideal for everything from date nights to business lunches, Scaramouche offers a little something for everyone.
If you're looking for luxurious restaurants in Toronto, Scaramouche will not disappoint.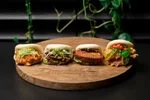 Address: 190 University Ave, Toronto, ON
Phone Number: (647) 253-8000
Directions
Prices: $$ - $$$$ Average to High
With locations in New York City, LA, Las Vegas, Toronto, and more, the Momofuku (6) brand has been making a name for itself since 2004. In Toronto, Momofuku offers three levels of unique dining options. Spread across the first and second floor you'll find the noodle bar where you can indulge in tasty steam buns, noodle dishes, and a variety of snacks. On the third floor you'll find Kōjin–a modern Canadian restaurant serving up local, quality ingredients.
The restaurant is usually busiest around 7 p.m. If you're going for that time you can expect a 30-minute to one-hour wait for a table. The atmosphere here is sleek and modern and combined with the cuisine, Momofuku feels like a high-end, classy food court. As one of the most trendy restaurants in Toronto, Momofuku is the perfect spot for catching up with friends and family, Momofuku is full of fun.
Act now if you want to try this culinary gem. The restaurnat recently annouced in will be closing at the end of 2022.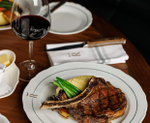 Address: 100 Front St W, Toronto, ON
Phone Number: (416) 368-2511
Directions
Prices: $$$$ High
Located inside the famous Fairmont Royal York hotel in downtown Toronto, Reign (7) offers mouthwatering Canadian cuisine prepared in a French style. Dim lights, dark woods, and jewel tones decorate the restaurant, creating a sophisticated city ambiance. From the restaurant to the wine bar and bakery, there's something on offer to satisfy everyone's taste buds. Whether you're looking for a casual coffee and croissant meetup or a romantic steak dinner, Reign has you covered.
The restaurant boasts high-quality ingredients from across the country including seafood sourced from the east coast and fresh produce from local Ontario growers.
Reign was opened in 2019 when the long-standing hotel decided it was time to give their previous restaurant a serious makeover. It's important to note, that the restaurant sees high traffic around 9 a.m. and then again at 7 p.m., so aim for an off-peak time if you want to avoid a large crowd.
Ask your Canadian Vacation Travel Advisor about arranging a meal at Reign during your trip.
Address: 51 St Nicholas St, Toronto, ON
Phone Number: (647) 643-3132
Directions
Prices: $$$$ High
Located in a charming Victorian townhouse, Avelo (8) offers a variety of delectable plant-based dishes. Designed with the adventurous diner in mind, Avelo is the perfect place to try something new and ignite your senses. Forget about a traditional menu, the restaurant only tells you what you're about to taste as it's being served to you, making it one of the coolest restaurants in Toronto. With advanced notice, the restaurant can accommodate a wide variety of dietary restrictions and has several gluten-free options available.
The Victorian townhouse Avelo is located in was built back in the 1880's and makes for a quaint and quiet restaurant in Toronto. With wonderfully painted walls and hanging foliage, the interior decor makes this place a truly unique restaurant in Toronto. Avelo is a no-tip restaurant so patrons can expect a service charge on their bill instead.
Address: 597 College St, Toronto, ON
Phone Number: (416) 516-1111
Directions
Prices: $$$$ High
As one of the top fine dining restaurants in Toronto, Restaurant Pompette (9) will transport you to Paris with its contemporary French cuisine and casual atmosphere. Enjoy colourful plates full of local fresh ingredients while you browse the extensive wine and cocktails lists. Treat yourself to the restaurant's signature house spelt sourdough which is baked fresh daily.
Located in the heart of Little Italy, Restaurant Pompette is typically busiest between 7 p.m. and 8 p.m. and reservations are strongly encouraged. An ideal stop for a glass of wine and a savoury meal, Restaurant Pompette is the perfect place for casual get-togethers with loved ones.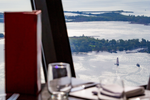 Address: 290 Bremner Blvd, Toronto, ON
Phone Number: (416) 362-5411
Directions
Prices: $$$$ High
As one of the most popular restaurants in Toronto, 360 Restaurant (10) elevates the dining experience to new levels...literally. Located in the famous CN Tower, this restaurant hovers 350-meters above the ground. Relax and take in a birds-eye view of the city while you savour steak, seafood, wines, and more.
Restaurant goers who spend $75 or more per guest (not a hard thing to do here) will also receive complimentary access to the main observation deck for even better views.
Sustainability is a focus here and 360 Restaurant goes above and beyond. The restaurant uses an ORCA system which utilizes air, water, and microbiology to safely handle food waste. Additionally, the restaurant has its own culinary garden located at the base of the tower.
Anytime is a good time to visit here, but seeing Toronto lit up at night is an experience you won't want to miss. Ask your Canadian Train Vacation advisor about adding a meal at the 360 Restaurant to your Toronto trip.
Discover Toronto train tours: Toronto Train Tours
For food lovers, there's no better place than Toronto to explore a vast variety of cuisines, atmospheres, and cultures. You can find everything from Japanese to American restaurants in Toronto and so much more. From rooftop patios to quaint restaurants tucked into historic Victorian homes, dining in the city is about so much more than just amazing food.