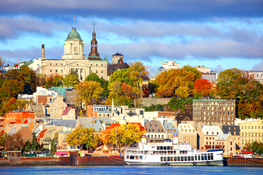 Canada in Vivid Color: The Five Best Places to See Fall Foliage
By Athena McKenzie
Published Sep 14, 2021
3 min read
Fall for the change of season in Canada
Nature puts on one of its most artistic displays as temperatures begin to drop during the fall in Canada: from coast to coast, trees make their seasonal transition from subtle shades of green to vivid hues of yellow, orange, red and gold. This striking fall foliage, which paints the landscapes in rich jewel tones, is one of the many reasons to plan your trip to Canada in the fall. Here are some of the best places to see them.
1. Rocky Mountain Fall Splendor
2. Cape Breton Shines Bright in Fall
Cape Breton Highlands National Park's rolling hills and valleys are especially stunning decked out in autumnal shades of red, orange and gold. Located along the world-famous Cabot Trail, where the mountains meet the sea, the park's lush river canyons are edged by rust-coloured cliffs, presenting painterly tableaus. Even if you don't have Instagram, you won't be able to resist sharing your stunning vacation photos.
Trip: Canada Eastern Rail Classic
Insider Tip: Be sure to get up for the spectacular sunrises over the Atlantic.
3. Quebec's Magnificent Fall Display
Hands down one of the best places in Canada to experience fall is the province of Quebec. From strolling through Old Québec City as it reveals its glorious fall foliage to the numerous autumn festivals, or sampling harvest fare during a foodie tour and sipping wine with a local maker, there are activities to appeal to a wide range of tastes.
Trip: Montreal and Quebec City Getaway by Rail
Insider Tip: While Mont Tremblant is a skier's paradise, it also offers plenty to do in the fall including taking in the breathtaking scenery from the gondola.
4. Niagara Region's Kaleidoscope of Fall Color
Winston Churchill once famously said that the Niagara River Parkway was "the prettiest Sunday afternoon drive in the world." While Churchill was there in August, that sentiment is even more true in the fall, when the trees in the Niagara region begin their seasonal transformation into luminous shades of crimson, orange and gold. The area is also home to several wineries and orchards, making for some perfect fall activities during your visit.
Trip: Canadian History and Culture by Rail
Insider Tip: This fall foliage map shows when and where the leaves are at their peak color.
5. Vancouver in Striking Fall Color
Taking in the fall color doesn't always mean a trip into the countryside. There are many Canadian cities which come alive in an amazing blaze of autumn glory, and Vancouver is one of the best. With all its breathtaking green spaces, you don't have to venture far to experience the wonder of colourful fall foliage.
Trip: Vancouver to Toronto Train Tour
Insider Tip: Be on the look out for film sets while in Vancouver. The city is often used as a substitute for American cities in major movies and television shows, earning it the nickname "Hollywood North."
Share your favourite photos of Canada's fall colors on our social channels.