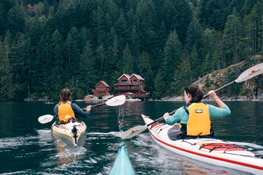 Stunning Sea Kayaking Spots in British Columbia
By Fresh Tracks Canada
Published Feb 17, 2022
3 min read
If paddling on the ocean along a vibrant, sunlit coastline appeals to you, then sea kayaking in British Columbia could be a perfect add-on to your Canadian vacation. Whether you're interested in watching eagles, observing sea lions, or even spotting orcas, British Columbia is celebrated for its abundant marine life.
Low-intensity sea kayaking allows you to unwind and focus on the scenery and wilderness from the unique vantage point of the water. With some of the most pristine coasts in the world, and crystal-clear waters, great destinations for sea kayaking in British Columbia include Johnstone Strait, Clayoquot Sound, The North Gulf Islands, and Knight Inlet—to name just a few.
If you've ever dreamed of seeing orca whales up close, add sea kayaking in Johnstone Strait to the top of your bucket list. Along the north east coast of Vancouver Island, the area is home to orcas, dolphins and porpoises. The shoreline is also rich in vibrant intertidal life, as well as a variety of shorebirds and seabirds. A glamping adventure to this area would offer a unique immersion in nature—with all of the details taken care of for you. Talk to one of our Canadian Insiders about adding an exursion to your Islands, Rockies and Bears Adveture.
Nothing beats the thrill of seeing killer whales from a sea kayak, and on a guided tour you'll learn about the fascinating and complex aspects of the whales' behavior, social organization and ecology. It's also common to see black bears foraging for crabs, and river otters playing along the shoreline.
If you're looking for a combination of world-class sea kayaking combined with the creature comforts of a rustic wilderness West Coast lodge, Clayoquot Sound offers the best of both worlds. With its brilliant seascape of cedar-crowned islands, deep fjords, misty sounds, and vast sand beaches, this area, on the west coast of Vancouver Island, is draped with old-growth forests just beyond where the surging Pacific Ocean collides with rocky headlands. This rugged coastline provides some of the best sea kayaking opportunities in North America and also offers a host of 4-star, rustic lodging accommodations.
The temperate North Gulf Islands, situated off the southeastern end of Vancouver Island, provide endless sea kayak touring opportunities. This cluster of islands lies in the rain-shadow of Vancouver Island enjoying the mildest climate along coastal British Columbia. Places such as Pender and Salt Spring Island offer boutique hotels, stunning scenery, and quiet inlets— making it an excellent choice for a sea kayaking adventure. When explored by sea kayak, the waterways around these islands offer unsurpassed adventure and natural beauty.
Sea kayaking also gives a new perspective on a coastal city. Some of the best views of Victoria come from its charming Inner Harbor. On a guided tour, you'll have a chance to see seaplanes, ferries, whale-watching boats, and private yachts against the backdrop of the picturesque BC Legislative Building and the historic Fairmont Empress. There is also an abundance of local wildlife, from harbor seals and river otters to migrating birds. Add a Victoria get-away to your Essential Rockies by Train vacation.
Widely considered one of the best grizzly bear viewing spots in the world, Knight Inlet is located in the Great Bear Rainforest off of Vancouver Island. It's also home to bald eagles, orcas and other wildlife. A spectacular paddle through this waterway offers plenty of natural wonders – waterfalls plummeting out of sheer rock faces, ancient glaciers carving through the mountains — all against the dramatic backdrop of Canada's rugged coastline.
Discuss your Canadian train vacation with a local travel expert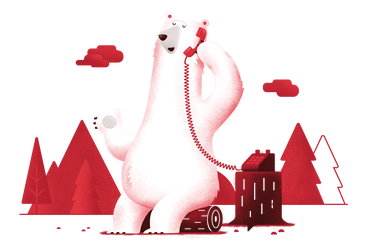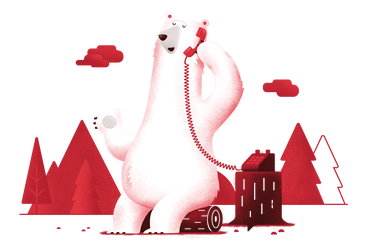 Current promotions
Sign up for special offers, monthly Canadian Insider tips, and vacation inspiration.