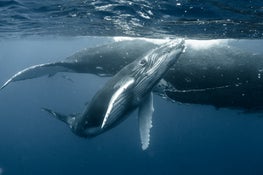 Canada has some of the most unique wildlife experiences in the world, from grizzly and polar bear expeditions to spectacular bird watching. One of the most magnificent wildlife excursions you can add to your Canadian train vacation is a whale-watching tour.
Not only is it important to know the right areas of Canada to visit, you also have to consider the time of year for your best chance of seeing these giants of the ocean.
Here are our recommendations for the top spots for whale watching across Canada.
The Coastlines of Atlantic Canada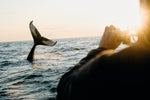 From blue whales and humpbacks to orcas, more than 20 species of whales can be found along the East Coast of Canada, in the waters of the Atlantic Ocean.
Cape Breton in Nova Scotia is a top spot in this part of Canada for whale watching. Generally, the best time to go is from mid-May to September, with peak season from mid-July to mid-August.
If you're lucky, you may spot a spout of water from the shore, but a whale-watching tour is the perfect excursion to add on to your Canadian train vacation in the Maritimes. There are numerous tour options, depending on your adventure level. Get down on their level in a kayak, zip over the waves on a zodiac, or enjoy a more leisurely cruise on a sightseeing ship.
There are regulations in place to prevent boats from getting too close to the whales, but these creatures are curious and have been known to approach idling vessels. It's hard to describe the experience of having a 50-foot humpback breach next to your boat.
Saguenay-St. Lawrence Marine Park in Quebec
The village of Tadoussac in the province of Quebec is at the maritime junction of the St. Lawrence River and the Saguenay Fjord, part of the Saguenay-St. Lawrence Marine Park. This unique maritime environment is one of the best places for whale watching in the world. More than 12 whale species visit this area from May to October, while the beluga whale can be found here year round.
The coastlines here plunge quickly, allowing the whales to get very close to shore, but the very best encounters are on a guided boat tour with naturalists who teach you about these giants of the sea. Add a couple days to your Montreal and Quebec City by rail trip to experience this area.
Hudson Bay in Churchill, Manitoba
While it's better known for the polar bears, every summer more than 50,000 beluga whales make their way to the Hudson Bay to feed and birth. Most years, around 4,000 of these curious creatures enter the Churchill River Estuary in July and August. These cute marine mammals are also known as the "canaries of the sea" for their underwater whistles and chirps.
Luckily, there are several ways you can enjoy a beluga-watching experience while on a Canadian train vacation. Excursion options include paddle boarding and zodiac tours.
The Coast of British Columbia
Over on the West Coast of Canada, thousands of whales — including orcas, grey whales and minkes — migrate through the waters around Vancouver and Victoria, making it a top spot for whale watching in Canada. Many whale-watching trips explore the marine-rich Salish Sea, if departing from Victoria, or the area around the southern Gulf Islands, if departing from Vancouver.
Several luxury resorts in the Pacific Northwest also offer more immersive adventures, where you can go paddling with whales. Your vacation advisor can help you book when you're planning your Canadian train vacation.