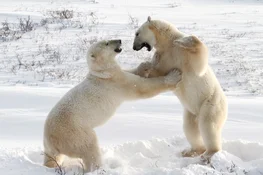 5 Canadian Vacations to Add to Your Bucket List
By Fresh Tracks Canada
Published May 26, 2022
3 min read
Canada's pristine landscapes, waterways and wildlife create the opportunity for unforgettable, bucket-list worthy adventures. While on a Canadian train vacation, you can experience many of these unique sights and activities, with our exclusive excursions and add-ons. Whether you dream of observing polar bears or grizzlies in the wild, seeing the Northern Lights, or heli-hiking at a remote lodge in the Canadian Rockies, there's a unique Canadian vacation waiting for you.

Check out our picks for the five best Canadian vacations to add to your bucket list below.
1. Fly into a Remote Lodge in the Canadian Rockies
A truly unique travel experience in Canada is a stay at a fly-in lodge in the Rockies — and it's accessible to almost any age or ability.
After flying into the lodge by helicopter, you'll be able to spend your days exploring the stunning wilderness landscapes, far from the crowded trails with guided heli-accessed hikes.
If you want to take a break from wandering the beautiful terrain, you can return to the cozy mountain lodge for a relaxing massage or to soak up the scenery from the hot tub. End your days with gourmet meals and a hand-crafted cocktail or a vintage from the extensive wine cellar.
This is an easy extension to a trip in the Canadian Rockies, whether you are traveling on VIA Rail or on the Rocky Mountaineer.
2. Escape to a Unique Island Getaway in Newfoundland
Fogo Island Inn is world renown for its unique architecture, its culturally mindful experiences and its breath-taking setting. That is why it's one of our five best Canadian vacations to add to your bucket list. But like many bucket-list-worthy vacations, this one has to be booked well in advance.
After you arrive on the island — by ferry boat or charter plane — settle into your gorgeous suite, which perfectly marries contemporary and traditional touches.
Spend your days exploring the island, going whale watching, star-gazing, and enjoying the opportunity to disconnect. You can take advantage of the Inn's varied learning options, from pottery classes and boat building to jam making and architecture tours.
With an additional flight, a visit to Fogo Island Inn can be added on to your Eastern Canada or Maritimes Canadian train vacation, if there is still availability at this highly covetable destination.
3. Visit Churchill for Polar Bears — or Northern Lights
The town of Churchill, in Northern Manitoba, is one of the few places in the world where you can observe polar bears in the wild. While you have the chance to see them at any time of the year, the best months are October and November, when they begin their move from their summer habitat on the tundra back to winter on the frozen Hudson Bay. This escorted trip will take you on a specially designed Tundra Buggy to the unique Churchill Wildlife Management Area.

Churchill is also located directly beneath the auroral oval, making it an incredible place to see the wonder of the Northern Lights. While there is the possibility of seeing the aurora borealis at any time of the year, your best chances are from January through March, because of the longer nights and colder weather.
4. Relax at a Luxury Eco-Wilderness Resort in British Columbia
Accessible only by sea or air, Sonora Resort offers opulent luxury surrounded by pristine wilderness — making it a perfect pick as one of our five best Canadian vacations to add to your bucket list.
After arriving by helicopter, seaplane, or boat, settle into a stunning ocean-front suite to watch the wildlife through the floor-to-ceiling windows. Spend your days unwinding on rejeuvinating hikes through the ancient old-growth rainforests, taking whale-watching cruises, or trying salmon fishing. There is even a spa, where you can experience treatments inspired by the surrounding forest and ocean.
Include a visit to this world-class resort while exploring British Columbia on a West Coast train trip.
5. Stay in the Great Bear Rainforest in British Columbia
The coastal rainforests of British Columbia offer numerous bucket-list Canadian vacations, including the amazing opportunity to stay at Knight Inlet Lodge, an Indigenous-owned resort in the heart of the Great Bear Rainforest. At this incomprable wildlife viewing destination, you can spend your days observing magnificent grizzlies — and their adorable cubs — before returning to a luxury accomdation for fine dining and relaxation in a spectacular setting.
This incredible experience is part of our Lords of the Wilderness Bear Viewing journey.