21 Hidden Gems in Banff
By Fresh Tracks Canada
Published Feb 9, 2023
9 min read
Hiking, biking, and skiing are some of the most popular activities in the Banff area. But there are numerous other things to see and do in this magnificent National Park. Do you want to discover some hidden gems in Banff? We've got you covered.
Banff National Park is well-known for its breathtaking scenery and locations, such as Lake Louise. It's considered the crown jewel of Canada's national parks. Banff is an ideal destination for either a quick overnight trip or a week-long getaway. If you've got more time, try some activities that aren't always featured in travel magazines. Get away from the crowds and explore some of the less-traveled trails.
The travel experts at Canadian Train Vacations have all the insider info on Banff and its best spots. We've compiled a list of the best Banff hidden gems.
1. Cave Ave. Pagoda
This location is especially beautiful at sunset when the backdrop of the Rockies becomes illuminated. There are benches where you can sit and marvel at the sight. You may even spot wildlife, which frequently visits this quiet location.
How to get here: Follow Banff Avenue over the Bow River to its end, and turn right for the Cave and Basin National Historic Site. Follow Cave Ave. to the parking lot. Take the river path to the pagoda (near the basketball court).
Explore: Rocky Mountaineer Train Trips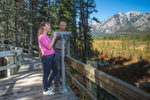 2. Spot ice bubbles
Summer lakes in the Canadian mountains are well-known for their bright blue water. These spectacular bodies of water can be found all over the Banff area. During the winter, the rocky mountain lakes change into a winter wonderland and some even have frozen bubbles in the ice.
Ice bubbles are a natural phenomenon induced by methane pockets that are released underwater and freeze in time beneath the lake ice. Abraham Lake has the most visible bubbles. This is made possible by the fact that the wind clears the ice in this area of the Rockies, making the bubbles easily visible.
How to get here: Take the Icefield Parkway to Saskatchewan River Crossing then head east on Highway 11 to Preacher's Point.
Explore: Banff Train Trips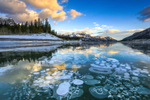 3. Johnston Canyon
Johnston Canyon is a must-visit natural wonder. Along the easy trail, you will encounter waterfalls, a lush forest, pools, and protruding canyon walls that will leave an indelible impression. Continue along the picturesque path to the lower falls on the main trail. Take the path towards the upper falls for about 30 minutes from here. During the summer, you can walk along the catwalk and take a glance down to view the pools of Johnston Creek and the remarkable limestone canyon walls carved by many years of water erosion. And at the end of the 1.2km hike through the canyon, you'll find a gushing waterfall.
How to get here: You can take the Roam Transit shuttle from Banff to get to Johnston Canyon. Route 9 runs directly to the canyon and departs from the Banff High School transit hub every day.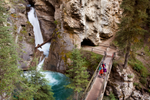 4. The Via Ferrata Tour
The Banff Via Ferrata is a one-of-a-kind experience of adventure. Choose from four different tours to reach the summit of Mt Norquay: the Summiteer, the Ridge Walker, the Explorer, and the Skyline. Every tour is designed to accommodate all skill sets, allowing even inexperienced hikers to become mountaineers. With Mt. Norquay's Via Ferrata tour, you can scale a mountain if you can mount a ladder. This thrilling tour includes a variety of fixed anchors, suspension bridges, cables, and ladders to ascend to the top.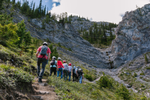 5. Mt. Norquay
Mt. Norquay offers amazing wildlife viewing chances away from the crowds during the summer months. Drive up the mountain to the parking lot to see big horn sheep herds. Simply sit and watch as these magnificent creatures graze on the grass and socialize, with the picturesque town of Banff and surrounding mountains providing an incredible backdrop. It is also an excellent location to admire the sunset in Banff. You can also consider taking the chairlift up the mountain to one of Banff's most spectacular viewpoints and taking some incredible photographs.
How to get here: Drive towards the Trans-Canada highway and then head up to Mt. Norquay Scenic Drive. Shuttle buses are also available from Banff.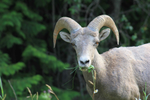 6. Carrot Creek Skating
Carrot Creek freezes over in the winter, providing a memorable genuine Canadian encounter of ice skating on a natural rink. Many people visit Vermilion Lakes and Two Jack Lake for wild ice skating in Banff National Park, but Carrot Creek is a local secret for wild ice skating in Banff National Park.
You'll have to short hike for about 10 minutes - down a hill and over a wildlife fence - but the views are breathtaking. There are dazzling Rocky Mountains that surround the water, and there are few people to be seen.
How to get here: The Carrot Creek trailhead is located on the opposite side of Highway 1. A small pullover area for Carrot Creek is less than 3 kilometers from the Banff Park gates (east entrance).
7. Tunnel Mountain Reservoir
The Tunnel Mountain Reservoir is a wide, open field located along Tunnel Mountain Drive. It is an incredibly beautiful and peaceful location for photography, a picnic, or simply relaxing. Enjoy panoramic mountain scenes in a tranquil setting. It's also a popular spot for Banff outdoor weddings.
How to get here: Take Banff Avenue to Wolf Street and head east until you approach the end of the road.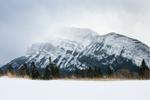 8. Bow Valley Parkway
The Bow Valley Parkway is one of the best places to see wildlife in Banff. This 51-kilometer wildlife corridor connects Banff and Lake Louise. It's a peaceful, scenic road popular for biking, and there are many picnic spots and hiking trailheads. Castle Mountain (discussed above) is one of the highlights, a rugged peak that has inspired artists from all over the planet to recreate it in watercolors, charcoal, and oils.
How to get here: Take the Bow Valley Parkway/AB 1A exit about 5 kilometers west of Banff on the Trans Canada Highway.
Checkout: Cross Canada Train Trips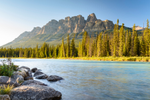 9. Morant's Curve
Morant's Curve is a scenic spot near Lake Louise on a bend in the Bow River where trains travel through the Canadian Rockies. Trains passing around the bend have a spectacular view of the Lake Louise mountains and valley.
How to get here: The quickest route to Morant's Curve is from the Bow Valley Parkway's northern end in Banff National Park.
Checkout: Canadian Rockies Train Vacation Packages
10. Mountain Horseback Riding
Have an authentic cowboy experience on a guided tour through the Rockies on horseback. Long-established operators can guarantee you a mild-mannered horse and a safe ride. Private horse-drawn carriage tours of Banff can also be arranged, taking you across the scenic Bow River.
11. Wildlife Safari Tour
An evening wildlife safari is among the most exciting things to do in Banff, Canada. Wildlife viewing is a popular activity in Banff National Park, however, you must know where and when to go to have the best chance of seeing wild animals. These group tours begin at sunset and look for bears, deer, elk, and moose. Learn about the wildlife of Banff and the difficulties of protecting it and its habitat.
How to get here: Most tours offer pick-up from your hotel lobby.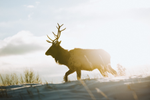 12. Bankhead Ghost Town
A visit to the Bankhead town in Banff is a unique chance to stroll through an intriguing piece of Alberta history. Visitors to the Bankhead ghost town can now take a fun and educational informative walk around the ruins of the old Banff coal mining operation. It's a simple, well-marked route with little altitude gain or loss, and you'll see not only mountain views but also abandoned mining structures and machinery. The Lower Bankhead trail is a must-do for families visiting Banff.
How to get here: Lower Bankhead is the main part of the ghost town, which can be reached by driving north on Range Rd 1158 and following the signs to Lake Minnewanka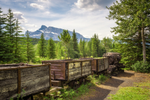 13. Rundle Forebay Reservoir
The Rundle Forebay Reservoir, located near the Three Sisters Parkway in Canmore, is a serene, turquoise water body where you can kayak, float, or SUP beside stunning mountain peaks. It is without a doubt one of the most popular hidden swimming holes near Banff.
How to get here: Rundle Forebay Reservoir is in Canmore, near the entrance to Banff National Park.
14. Cascade of Time Garden
The Cascades Of Time Gardens is a small oasis just minutes from downtown Banff. The gardens are built into the hillside, with rock steps and pathways leading through flower beds and trees. It is a gorgeously lush and beautifully groomed garden with walking paths and trails that you can enter freely.
How to get here: The Cascade of Time Garden is situated in Banff, at the southern end of the Banff Avenue bridge.
15. Hoodoos Viewpoint
The Hoodoos Viewpoint and Trail is a lovely pullover area and walking path that provides panoramic views of the surrounding mountains. A "hoodoo" is a distinct rock formation in North America. From the hoodoo viewpoint, take in a breathtaking view of Banff. Hike the hoodoo trail in Banff to get up close and personal with these rocky spires.
How to get here: These unique Banff attractions are located in the middle of Tunnel Mountain Road and the Bow River, directly east of downtown Banff.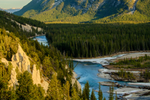 16. Johnson Lake Swing
Johnson Lake has a great beach area and is a famous swimming area in Banff. The lake is a majestic body of water nestled among some of Alberta's oldest firs. Johnson Lake, while not as large as nearby Lake Minnewanka, is home to Banff's only beach. But if you choose to hike the trail around the lake's perimeter, you discover a hidden swimming spot and a rope swing.
How to get here: The Roam Route 6 bus runs from Banff Town to the Johnson Lake parking lot. Johnson Lake is located along Lake Minnewanka Road, not far from the Town of Banff.
17. Silverton Falls
It is a short hike to this beautiful waterfall viewpoint. This trail is best visited between May and September.
How to get here: Silverton Falls is near the base of Castle Mountain, one of Banff's most recognizable mountains. It's halfway between Banff and Lake Louise. You can take the line 9 bus.
18. Secret Cave at Johnston Canyon
A hidden cave exists in Johnston Canyon near the Upper Falls. Find the rocky shore's edge and look across for this secret cave that lies beside the waterfall. It's worth noting that the entrance to the secret hidden cave at Johnston Canyon is unreachable from May to November each year.
How to get here: Just before reaching the Upper Falls, take a right downhill along a mud trail through the forest for about 5 minutes.
19. Radium Hot Springs
Radium Hot Springs is a picturesque mountain town about 1.5 hours from Banff. After an exciting day, relax in the Radium Hot Springs pool, it's bigger and more picturesque than the Upper Hot Springs.
How to get here: Take the Highway 93 exit in the Village of Radium Hot Springs, heading east towards Banff National Park via Kootenay National Park.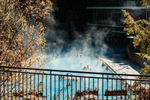 20. Golden Skybridge
This bridge is Canada's highest suspension bridge, 400 feet above the ground. The incredible views of the Rocky and Purcell mountainous regions will take your breath away as you walk 426 feet above an expansive canyon. There are other attractions at this spot. Ride the Rail Rider Mountain Coaster through the forest, soar on the zipline, climb the rock wall, or try your hand at axe throwing.
How to get here: Westbound from Banff/Lake Louise, take the Trans-Canada Highway/AB-1 towards Golden. Take the 780 exit to Golden Donald Upper Rd. Then take the first left onto Lafontaine Rd. and the first exit at the roundabout onto Golden Donald Upper Rd.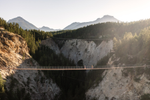 21. Banff Upper Hot Springs
Dip into the revitalizing waters of the Banff Upper Hot Springs for ultimate relaxation. Since the late nineteenth century, people have been flocking to the comforting and mineral-rich springs. It's located on the northeast backline of Sulphur Mountain. Bring your swimsuit (change rooms with lockers are available) and dive into the hot, mineral-rich waters that can attain temperatures of over 40 degrees Celsius. The spring's temperature is geothermal; the innate spring is heated by the earth's crust. The hot springs are open all year and open late for sunrise and sunset, allowing you to soak in the hot water while taking in breathtaking views.
How to get here: Cross the Bow River on Banff Avenue and turn left at the last traffic lights. Follow the signs for 3.6 kilometers to the parking lot at the end of Mountain Avenue for the Banff Upper Hot Springs.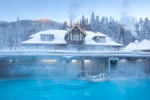 Frequently Asked Questions
What is the most interesting aspect of Banff National Park?
The wildlife in Banff National Park is the most fascinating aspect of the park. Elk, grizzly bears, wolves, mountain goats, and bighorn sheep are among the more than 60 mammal species. Furthermore, Banff National Park is home to over 260 bird species, including ospreys and bald eagles.
What month is best for Banff?
Overall, the best months to visit Banff are May, June, and September. Warm weather prevails during these months; however, there are fewer visitors.
Why is Banff so famous?
Banff National Park is well-known for its vibrant lakes, majestic mountains, and easy access to a variety of outdoor activities. It is the first national park in Canada and the world's third national park refuge.
Can you see the northern lights in Banff or Jasper?
Yes, the northern lights can be seen in Banff. Throughout the year, the Aurora Borealis appears several times.
Can you see the Milky Way from Banff?
Banff National Park is one of the finest locations in Canada to see the Milky Way. With little to no city lights, this region provides a once-in-a-lifetime chance to see the stars under some of the world's darkest skies.
Are 3 nights in Jasper enough?
Three days in Jasper are more than sufficient time to view and encounter the best bits of this breathtaking national park. Because the massive mountain ranges are more jagged and there are numerous bright turquoise lakes to explore, Jasper National Park is a special gem in the Canadian Rockies.
Get a brochure
Includes sample trip itineraries, route maps, and insider tips.
Get Your Brochure
Have a question?
We can answer any questions or make suggestions.
Schedule a Call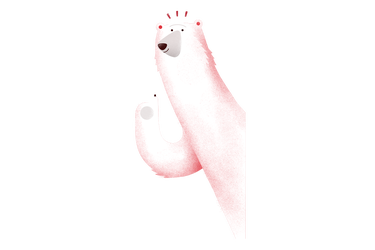 Current Promotions
Sign up for special offers, monthly Canadian Insider tips, and vacation inspiration.