Fun Facts About Banff National Park
By Fresh Tracks Canada
Published Feb 13, 2023
5 min read
Located in the Canadian Rockies, Banff National Park is one of Canada's most beautiful destinations. Home to sparkling lakes, snow-capped mountains and fascinating wildlife, the area attracts visitors from around the world. Summers offer amazing outdoor activities, such as hiking and biking. In Winter, there's world-class skiing and cozy lodges.
Many of our trips at Canadian Train Vacations take visitors to Banff and help them explore the national park. Our advisors take care of all the details. Many excursions are included, giving you plenty of opportunities to immerse yourself in the destination. Our travel experts know lots of information about Banff.
Did you know that the railway was key to setting up Banff National Park? Keep reading to uncover some fun facts about Banff National Park.
1. Banff is Canada's first national park
Established in 1885, Banff National Park (1) was the first such park in Canada. It was the original park in Canada's now-vast network of more than 40 national parks.
The area has long been home to several Indigenous groups (2). Banff is located on the traditional territories of the Stoney Nakoda Nations of Bearspaw, Wesley and Chiniki; the Blackfoot Confederacy of Siksika, Kainai, and Piikani; the Tsuut'ina Ktunaxa, Secwépemc, Mountain Cree, and Métis. The area first came to colonial attention in 1883, during the construction of a transcontinental railway. As laborers constructed the section though the towering Rockies, they stumbled across natural hot springs at Sulphur Mountain. You can still visit these significant springs today.
Due to competing claims concerning discovery and to preserve the natural feature, the prime minister at the time, John A. Macdonald, initially created a small reserve around the springs. Originally measuring around 26 square kilometers / 10 square miles, and known as Banff Hot Springs Reserve, the national park was created two years later.
In 1885, the national park was established by the Rocky Mountains Park Act. Significantly expanded to cover more than 670 square kilometers (260 square miles), it also become known as Rocky Mountains Park. Over the years, land was added to the national park. The park got its current name in 1930.
Discover: Train Vacation to Banff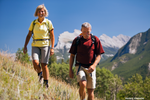 2. Banff is a UNESCO World Heritage Site
The ecological significance of Banff National Park earned it recognition from UNESCO. It was designated as a World Heritage Site in 1984 (3). As well as acknowledging the park's outstanding beauty and importance, this status creates responsibilities for the conservation of the area, thus protecting it for future generations to enjoy.
Discover: National Park Train Tours
3. Banff has hundreds of glaciers
Another interesting fact about Banff National Park is that it is home to several hundred glaciers. These glaciers are believed to be between 45 and 120 million years old. Sadly, the number of glaciers is decreasing, and many are becoming smaller and retreating. Some of the park's most famous glaciers include Peyto, Bow, Crowfoot and Athabasca. It's possible to see around 100 glaciers from the iconic Icefields Parkway. Top summer activities in the Canadian Rockies include a sightseeing tour along the Icefields Parkway and riding on a glacier in a specially designed buggy, which you can experience on our trips.
Learn more about our Canadian Rockies Discovery Tour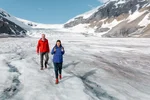 4. Banff's lakes are bright blue because of its glaciers
If you've ever seen images of Banff's majestic lakes, you'll have noticed the striking colors. The bright blue of Lake Louise is iconic. The glacial-fed lakes contain glacier silt. This is fine residue created by the grinding of ice on the rocks underneath. This light sediment flows into the lakes, where it remains suspended in the water before settling. As the sun shines on the water, the silt particles reflect the rays, creating the dazzling blues and greens. Riding on a Canadian train is the perfect way to see some of these remote lakes.
Discover our Banff and the Canadian Rockies Explorer trip.
5. Banff National Park offers more than 1,000 miles of hiking trails
If you love exploring the great outdoors, you'll love Banff National Park's extensive network of maintained hiking trails (4). There are trails suitable for all levels of walking enthusiast. Hiking trails cover more than 1,000 miles throughout the park. Other great facts about Banff National Park's hiking trails? Many are suitable for other uses, too, such as biking and horse riding.
6. Banff is home to the highest town in Canada
At an elevation of 5,200 feet, Lake Louise is the highest town in the nation. The park's namesake town of Banff is the second-highest town in Canada, at an elevation of 4,600 feet. Although the country's third-highest town, Canmore, isn't inside the national park, it sits right on the edges.
7. Banff National Park has Canada's longest cave
The park also boasts the longest cave in all of Canada. Sitting at the northern end of the park, the limestone Castleguard Cave stretches for more than 66,700 feet. Of note, that's only the area that can be surveyed — it is likely even longer! Another interesting detail about this huge cavern? It's among the country's deepest caves, at 1,260 feet.
Experience: The Rocky Mountain Train
8. Banff National Park is home to endangered caribou
The woodland caribou — a type of deer that's also known as a reindeer — is at risk of extinction in Canada and endangered across the whole of North America. Estimates suggest that fewer than a couple of hundred caribou still remain in Banff National Park, but plans are in place to reintroduce more into the park.
9. More than 4.5 Million people visit Banff each year
Banff National Park is the most-visited destination in Alberta and the most-visited national park in Canada. More than 4.5 million tourists enjoy the park's splendour each year, traveling to Banff from across the country and globe.
Read more: Best time to visit Banff
10. The highest mountain in Banff is Mount Forbes
Mount Forbes is the highest peak in Banff National Park, standing at 11,851 feet. It is also the fifth-highest mountain in Alberta. For incredible views from another peak, hike or ride the gondola (5) up Sulfur Mountain — the closest mountain to the town of Banff.
11. Banff's biggest lake is man-made
Spread across 22 square kilometers / 8.5 square miles, Lake Minnewanka is the biggest lake in Banff National Park. It's also the second-longest lake in the Canadian Rockies. Sourced from glacial waters from the Cascade River, many people are surprised to learn that the beautiful lake is artificial. The river was originally dammed in the early 1900s to ensure an adequate water supply. In the 1940s, a bigger dam was built, which created the expansive body of water.
A perfect activity during your Banff vacation is a boat cruise on Lake Minnewanka.
Explore: The Canadian Rockies Train Trip
12. You can play golf in Banff National Park
Another cool fact about Banff National Park is that there are golf courses nestled in the mountains. Avid golfers can tee off in stunning scenery, surrounded by glorious mountain vistas. Popular golf courses in Banff include Greywolf, Eagle Ranch and Kananaskis.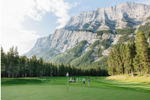 Frequently Asked Questions
How Did Banff Get Its Name?
The previously named Rocky Mountains Park was renamed Banff National Park in 1930. It was named after the local train station! The train station, operated by Canadian Pacific Railway, was itself named after the northeastern Scottish county of Banffshire. 
How Old Are Banff Mountains?
Banff's majestic mountains are of varying ages. Many of the park's mountains are between 145 and 600 million years old, with some that date back to the earliest geologic age, the Precambrian era.  
Why Is Banff So Famous?
As well as being Canada's first national park and a UNESCO-listed site, Banff is famous for its natural splendor. Few places on Earth boast the stunning landscapes and rich diversity of Banff.
What Is the Population of Banff?
In 2021, Banff's population was almost 9,000.
How Big is Banff National Park?
Banff National Park covers 6,641 square kilometers / 2,564 square miles. More than 95% of the park is made up of wilderness.
Can You Do Banff in a Day?
With just a day in Banff, you can cover the easy-to-walk town as well as nearby highlights. Ideally, you should plan to spend a few days in Banff to explore the national park.
What Is Banff Known For?
Banff is known for its incredible nature, wildlife, and scenery.
Get a brochure
Includes sample trip itineraries, route maps, and insider tips.
Get Your Brochure
Have a question?
We can answer any questions or make suggestions.
Schedule a Call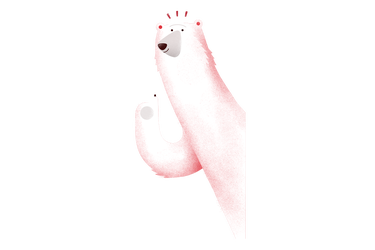 Current Promotions
Sign up for special offers, monthly Canadian Insider tips, and vacation inspiration.