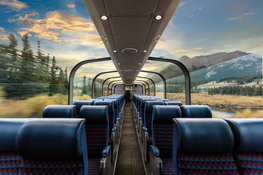 Our Guide to Riding VIA Rail Across Canada
By Fresh Tracks Canada
Published Jun 27, 2022
6 min read
Traveling across Canada by train is the best way to see the whole country. You can sit back and relax as the train rolls past picturesque mountains, beautiful bodies of water, local wildlife, and so much more. With cozy sleeper cabins and an impressive dining menu, traveling by train is an experience you won't soon forget. Whether you take The Canadian route or The Ocean route, you're in for a truly scenic ride. So, if you subscribe to the thought that life's about the journey, not the destination, then a train trip across Canada on Via Rail is just what you need.
Now before you hop on board, let's discuss what you can expect when riding the VIA Rail train across Canada.
VIA Rail routes across Canada
Via Rail offers two incredible long-distance routes if you're interested in an across-Canada train trip. You can hop aboard The Canadian where you'll embark on a four-day journey from Toronto to Vancouver. This goes between Eastern Canada and Western Canada. Or, opt for a shorter trip and see Eastern Canada on The Ocean route, which travels from Montreal to Halifax. The Ocean route is every bit as scenic as The Canadian and only takes one day to complete.
The Canadian Train from Vancouver to Toronto
From the bustling city of Toronto to the majestic mountain towns of Vancouver, The Canadian is one of Via Rail's most popular long-distance trips. And for good reason. You'll witness a bit of everything on The Canadian, from cityscapes, through flat prairie views and eventually the iconic Rocky Mountains. Passengers with a Sleeper Plus fare will have access to the onboard dining car, showers, and various entertaining activities during peak season. The Canadian offers Economy, Sleeper Plus, and Prestige to suit everyone's needs and budget.
Main Stops
The whole trip from Toronto to Vancouver will take four days and four nights if you don't get off at any stops. If you do decide to do a layover in any of these stops, you should know that you'll be there a minimum of four days until the next train comes through. Major stops include the folllowing cities:
Sudbury
Winnipeg
Saskatoon
Edmonton
Jasper
Kamloops
There are a handful of unique, more minor stops as well. It's important to note that most stops are short (between 30 minutes and two hours) and are subject to change to stay on schedule.
Key Areas of Interest
While on the train, make your way to the Skyline car where the windows extend to the ceiling, offering panoramic views of some key areas of interest. Marvel at BC's Pyramid Falls or gaze at the sheer size and beauty of Mount Robson. Seeing the Rockies from the train is an experience like no other.
The Ocean Train from Montreal to Halifax
For a shorter but still scenic adventure, The Ocean train has you covered. Without stopping off, you can complete this journey in one day and one night. Unlike The Canadian, The Ocean train only offers Economy and Sleeper Plus classes.
Main Stops
Despite this trip being on the shorter side, the train still makes several stops, which include:
Sainte-Foy
Rivière-du-loup
Rimouski
Mount-Joli
Matapédia
Campbellton
Bathurst
Miramichi
Moncton
Truro
Amherst
Halifax
Key Areas of Interest
One of the main highlights of The Ocean trip is the Maritimes. You'll soar past several small bodies of water and marshlands as you make your way to Halifax where you'll discover iconic destinations like Peggys Cove and several other historic lighthouses.
Food on VIA Rail across Canada
If your wondering about what meals are like when riding the VIA Rail train across Canada, dining on the train is a pleasant surprise. With a chef on-board, meals are prepared fresh and can be made to accommodate specific diets and allergies.
Dining car
The dining car is available to those who book a Prestige Class and Sleeper Plus fares. Set up like a nice restaurant, you'll enjoy freshly prepared meals with unbeatable views. From breakfast to dinner, you'll have access to stunning three-course meals.
Menus
Menus will vary based on which trip you take and what time of year it is. Typically, the dining car menu will offer three different options for each meal, one option always being a vegetarian choice. A selection of local beers and wines will also be available to order off of the menu.
Local-inspired meals
Via Rail chefs tailor each menu to include some local flavour. So if you're taking The Ocean route, for example, you can expect to see some seafood on offer. When travelling through Alberta, you'll see beef on the menu.
Examples of meals served on The Canadian:
Breakfast choices — chef ommlette of the day; eggs cooked to your liking, served with a choice of breakfast meat, hash browns and toast; a vegan hash; or pancakes or french toast.

Lunch choices (served with soup or salad, and dessert) — sandwich of the day; pasta of the day; hamburger; or salad with salmon.

Dinner choices (served with soup or salad, and dessert) — beef tenderloin; maple dijon chicken; chickpea curry; or baked salmon.

* these are just examples and the offerings on your train may differ
There's something special about sleeping on the train, and it is far more comfortable than you might expect, even in economy class. If you're looking for the most comfort possible, booking a prestige car or a sleeper plus car is your best bet.
Prestige Class is available on the Canadian Train from Toronto to Vancouver. The cabin is 50 per cent larger than the cabin for two in Sleeper Plus class. A modular leather L-shaped couch transforms at night into a bed for two facing the window. The room also includes a private washroom with shower.
Passengers in Prestige Class get all the perks, including pre-dining appetizers to complimentary alcoholic and non-alcoholic beverages. There's even a turndown service every night. Another benefit is reserved seating in the Panorama and Prestige Park Cars.
The major perk of Prestige Class is the 24-hour concierge service. Request drinks and snacks at any time. All your meals can also be served in your cabin.
One question you may have is what to do during your trip across Canada on the VIA Rail train. Along with the exclusive sights, VIA Rail offers a wide selection of onboard entertainment during peak season. When available, VIA Rail's artist-on-board program means there are musicians giving live performaces to entertain and delight.
Additional activities including wine tasting, and children's programs are also available. For routes without Wi-Fi, such as the Canadian, we recommend downloading some shows or movies to a tablet or laptop.
Of course, it's also the perfect time to unplug and enjoy catching up on some reading. Train mode is way more relaxing than airplane mode.
Podcasts and audiobooks are a great choice for the train. You can listen while you watch the amazing scenery out the window.
Packing for a trip across Canada
One benefit of working with a Fresh Tracks Canadian Insider on a VIA Rail trip across Canada is their expertise. Your Travel Advisor can assist with travel and medical insurance, entry requirements and documentation, and health and travel advisories. They even have top tips for first-time train travellers.
It's important to know the baggage and packing guidelines. The last thing you want is to find out you can't bring all your luggage with you while boarding the train. Always check with Via about the weight of your baggage and look over the prohibited items before you start packing.

Here's a recommended packing list for your trip across Canada:
Lightweight and waterproof jacket or windbreaker

Midweight fleece or wool sweater or cardigan

Comfortable, waterproof shoes for sightseeing

A pair of slippers for wandering on the train

A hat, sunglasses and sunscreen

A small backpack or daypack

Camera

A good book