Best Time to Visit Jasper National Park in 2023
By Fresh Tracks Canada
Published Feb 21, 2023
8 min read
In Jasper, any time is an ideal time, but summers are the best. Jasper has four distinct seasons, allowing visitors to relish snow-covered ski days or sun-kissed beach getaways. The park's vastness ensures that there is always something new to explore.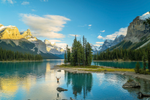 There are numerous reasons why travelers want to spend time in the Canadian Rockies. The most popular of its five UNESCO-protected parks are Jasper and Banff National Parks. Jasper National Park is a massive wilderness area located in Alberta, Canada. It is the largest national park in the Canadian Rockies. This park is a truly unique place offering fantastic nature trails and scenic vistas.
While summer is considered the best time to visit Jasper National Park, it is charming throughout the year. The travel experts at Canadian Train Vacations are here to discuss how you can enjoy each of Canada's stunning seasons in a setting that showcases them at their best.
Here are some of Jasper's signature highlights, organized by season, to inspire your wanderlust.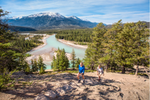 Spring: March to May
Spring ushers Jasper National Park out of its cold winter and into a relatively warm summer. In this part of Canada, spring is regarded as the shoulder season. Temperatures in March can reach single digits, while daytime highs in May can reach 50 degrees. Given the mild weather gradient, visitors can cherish just about everything Jasper has to offer. The spring rainfall, combined with the snowmelt, makes the park's numerous waterfalls very photogenic. Spring is the season for spotting vibrant wildflowers while strolling along gushing rivers.
Outdoor Activities
Partake in some adrenaline-pumping activities such as rafting.

Spot bears in late spring, particularly in the early morning or late evening.

Take your kids to the Banff Children's Festival, which is usually held in May. This weekend-long festival marks the transition from spring to summer. Highlights include bouncy castles, arts and crafts, and artistic workshops.
Temperature
Sometimes, there are blizzards, and other times the temperature is mildly warm. Temperatures can vary from 30 to 50 degrees Fahrenheit.
Key Events
Jasper Nordic Fest (March) The

Jasper Nordic Fest (1)

is a multi-day sports festival that attracts skiers and athletes from all over Western Canada. It can be reached via newly established trails at Athabasca Falls and Whirlpool Hub. The festival provides a unique range of events such as competitive skiing events for families, leisure skiers, racers, and children.
Jasper Canadian Rockies Half Marathon (April) Experience euphoria as you run a marathon backdropped by Jasper's stunning peaks. The most picturesque runs are frequently the most difficult. However, this is not always the case. The

Jasper Canadian Rockies Half Marathon (2)

provides runners with a well-maintained, fairly flat course. The runs are easily accessible to adoring crowds and provide some of the best scenery in the area.
Kokanee Freeride (April) Marmot Basin Ski Resort hosts the greatest spring ski and snowboard party, Kokanee Freeride, in the spring.
Jasper Pride Festival (April) Over a thousand tourists travel from all over the globe to participate in this marquee pride event.

Jasper Pride

(3) takes place in the breathtaking mountainous setting of the region. From parties to skiing to burlesque and outdoor adventures, the opportunities for having fun are endless. The Snow Pride Festival features a colorful rainbow flag skiing parade at Marmot Basin.
Explore: Canadian Rockies Train Tours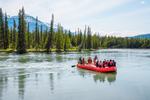 Summer: June-August
Summer is the busiest season for tourists visiting Jasper. It is the perfect time to soak up the sun and make the most of your vacation. Temperatures range from the low 30s to the low 70s. Given the warm weather, visitors can enjoy boat tours, kayaks, and paddleboards. Most visitors during this season appreciate the mountain lakes by participating in various sports, including kayaking. Summer is also a time when several events are planned. Furthermore, the chances of a dangerous cold front are lower in the summer than in any other season. Therefore, the sunny season is the most preferable for backcountry trips and day hikes.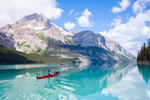 Outdoor Activities
Many people prefer to hike off-trail or bike through the rugged terrain.

Yoga enthusiasts can attend the Banff Yoga Festival, which takes place in June.

You can also participate in the Banff Marathon in June.
Temperature
Ranges from 30 to 70 Fahrenheit
Key Events
Gran Fondo (June) The

Gran Fondo Jasper

(4) is North America's second Gran Fondo. It is a long-distance cycling event held entirely inside the national park system. The ForteFondo category is for riders who wish to push themselves over two incredible mountain climbs: the Marmot Climb and the climb up Edith Cavell Road.
Canada Day (July 1)

Canada Day

(5) is a statutory regulatory holiday commemorating the founding of Canada. It is usually celebrated with fireworks shows, music events, barbecues, parades, and other patriotic activities. The country's largest Canada Day celebrations are usually held in Ottawa, directly in front of the parliament building.
Parks Day (July) Most provincial parks, as well as federal and municipal park agencies, participate in this annual event.

Parks

(6) host events where families can have fun while learning about the importance of parks, historical sites, the ecosystem, and habitat protection.
Explore: Rocky Mountaineer Train Trips
Fall: September to November
In September, the landscape transforms into a spectacular kaleidoscope of colors—yellow, red, and orange, and the entire setting becomes magical. Travelers can still catch the last of the 50-degree days in early fall, but lows fall into the tens by November. Despite the cooler temperatures, the opportunities to enjoy activities like camping, hiking, and mountain biking in seclusion, are at an all-time high.
Tourists flock to Jasper in the fall to witness the explosion of color. Animal lovers are likely to spot sheep and elk in this season.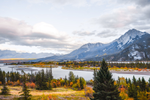 Outdoor Activities
This is the best time to go camping, hiking, or experiencing the northern lights.

Skiing is possible during November.

If you enjoy a cold brew, attend the Banff Craft Beer Festival held in November.
Temperature
During the fall season, the temperature ranges from 38 to 12 degrees Fahrenheit.
Key Events
Jasper Dark Sky Festival (October) Each fall, Jasper National Park organizes its annual

Dark Sky Festival

(7)

. It is the most star-studded festival in the country, literally! A few places on the planet are better suited to host a festival devoted to the magic of stargazing. It is a great experience, away from the pollution of the big cities and surrounded by the beautiful Rockies. The Jasper SkyTram Star Sessions are one of the most popular events. The evening commences with a stargazing experience led by Jasper Planetarium experts.
Christmas in November (November) The most awaited event of the year is

Christmas in November

(8). In the land of a million Christmas trees, enjoy a great food and wine celebration. You will be swept away in the Christmas magic as you drive through the "Home for the Holidays" gates in Fairmont Jasper Park Lodge.
Experience: Train Trip Across Canada
Winter: December-February
Winter is another wonderful season to appreciate the snow and festive spirit. Winter in Jasper National Park is cold, with highs barely reaching 20 degrees and lows falling below zero. However, those who brave the elements can participate in exclusive adventures. Snowshoeing, skiing, and ice skating are all on the menu. Winter campgrounds are also available to outdoor enthusiasts.
Note that the park service closes some backcountry areas during the winter to protect the caribou. Avoid visiting places like Moraine Lake and the Columbia Icefield because the roads are usually closed due to avalanche danger.
Outdoor Activities
The temperature drops between 12 and 7 degrees Fahrenheit during this time, making it ideal for skiing.

You can also attend festivals such as SnowDays and Ice Magic, held in January.
Temperature
Winter temperatures range from 12 to 7 degrees Fahrenheit, with January being the coldest.
Key Events
Frosty's Fat Bike Race Series (January)

Frosty's Fat Bike Race Series

was founded in 2014 for cyclists looking to test their mental fortitude and physical fitness. The Nordic Valley resort hosts two events in Frosty's Fat Bike Race Series: cross-country and downhill races.
Jasper Beer & Barley Summit (February) The

Summit

, held at the world-famous Fairmont Jasper Park Lodge, offers a unique spirit/beer/food experience. It combines the spirits of beer festivals, fascinating story-time seminars, and wilderness adventures. Each evening of the two-night festival showcases different recipes of alcoholic concoctions and foods prepared by JPL's amazing chefs! Throughout the day, hear passionate tales from some of the world's best brewers, distillers, and other guests.
Devour! The Canadian Rockies Food Film Festival (February)

This winter, discover a passion for food and film in the stunning Jasper National Park. Cozy up in the Rockies while celebrating cinema and indulging in fine food and wine. This event is also hosted at the Fairmont Jasper Park Lodge. Tasty eats, artsy films, and workshops are a few of the activities to look forward to during this

festival

.
Experience: The Canadian Train
Why Jasper National Park Is Worth Visiting In Winter
Winter is an amazing time of year to visit Jasper National Park and witness its spectacular snow-covered mountain peaks. The experience is truly magical given the lower service costs, fewer crowds, and secluded snowy landscapes. Outdoor enthusiasts will find a plethora of enjoyable activities. There are paths within the park for visitors to explore. A plethora of activities, from skiing to fat biking and snowshoeing, are also available during this season. Jasper National Park is open in the winter, and here's why you should go.
Visit The Maligne Canyon
Maligne Canyon is one of the most scenic spots in Jasper National Park. It's worth visiting both in the summer and winter. Touring Maligne Canyon in winter is an excursion unlike any other and provides a lot of satisfaction. The bizarre ice formations and frozen waterfalls are breathtaking, making this winter wonderland an incredible place to visit.
The narrow canyon and blue swirling water make for a very photogenic scene. The pathways along the canyon allow you to explore the site from every angle. Visitors can go ice climbing or walk around the canyon, but the safest way to do so is with a certified mountain guide.
Explore The Maligne Road
Driving down the Maligne Road in the winter, you will be amazed at every turn. Along the way, there are numerous attractions, including Medicine and Maligne Lakes. The region is home to a variety of wildlife, such as bighorn sheep and moose, which tourists are sure to spot along the way.
Maligne Lake
Jasper National Park has no shortage of crystal-clear lakes. The Maligne Lake, which is only a 45-minute drive from Jasper, spans 22.5 kilometers and feeds the canyon below. In the winter, you can go snowshoeing or cross country skiing in this area and see the frozen, snow-covered lake. Maligne Lake is one of the most tranquil lakes in the Canadian Rockies, having received accolades for its natural beauty. When spending a few days in Jasper National Park, this is a must-visit wonderland.
Go Skiing At Marmot Basin
Skiing at Marmot Basin is an awesome winter outdoor activity in Jasper National Park. The Basin is approximately a 30-minute drive away from Jasper and is one of Western Canada's most impressive ski resorts. The location promises an incredible skiing experience. Moreover, the views from the chairlift tops are unmatched. On a clear day, visitors may be able to see Pyramid Mountain.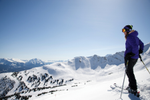 Most Frequently Asked Questions
How many days do you need to explore Jasper National Park?
Given the abundant hiking trails, it is possible to spend months in Jasper National Park without becoming bored. We recommend that you stay in Jasper for at least two to three days. During this time, you can explore some of the best sites in the area, visit numerous lakes, relax in hot pools, and go on day-long hikes.
What is the low season in Jasper?
Low season (also known as shoulder season or off-season) in the Rockies runs from September to October and from May to June.
Is Banff better than Jasper?
Banff has more to offer in terms of convenience and accessibility to mountains. Jasper is a lot more difficult to reach. However, Jasper is the more relaxed of the two towns, with far fewer people and visitors. Banff also has a more upscale feel, with high-end outdoor stores like Helly Hansen, Canada Goose Down, and Fjallraven lining Banff Ave.
Is the Jasper skywalk worth it?
The Icefield Skywalk is an experience you will not find anywhere else in Canada. You will experience a rush as you look down from the Jasper glass bridge and see bewildering peaks capped by glaciers.
Does Jasper have hot springs?
The hottest mineral springs in the Canadian Rockies can be found at Miette Hot Springs in Alberta's Jasper National Park.
Get a brochure
Includes sample trip itineraries, route maps, and insider tips.
Get Your Brochure
Have a question?
We can answer any questions or make suggestions.
Schedule a Call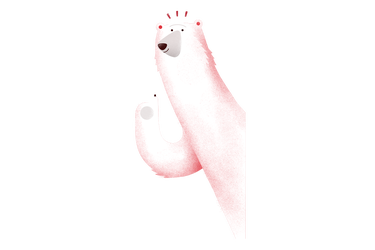 Current Promotions
Sign up for special offers, monthly Canadian Insider tips, and vacation inspiration.