A Little Like Magic: On Board the Rocky Mountaineer
Our Insider details her trip on the iconic railway.
Read more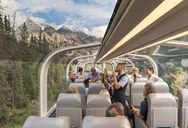 Travel Tales
Our Canadian Insiders have crossed the country to find the best of the best. Read about their journeys — to iconic True North destinations and off the beaten track — to discover experiences you won't want to miss.