Hidden Gems for Avoiding the Summer Crowds
Enjoy even the most popular areas with these picks.
Read more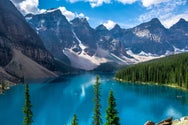 Tips and Advice
The advantage of being travel specialists is that we're in the know. For expert advice on traveling in Canada, check out our Insider tips and guides.
True North Newsletter
Sign up for vacation inspiration, insider tips, exclusive offers and more.