Fun Facts About Jasper National Park
By Fresh Tracks Canada
Published Mar 3, 2023
4 min read
Jasper National Park is the largest national park in the Canadian Rockies. Spread over a mountainous terrain of 4,200 square miles, the park comprises several geological features, such as glaciers, waterfalls, lakes, limestone caves, ice fields, and canyons. Dive into this article to explore some interesting Jasper National Park facts.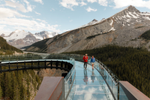 Canada is home to 37 national parks. National parks aim to protect biodiversity by conserving wildlife species and their ecological niches. Why visit one? Well, ecotourism is a growing industry these days. It not only boosts economic revenue but also increases conservation awareness.
Jasper National Park is home to thousands of native animals and birds, including mule deer, bighorn sheep, caribous, lynx, and pumas. You can also find several bird species, such as bald eagles, spruce grouses, and white-tailed ptarmigans. The park offers numerous recreational outdoor activities, such as rafting, hiking, skiing, and camping.
Canadian Train Vacations offers attractive packages to help you experience a memorable train journey. Our team of travel experts plan and book the entire trip based on your preferences. Enjoy a hassle-free journey to Jasper National Park and destinations around the Canadian Rockies. This article outlines 15 Jasper National Park fun facts you must know before undertaking a trip here.
1. Jasper is a UNESCO World Heritage Site
UNESCO declared Jasper National Park a World Heritage Site in 1984. The stunning and diverse mountainous terrain is home to several glaciers, lakes, canyons, waterfalls, peaks, limestone caves, and fossils.
2. It's the biggest national park in the Rockies
Jasper National Park is the largest national park in the Canadian Rocky Mountains. Almost 11,000 square km in area, this park is known for its alpine meadows and diversified geologic features. It is the 12th largest national park in Canada.
3. It was named a national park back in 1907
The government created the Jasper Forest Park reserve in 1907 to encompass 13,000 square km of terrain along the transcontinental railway through the Athabasca Valley. It received the status of a national park later in 1930.
4. It gets more than 2 million visitors a year
Jasper National Park is among the most-visited national parks in the Canadian Rockies. It sees over two million visitors annually. Its popularity increased after appearing in the Outside magazine ranking of the top 30 national parks globally.
5. There's almost 2,000 stunning lakes
One of the most interesting facts about Jasper National Park is that it is home to almost 1800 lakes! Some are easily visible, while others inconspicuously lie behind mountainous terrains. Famous lakes include Pyramid, Maligne, and Patricia Lakes.
6. It's home to the highest peak in Alberta
Mount Columbia is the tallest mountain peak in Alberta, Canada. Its highest point (3,747 m) lies within Jasper National Park. This peak is the second highest among the Canadian Rockies and the 28th highest in Canada.
7. You can walk on a glacier
The most-visited glacier in North America, the Athabasca Glacier, lies in Jasper National Park. It is conveniently accessible and is part of the colossal Columbian Icefield.
8. You can hike deep in a rocky canyon
Maligne Canyon Is the deepest accessible canyon (50 m depth) in the Canadian Rockies. A hike down the canyons takes about 1-2 hours. In the winter, you can walk along the frozen canyon floor.
9. It's home to a huge range of biodiversity
The three distinct eco-zones in Jasper National Park are alpine, sub-alpine, and montane. Varying altitudes and climate changes in each zone affect the kind of biodiversity.
10. It was named after a voyageur
One of the Jasper National Park fun facts is the story of how it got its name. The park takes its name from Jasper Hawes. He took charge of a fur-trading post called Jasper House near the Athabasca River in 1817. He was an ardent voyageur. Later, in 1907, the name changed to Jasper Forest House. Subsequently, it assumed the name - Jasper National Park.
11. You can ride the longest aerial tramway
The longest guided aerial tramway, the Jasper Skytram, is a must-try here. Witness the panoramic views from an elevation of 2,263 m! Visit the Glacier Skywalk, a cliff-edge walkway leading to a glass-floored observation platform (918 feet high).
12. It's very festive at Christmas
If you plan to visit Jasper National Park in December, do not miss the vibrant Christmas cheer. The snow-covered mountain ranges and warm lights offer a feel-good ambiance of a white Christmas.
13. It's the second-largest Dark Sky Preserve
Dark Sky Preserves are often in areas surrounding national parks and observatories, offering prime nocturnal views. There is a guided effort to reduce noise pollution, makign for spectacular sky watching. Jasper National Park is the second-largest dark sky preserve in the world. You can witness the magical view of the Aurora Borealis from September through mid-May.
14. It's a significant water basin
Some significant river systems, such as the Athabasca and Smoky rivers, originate from Jasper National Park. The park also houses the Miette Hot Springs, the warmest springs (at 54°C) in the Canadian Rockies.
15. There are extensive efforts at conservation
Caribou conservation breeding is one of the most dedicated programs here to prevent the decline of these native species. About 82 species of songbirds exist here. The park rangers use bird banding techniques to track these songbirds and conserve their existence.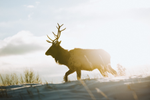 Frequently Asked Questions
How did Jasper, Canada get its name?
Long ago, when the place was not yet famous as Jasper, it was only a small trading post surrounded by wilderness. The town and the park both got their names from Jasper Haws, one of the post managers and an eminent voyageur.
How big is Jasper National Park?
Jasper National Park spreads over an area of about 4,200 square miles. It is home to 1300 species of plants, 53 species of mammals, 40 species of fish, 277 species of birds, and 20,000 species of spiders and insects.
Does Jasper National Park have bears?
Yes, Jasper National Park has black and grizzly bears too. These bears are omnivores and scavengers and can live up to 30 years. Bears hibernate during winter. So, you can visit the park in summer or spring to spot a bear.
Get a brochure
Includes sample trip itineraries, route maps, and insider tips.
Get Your Brochure
Have a question?
We can answer any questions or make suggestions.
Schedule a Call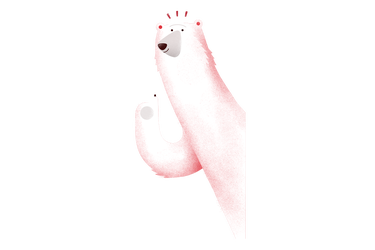 Current Promotions
Sign up for special offers, monthly Canadian Insider tips, and vacation inspiration.