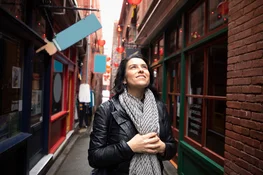 Hidden Gems: Victoria
By Fresh Tracks Canada
Published Apr 14, 2022
4 min read
British Columbia's inviting, walkable capital is postcard perfect with its 19th-century architecture, profusion of manicured gardens (that start blooming in February!), and ties to British tradition, including tea time and a hotel where royals have famously slumbered.
Beyond these first impressions, you'll find lots to take you beyond the city's pretty Inner Harbor to its intriguing parks and historic neighborhoods.
Visit a real Fisherman's Wharf
This working wharf, located on the James Bay side of Victoria's Inner Harbor, is a quaint and colorful place to spend a few hours. You can walk onto its piers to admire the adorable floating homes, which are all inhabited by locals. And don't be alarmed if harbor seals stalk you from the water — the clever animals really just want you to buy some fresh fish from a local vendor and serve them lunch.
When it comes time to feed yourself, wander over to Finest at Sea, a nearby seafood shop that boasts its own fishing fleet and serves some of the best fish and chips in town from its food truck.
INSIDER TIP: A fun way to get to Fisherman's Wharf is on one of the Victoria Harbor Ferry taxi boats, which locals affectionately call "Pickle Boats" (many are green and shaped like — you guessed it — a pickle).
Explore Canada's Oldest Chinatown
Canada's original Chinatown (and North America's second oldest, after San Francisco), got its start from the massive influx of Chinese miners that headed north from California seeking their fortune during the gold rush of the 1850s and 60s. Today, this two-block downtown district is still very much the center of Chinese culture in Victoria. Stepping through its iconic gates is like leaving England for the Far East – you'll see Chinese architecture, a preponderance of lucky colors red and gold, and Buddhist shrines inside many of the shops and restaurants.
Though you can peruse its groceries for Asian ingredients, and fresh produce like dragon fruit or durian, the best way to immerse in Chinatown is by eating dim sum, wonton soup, dumplings, steamed pork buns, and other popular Chinese dishes, at one of the many restaurants or bakeries. (You can't go wrong with BBQ pork on rice at Wah Lai Yuen — just look for the line-up of people outside its doors.) And no visit to Chinatown is complete without a whimsical wander down Fan Tan Alley, one of the narrowest streets in Canada.
Discover Victoria's foodtastic culinary scene
While seafood is certainly celebrated in this oceanfront city, once you get your fill of fish and chips, or the fabulous fish tacos from Tacofino, it's time to venture farther with your gustatory explorations.
For brunch, Victoria has no lack of cozy enclaves, with newcomer Bear & Joey serving on-trend mid-morning fixes including mushroom toast and baked eggs.

For dinner, perennial favourite Brasserie L'Ecole prepares local, seasonal ingredients in a French-country style — the steak frites and French onion soup are magnifique! And you can't beat the traditional Neapolitan pies (and housemade gelato) at Pizzeria Prima Strada.
INSIDER TIP: Local favorite Off the Eaten Track offers private walking culinary tours of downtown and Chinatown.
Celebrate Canadian hero Terry Fox
Adjacent to Beacon Hill Park, at the corner of Douglas Street and Dallas Road, a sign marks Mile 0 of the TransCanada Highway, which stretches east across the country, a span of some 8,000 kms (4,970 miles). Nearby there's also a statue of Terry Fox, the Canadian cancer survivor and crusader who undertook a cross-Canada run to raise money for cancer research. Sadly, Fox relapsed and passed away before he reached Mile 0.
At this signpost you can also join up with the Dallas Road Waterfront Trail, a 7.1-km (4.4-mile) pathway that offers ocean viewpoints and access to rugged beaches where you can search for sea glass amid the driftwood.
Get your retail-therapy fix on Lo-Jo
New York has SoHo and Victoria's answer is LoJo — short for Lower Johnson Street — a boutique block of shops between Wharf and Government streets. This is the place to browse for B.C.-designed, made-in-Canada, clothing and accessories including Fluevog Shoes, where Bonnie Henry (B.C.'s Provincial Health Officer, and a Covid-era hero) buys her trademark Mary Janes.
You'll find comfortable, eco-conscious clothes at Citizen, hand-made duds and bags at Oxford, and unique, locally-designed jewelry at Little Gold. The district is anchored by Market Square, an outdoor shopping center with coffee shops, restaurants, a craft brewery and a range of shops.
Raise a glass to Victoria's cocktail culture
Did you know that Victoria invented an annual Art of the Cocktail festival to celebrate its burgeoning drink scene? At cocktail bars and lounges around town you can order everything from a Negroni on tap at Clive's, to a Champs-Élysées at The Courtney Room.
And though you won't find Queen Elizabeth's favorite drink (gin and Dubonnet) on the menu at the beautifully renovated Q Bar at the Fairmont Empress, there are plenty of gin tipples to taste, from the classic martini to the Q1908 (shaken with lemon, sugar, egg white, and locally-distilled Empress Gin).
INSIDER TIP: If beer is more your style, hop on the B.C. Ale Trail. It runs right through Victoria, which is home to 13 craft breweries.
Discover Victoria's wilder side
A highlight of any trip to the Garden City is a visit to expansive, famously-manicured Butchart Gardens. But few realize that a seasonal boat ride (included in the price of admission) spirits you from the garden's wharf out into Tod Inlet. It's a chance to sail into one of Vancouver Island's fjords and look for marine life including jellyfish, seals, and otters. The trip is a striking contrast between the perfectly-tended gardens and wild waters and forests that lie just outside Butchart's boundary.