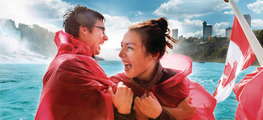 Insider Guide to Travel in Canada
Published Aug 11, 2021
5 min read
Planning a trip to Canada and looking for some basic tourist information? Our local team of Canadian travel experts receive many inquiries from tourists traveling here for the very first time. We've compiled the answers to some of the most-frequently-asked questions: everything from time zones and geography — think big! — to Canada's currency and tipping practices.
Keep reading our Insider Guide to travel in Canada for our top travel tips and advice.
Canada is vast and varied
Once you cross the Canadian border there are 3.855 million square miles to explore. There's the wild rainforests of the Pacific Northwest, the dramatic rugged peaks of the Rockies, the hypnotic expanse of the prairies; and the jagged coastline of the Atlantic — and countless landscapes in between. Discover a diversity of experiences, including scenic train rides through spectacular landscapes, observing wildlife in its natural habitat, road trips through charming coastal areas, and sophisticated urban weekends.
Your vacation advisor at Canadian Train Vacations can help you plan a trip to see many scenic locations.
When you get here, you may notice signage in both French and English. That's because both are recognized official languages in Canada. But don't worry about needing a translator. While French is dominant in Québec, many Québecois speak English, particularly in the service and tourist industry. Throughout the rest of Canada, English is the most common language.
Canada is Not All Wild Wilderness
Along with the wild expanses of untouched wilderness, Canada has many vibrant cities. Its largest municipalities are Toronto, in the province of Ontario; Montréal, in the province of Québec; and Vancouver, in the province of British Columbia. Extend your trip by spending a few days exploring these urban centres.
Some of Canada's Money has Names
A common question is about Canadian currency, which some visitors refer to as "funny money." In addition to nickels, dimes and quarters, Canadian coins come in $1, the "loonie" — which has nothing to do with being crazy about money — and $2, the "toonie."
Some visitors are surprised to learn that Canada no longer has pennies. When paying in cash, items will be rounded up or down to the nearest 5 cents.
Yes! We accept credit cards. Visa and MasterCard are the most popular, while American Express may not be as widely accepted, especially in more rural areas. Many cards charge a transaction fee for foreign currency transactions, so check with your financial institution prior to your trip to determine what is best for you.
Do note that while some businesses may accept payment in US dollars, change will always be provided in Canadian currency. The exchange rate can always be found here.
It Doesn't Snow All the Time in Canada
A common misconception is that Canada is the "Great White North." While some of our trips do explore the country's stunning remote Northern areas, much of Canada's weather is comparable to the U.S., with temperatures varying as you travel between seasons and across diverse regions. Bringing a selection of easily layered clothes and comfortable footwear will prepare you for all types of weather and temperature ranges.
Your US Electronics Will Work in Canada
Parts of Canada certainly have a European flair, but we still use the same plug and current as the US - 110 to 115 volts, 60 c. These are either two flat, parallel prongs, or one cylindrical and two flat parallel prongs.
If you're travelling from outside North America, though, you'll need adaptors for all your electronic devices as well as voltage converters for some items depending on which country you're travelling from.
You Can Time Travel in Canada
If you're traveling across the country, you may gain or lose an hour, depending on which direction you're headed. Canada has six time zones, with St. John's, NL (Newfoundland Time) being four and half hours ahead of Vancouver, BC (Pacific Time).
Most areas also observe Daylight Savings Time. If you happen to be here on the second Sunday in March, clocks go forward by one hour (at 2:00 a.m.). After Daylight Savings, the clocks are turned back by one hour on the first Sunday in November (at 2:00 a.m.). Luckily, our phones now do this for us automatically.
The Lowdown on Taxes in Canada
Throughout Canada, there is a federal tax and/or a provincial tax applied to most purchases. The amount of the tax varies per province, anywhere from 5% to 15%. All provinces and some municipalities levy a supplemental hotel room or resort tax as well (your Vacation Advisor will make sure you have these details).
Canada is One of the Safest Countries to Travel in the World
According to the Global Peace Index, the annual ranking done by The Institute for Economics and Peace, Canada is one of the safest countries in the world. It was also ranked as one of the safest countries during the pandemic too.
Tips for Tipping in Canada
As in the US, tips are often given in recognition of service excellence. In general, 15-20% of the pre-tax amount is recommended. It's appropriate to tip servers and bar staff, taxi and limo drivers, and tour guides, as well as hotel staff and even your train crews.
Whether you travel on VIA Rail or Rocky Mountaineer, feel free to tip your server in the dining cars and/or team members responsible for your cabin or berth in the sleeping car (VIA Rail only) and other common areas. You can speak with the Service Manager on board your train for suggested gratuities too (and your Vacation Advisor will give you these details too!).
Canada is Welcoming Visitors!
It's a great time to explore Canada. As of October 1, 2022, the Government of Canada removed of all COVID-19 entry restrictions, as well as testing, quarantine, and isolation requirements for anyone entering Canada. Any updated details can be found on the Canadian government's website here. You can also learn how we work with our partners to keep you safe while you're on your trip on our Safe Travels page.
About the author: Athena McKenzie is the Managing Editor at Fresh Tracks Canada. An experienced lifestyle journalist, she has written about travel, design, arts and entertainment. Her work has appeared in The Globe and Mail, Toronto Star, Zoomer Magazine, Elle Canada and... Read more