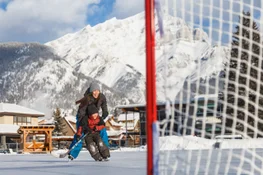 Winter Guide to the Best Activities Across Canada
By Carolyn Camilleri
Published Oct 28, 2021
4 min read
In some places, Winter is considered the off season — a time to hibernate indoors and dream of tropical climates. In Canada, the opposite happens: it's literally known as the home of Winter. It is a much-anticipated time across the country, with festivals and fun experiences for everyone. And when you're done with your Canadian Winter adventure, you'll find a fireplace and hot beverage waiting for you wherever you go. Here are some of the best ways to enjoy Winter in Canada.
Discover Carnaval de Québec
One of the oldest festivals in Canada — and the largest Winter festival in the world — Carnaval de Québec, draws thousands of people to watch and take part in outdoor activities and Winter sports: ice canoe races, snowshoeing, dog sledding, snow sculptures and night parades. You can skate, see live shows, snap photos of Bonhomme and enjoy the wondrous culinary delights that have made La Belle Province famous.
Ski the slopes at Mont Tremblant
While ski resorts are plentiful in Quebec, Mont Tremblant in the Laurentians is perhaps the most renowned. The village has a distinctly European feel, with restaurants, pubs, lodging and shops that bustle with activity. The Fairmont Tremblant, situated at the foot of the mountain, offers premium alpine accommodation, easy access to the slopes, and the Axe Lounge Bar, the perfect place to warm up after a day in the great outdoors. If you're feeling a little muscle strain from all the skiing, the Moment Spa Fairmont Tremblant can soothe away the aches. Personalize your Montreal and Quebec City Getaway By Rail with an add on excursion to this iconic ski destination.
Skate the frozen canal in Ottawa, the nation's capital
From late December to late February, weather permitting, Ottawa's Rideau Canal Skateway is the largest naturally frozen skating rink in the world. While nature controls the ice conditions on the canal, Ottawa also has many refrigerated outdoor rinks, including Rink of Dreams at Ottawa City Hall.
Cross-country skiing is another wonderful way to enjoy Ottawa. The Kichi Sibi Winter Trail stretches from the Canadian War Museum to Westboro Beach, offering 16 kilometres of groomed pathways for cross-country skiing, snowshoeing, walking and Winter biking. The Greenbelt is another popular pick and has upwards of 150 kilometres of trails. After a day outdoors, warm up at Zoe's in the Fairmont Chateau Laurier.
Don't miss hockey night in Canada
Hockey, aka "Canada's game," is the most popular sport in the country. In Toronto, that means the Maple Leafs, one of the teams that founded the NHL in 1917. On game night, the energy is positively electric at the Scotiabank Arena, as well as in dozens of surrounding sports bars and pubs.* Hockey fans won't want to miss the Hockey Hall of Fame. Dedicated to the history of the game, this is much more than a sports museum — it's an immersive, interactive celebration of hockey. If you're booking a Winter trip, be sure to ask our travel advisors about adding a hockey game to your itinerary.
*At the time of writing, Scotiabank Arena is open to full capacity to people with proof of vaccination. Live NHL Hockey is also available in Montreal, Ottawa, Winnipeg, Edmonton, Calgary, and Vancouver. Your travel advisor can help you find the game you want to see
Experience Winter in the Rocky Mountains
Alberta is big-sky country, and in the winter, that means bright sunshine, blue sky, and snow in the Rocky Mountains. Skiing, snowboarding, cross-country skiing, heli-skiing, skating, and snowshoeing — take your pick. Banff and Lake Louise are known world-wide for their alpine charm and have everything you need for a getaway, including spas, tours, accommodation for all budgets, and excellent dining options. The Banff Springs Hotel and Chateau Lake Louise are must-see stops on any visit — these gorgeous, historic Fairmont properties have been providing elegant hospitality to visitors for over a century.
To maximize the fun, time your visit to the Rockies with SnowDays! Downtown Banff transforms into a larger-than-life winter gallery of snow sculptures, while Lake Louise becomes a frozen wonderland of ice sculptures. A variety of special SnowDays activities and events, as well as specialty cocktails and menus at many of the restaurants, add to the winter fun. It's the perfect time to plan your Canadian Rockies Winter Train Trip.
Visit a lush West Coast Winter garden
The moderate temperatures on the Canadian West Coast mean places like the Butchart Gardens on Vancouver Island and VanDusen Gardens in Vancouver are spectacular even in the winter. Both of these year-round beauties offer 55 acres of glorious gardens, as well as special seasonal events and entertainment and lovely afternoon teas. At Butchart Gardens, take in the subtle beauty of the frost-dusted shrubs, trees and flowers, as you wander the quiet pathways.
Both these gardens make excellent excursions during a Rockies, Islands, and Bears Adventure.
Surf Vancouver Island — year round
Yes, you read that right! You can surf in Canada in the winter. With its stunningly beautiful beaches and wild exposed coast, Tofino on Vancouver Island is Canada's surf capital. While surfers of all skill levels will find waves year-round in Tofino, the winter months have the biggest waves. Local surf companies and tour operators provide lessons and gear, including wetsuits designed for cold water. If the waves get too big and the weather turns stormy, cozy up with a warm drink at Long Beach Lodge and storm watch — the view from The Great Room is exhilarating.